Walmart taps Ford, Argo AI for new autonomous delivery service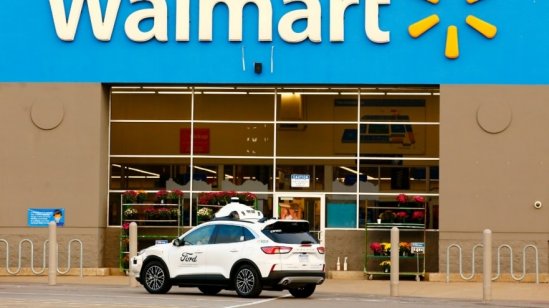 Walmart has announced a new partnership with Ford and Argo AI to bring autonomous vehicle delivery to three new cities across the US.
The companies will partner to offer the new service in Miami, Austin and Washington DC, where testing will begin later this year, according to the press release. Deliveries will be sent to defined areas around stores for groceries and other items for delivery directly to customers' homes.
The cars will be operated initially by two employees, one behind the driver's seat to monitor the system and one to deliver the package once the car arrives at its destination, according to Ford AV and Mobility spokesperson Whitney Pineda, who confirmed the details to Capital.com. The partners intend to phase out the onboard specialists entirely after the test period is over.
"As Argo integrates with Walmart's app platform, they will add a feature to alert customers when their orders are ready so they can retrieve goods directly from the backseat of the self-driving vehicle," Pineda said.
Hedging its bets
This is not Walmart's first autonomous vehicle partnership with a major automaker as the company hedges its bets on the future of autonomous delivery.
In January, Walmart invested $2.75bn(£1.99bn) in Cruise, the self-driving company that is majority-owned by competing US automaker General Motors. Five months prior to that investment, Walmart and Cruise partnered to conduct deliveries in Scottsdale, Arizona.
Walmart has also partnered with self-driving startup Nuro for a robot delivery service in Houston, with Udelv - another self-driving startup - for a grocery delivery program alongside Chinese technology company Baidu, and with Alphabet's Waymo for a program that would provide an autonomous vehicle for grocery pickup in Arizona Walmarts.
This isn't the first time Walmart has partnered with Ford. In 2018, Walmart, Ford and Postmates partnered for a grocery delivery pilot program in Charlotte, North Carolina.
"We maintain our collaborations with other autonomous vehicle providers," Camille Dunn, a spokesperson with Walmart, told Capital.com. "Our work with Ford and Argo is another example of how we're continuing to pave the way for the use of autonomous vehicles in our operations."
What is your sentiment on WMT?
Vote to see Traders sentiment!
Cloud technology integration
Argo AI partners with Ford to design the self-driving technology into the car, but Walmart noted in the press release that Argo AI's cloud-based infrastructure will also integrate with Walmart's online ordering platform to route orders and schedule package deliveries.
It will still be some time before the drivers are removed and other issues are ironed out, such as how the service can accommodate elderly customers or those with disabilities who can't carry their deliveries from the car. Yet, with this partnership, Walmart continues to put resources behind solving these and other problems.
"Argo and Ford are aggressively preparing for large-scale autonomous vehicle operations across a broad footprint of US cities," said Scott Griffith, CEO of Ford's Autonomous Vehicles & Mobility businesses. "Pairing Walmart's retail and e-commerce leadership with Argo and Ford's self-driving operations across these multiple cities marks a significant step toward scaling a commercial goods delivery service that will ultimately power first-to-scale business efficiencies and enable a great consumer experience."