Volvo-Eicher venture launches new bus range in India at INR4-10m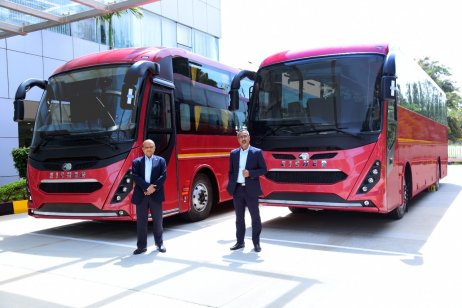 VE Commercial Vehicles Limited, the joint venture between Sweden's Volvo and Eicher Motors, today launched a range of intercity and long-distance buses in India, the first inauguration by any automobile company at least since the coronavirus pandemic outbreak began in March 2020.
The custom-developed buses in the price range of INR4–INR10m (€45,815–€114,530, $52,963–$132,407, £38.8999–£92.548) are designed and will be built in Volvo Buses India's factory in Hosakote, in the southern state of Karnataka.
Launch to tap growth
"A year ago, we announced the formation of a bus division within the company with the clear aim to shape the developments in the Indian bus industry," said Vinod Aggarwal, managing director and chief executive officer of VE Commercial Vehicles.
The launch is to tap growth in the 25,000 unit-per-year market size in India, the world's second-largest market, Aggarwal said.
The company sold 6,014 units in September, taking its sales in the whole of this year to 20,515 units, as compared to 3,450 units in the same month last year and 10,086 units sold in the January–September period of last year.
National permit introduced
Besides the pace of India's economic growth, which is expected to be among the fastest in the world, VE Commercial Vehicles is enthused by the easing of restrictions in transportation business in the country, Aggarwal said.
Last month, India introduced the one-time national permit for drivers, abolishing the previous system of paying charges in each state separately at the time of travel.
"This is the first milestone in our drive to offer a complete range of market-adapted economy, mid-premium and premium buses across all market segments," said Akash Passey, president of the VE Commercial Vehicles (VECV) Bus Division.
"With the national permit being rolled out, operators seek high-quality buses – that call for balanced upfront investment – to reliably cover longer distances," he added.
New range of buses
VECV said it may export the new range of buses launched today to the Southeast Asian and Middle East regions.
VE Commercial Vehicles Limited is a joint venture between the Sweden's Volvo Group and Eicher Motors Limited of India, which has been in operation since July 2008.
The company manufactures Eicher-branded trucks and buses, the VE Powertrain, Eicher's components businesses, as well as the sales and distribution business of Volvo trucks within India.
Read more: Green energy to open 1bn worth investment options in India