Virgin Galactic shares rebound on conclusion of FAA inquiry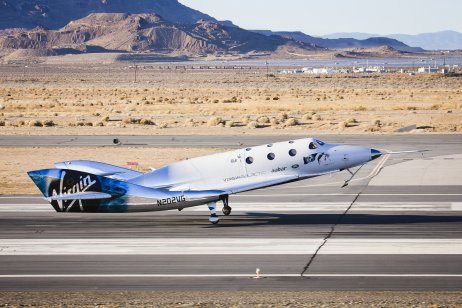 Virgin Galactic shares are set to take flight once again after the US Federal Aviation Administration (FAA) gave the American spaceflight company the green light to resume operations.
The FAA opened an inquiry into British billionaire Richard Branson's spaceflight company on 11 August following Virgin Galactic's much-hyped Unity 22 flight in July that sent Branson and three company employees to the edge of space and back. That flight deviated from its assigned airspace on descent and the company failed to properly disclose the incident to the FAA as required, the federal agency concluded.
Virgin Galactic was not allowed to conduct flights while the investigation was ongoing but has now made sufficient remediations including designating a larger area of protected airspace for future flights and communicating real-time mission notification to FAA Air Traffic Control.
"The FAA required Virgin Galactic to implement changes on how it communicates to the FAA during flight operations to keep the public safe," the FAA said in a statement acquired by Capital.com. "Virgin Galactic has made the required changes and can return to flight operations."
Share price movement
Virgin Galactic shares traded up more than 9.5% at the stock markets open to a price of $24.73 per share, up from Wednesday's close of $22.56 per share.
The company's share price has fallen by around 57% since peaking at $52 just before the 11 July flight.
Virgin Galactic's flight was the first of three billionaire-led commercial space ventures that have received scrutiny this year. Blue Origin sent its owner Amazon founder Jeff Bezos to space earlier this year while Elon Musk's SpaceX sent four private citizens to deeper parts of space for a full three days.
Flights resume
Following the seven-week investigation, Virgin Galactic can now resume flights with its eyes set on its Unity 23 test flight in coordination with the Italian Air Force.
Unity 23 is expected to take flight as early as mid-October following the conclusion of an inspection of a possibly defective part provided by a third-party supplier, Virgin Galactic noted in a press release earlier this month.
"Our entire approach to spaceflight is guided by a fundamental commitment to safety at every level, including our spaceflight system and our test flight program," Michael Colglazier, CEO of Virgin Galactic, said in a press release. "The updates to our airspace and real-time mission notification protocols will strengthen our preparations as we move closer to the commercial launch of our spaceflight experience."
Read more: Virgin Galactic stock forecast 2021: to the moon or crashing down?