Vimeo (VME) up 7% as long-term strategy comes into focus with hirings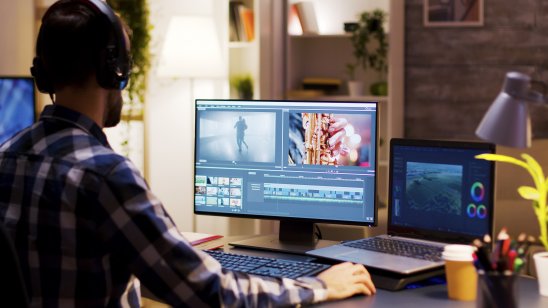 Vimeo's stock shot up more than 7% to $19.10 per share on Tuesday as the video platform's long-term strategy to build a new video services market begins to take shape.
Including Tuesday's gains, Vimeo's stock has lost more than 19% of its value over the last four weeks and is down nearly 65% since it went public in May via a spinoff from media company IAC.
Vimeo trades on the Nasdaq under the symbol "VMEO".
C-suite adds
One reason for the rally is that the New York-based company added two new executives Monday who have deep experience in bringing software as a service (SAAS) products to market.
Vimeo hired Eric Cox, a veteran of Adobe, to be the company's first-ever Chief Revenue Officer and appointed Crystal Boysen, formerly of Canva, to be its first Chief People Officer, according to a press release.
Anjali Sud, Vimeo's chief executive, said that the hires represent the company's goal of becoming "the professional video solution used by every business in the world."
Competitive market
Both new hires will also be responsible for helping Vimeo scale within a highly competitive market, Sud says, adding that Vimeo is at the very beginning of exploring how video will be adopted across enterprises.
According to a market analysis by Gran View Research, the video as a service market is expected to grow at a compound annual growth rate of 39.7% to a value of more than $32bn (£24bn) by 2028.
Last quarter, the company also expanded its software solution category by launching Vimeo Events, a platform for users to host webinars and meetings, and acquiring enterprise-grade video technology start-ups Wirewax and Wibbitz, according to its earnings report.
Vimeo also grew its global footprint by opening sales offices in Australia and Singapore during the third quarter.
"We still expect Vimeo to sustain growth of mid-to-high 20s% with improving margins to 20%+ over the next 5 years."
by
Youssef Squali, Truist
Attractive economics
Youssef Squali, head of equity research at Truist, said in a recent investor note that he expects the company to grow because it is "leveraging strong video consumption by small-to-medium businesses and enterprises to build a differentiated, decade-long growth compounder with attractive unit economics."
Vimeo makes money by charging its users monthly subscriptions that allow them access to the company's video creation, editing, and broadcasting tools. Its platform is cross-compatible with other popular outlets such as Facebook, Twitter, YouTube, Adobe and Brightcove.
In the third quarter ended 30 September, Vimeo reported revenue growth of 33% to $100.1m, to mark its first ever $100m quarter. Growth was driven by a 14% increase in subscriptions and 15% boost in annual revenue per user, the company said.
The company booked a net loss of $11.7m, wider than the net loss of $9.8m in the prior year quarter.
Back in November, Squali rated Vimeo as a "buy" with a price target of $36 per share, representing a nearly 50% upside from Tuesday's per-share price.
Squali reiterated these ratings to Capital.com in a statement.
Revenue projection problems
John Blackledge, an analyst at Cowen, isn't as bullish on Vimeo. In a recent investor note, he downgraded the stock to "market perform" as the company's executives reported that they may miss their revenue projections in the fourth quarter.
The company's executives said in November that they expect the company's Q4 earnings to show 25% year-over-year growth compared to their previous projections of 30%.
Meanwhile, the company also expects to report a negative EBITDA against Cowen's estimates of $7.2m, Blackledge said.
Blackledge also lowered his price target to $30 per share from $50.
Read more: Cryptocurrency sell-off continues on regulatory fears