Verasity price prediction: Could VRA be ready for a rebound?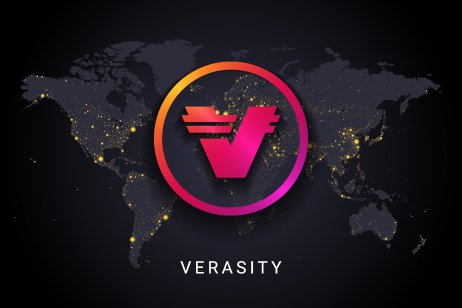 Verasity (VRA), a blockchain protocol for esports, has struggled throughout 2022 to regain the highs it claimed in November 2021.
At the time of writing on 25 October 2022, the VRA token price was trading at approximately $0.00401. However, this is 95% below its all-time high of $0.08683 achieved on 1 November 2021.
Could VRA make a bounce back in the coming months? Let's consider the project's fundamentals and latest developments to get a clearer view of a plausible Verasity price prediction.

What is the verasity coin?
Verasity is a blockchain-based platform that operates in the esports, digital entertainment and advertising industries. According to Verasity's whitepaper, it secured a US patent for its proprietary technology that assists in eradicating advertising fraud and already has multiple revenue-generating products.
"Digital advertising spend worldwide (outside of China) was $325bn in 2019, and is on track to reach $389bn in 2021. By 2024, advertising spend will be over $525bn. $525bn is the addressable market. As much as 40% ($160bn) of the ad spend is stolen by ad fraud. Verasity will rectify this problem," stated the whitepaper.
Verasity's objective is to enhance advertising income for video publishers on any video platform by using its unique Proof of View (PoV) protocol layer on the blockchain. Verasity's patent in video monetisation with PoV can be used not only in the advertising market, but also in the broader consumer market through non-fungible token (NFT) collectibles. In this case, PoV can be used for authenticating chain of ownership and verifying any digital image viewer.
Verasity incorporated Esports Fight Club and GameStore to monetise Verasity's technology through ad revenue and broaden the use of Verasity's cryptocurrency, VRA, by providing incentives for viewing, subscriptions and winning with VRA.
"Esports Fight Club and GameStore are not dependent on Google or Facebook or any third party and we can, therefore, monetise gaming activities unlike mobile apps on Android or IOS, which are not allowed to provide real-world rewards," according to Verasity whitepaper.
Esports Fight Club grew with the launch of big tournaments such as PUBG, Valorant and Dota2 to, which allowed testing Verasity products in real time with a sizable audience. Esports Fight Club's most recent event had about 8.5 million spectators.
Verasity generates revenue from memberships, royalties on winnings, video ad revenue and transactions costs on esportsfightclub.com. Verasity also intends to sell its Esports Fight Club NFTs on its own platform and third-party auction platforms, using PoV to validate and record the chain of ownership.
VRA is Verasity's native token, which is used as a medium of exchange for the online gaming and video economy.
Verasity coin news and price drivers
The project has undergone a number of significant milestones and developments lately, which may drive the verasity (VRA) future target price:
Listing of VRA token on Crypto.com
Verasity announced in March 2022 that its native token VRA had been listed on Crypto.com (CRO). As a result of this launch, VRA gained visibility on five of the world's top 10 cryptocurrency exchanges, including Crypto.com, Huobi, OKX, KuCoin (KCS) and Gate.io.
Crypto.com is one of the largest cryptocurrency exchanges globally, both in terms of trading volume and user base, with more than 50 million members.
Due to this partnership, Crypto.com offered direct fiat off-ramps for customers worldwide through their proprietary crypto-enabled Visa debit cards, allowing holders of VRA tokens to spend their assets in the real world. This is one of the first cases of VRA usage in real-world transactions using a crypto-enabled debit card.
"Once again, we prove that we are relentlessly pursuing real-world adoption for $VRA and integration with the leading exchanges and service providers in the blockchain industry. We are pleased to have passed Crypto.com's exacting due diligence standards, and we are looking forward to welcoming a new wave of $VRA supporters who join us from the Crypto.com community," said R J Mark, CEO of Verasity.
Moreover, on 30 March, Verasity's VRA token was listed on the Bit2Me cryptocurrency exchange, providing users with additional liquidity.
Partnership with Brightcove
Verasity collaborated with Brightcove in December 2021, and entered the Brightcove marketplace to provide clients with innovative advertising-tech capabilities. With more than 3,000 clients in more than 70 countries, Brightcove provides media and corporate organisations with adaptable video technology solutions.
Verasity's proprietary advertising technology, including Ad Stack (VeraViews), the Verasity Rewards System and Verasity's Proof of View (PoV) technology, has been added to the Brightcove Marketplace, enabling Brightcove customers to capitalise on Verasity's technology via an interconnection with the Brightcove platform.
Due to this agreement, Brightcove media and client brands can integrate VeraEsports esports streams into their domains and broadcast them to their audiences. It will help to engage with the current audience and attract new viewers through blockchain-enabled viewership monetisation.
VRA/USD price analysis
According to ICO Drops, VRA's ICO concluded in August 2018 at a token price of $0.0075.
The VRA price chart showed pretty flat price action until 2021, when the token surged in line with the broader cryptocurrency momentum. The VRA token spiked from $0.0005 on 1 January to $0.0509 on 11 April, a surge of 10,000% in a little more than three months. However, it declined to $0.008 on 20 July.
The next rally brough the VRA cryptocurrency to the all-time high of $0.0868 on 1 November. However, the retracement sent it downwards and the token closed the year at $0.0342.
Since the beginning of 2022, VRA's price action has been volatile. First, it declined to a 90-day low of $0.01579 on 24 February before spiking again to a 30-day high of $0.0305 on 2 April. On 12 May, it reached a low of $0.007 and has been gradually declining in the months since.
At the time of writing on 25 October 2022, the VRA token was trading at $0.003987 and had a market capitalisation of $41m, according to CoinMarketCap.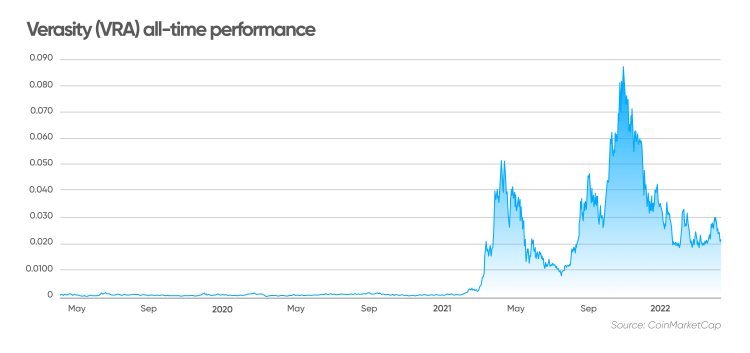 Verasity price prediction: Targets for 2022, 2025 and 2030
According to research provided by Insider Intelligence, there will be 29.6 million monthly esports viewers in the United States in 2022, up 11.5% from 26.6 million in 2021.
Additionally, the report noted that although money flows into esports through broadcasting rights, real-time event ticket sales, merchandise sales and in-game transactions. The majority of revenue, almost 69%, comes from sponsorships and advertising.
Will Verasity benefit from the market growth? According to CoinCodex's short-term price outlook on 25 October, the VRA token got a bearish sentiment with 15 indicators signalling bullish signals, and 13 signalling bearish signals for the VRA price prediction, based on the technical analysis.
According to the short-term Verasity coin price prediction by CoinCodex, the VRA cryptocurrency could hit $ 0.004069 by 24 November 2022.
Several algorithm-based forecasting tools provided bullish VRA forecast for 2022 and beyond:
According to WalletInvestor's Verasity prediction, the VRA token is a 'bad' long-term investment. Its Verasity price prediction for 2022 estimates that the coin could reach $0.000370 by the end of the year. Its Verasity price prediction for 25 October 2025 is $0.0000680. Its five-year VRA prediction indicated that the token could reach $0.000130 in October 2027.

The Verasity crypto price prediction from Price Prediction suggested that the average price in 2022 could be $0.004, and $0.015 in 2025. Its Verasity price prediction for 2030 is $0.099.

In line with other algorithmic tools, the VRA crypto price prediction from DigitalCoin estimated that the average price could be $0.00393 in 2022, $0.00653 in 2023, $0.00653 in 2025 and $0.0220 in 2030.
When looking for a Verasity coin price prediction, bear in mind that analysts' and algorithm-based expectations can be wrong. These projections are based on fundamental and technical studies of the VRA token's past performance. Past performance is no guarantee of future results.
It's essential to do your research and always remember your decision to trade depends on your attitude to risk, your expertise in the market, the spread of your investment portfolio, and how comfortable you feel about losing money. You should never trade money that you can afford to lose.
FAQs
How many Verasity coins are there?

According to CoinMarketCap, as of 25 October 2022, the current circulating supply of VRA token stands at over 10.3 billion. Its total supply exceeds 110 billion.
Is Verasity coin a good investment?

Verasity (VRA) has developed a patented Proof of View (PoV) technology that it intends to use to address the issues of video advertising and NFT fraud. Since its inception, the VRA token's price has been quite volatile, with the most recent peak in November 2021. Whether the coin is a good fit for your portfolio depends on your circumstances and risk tolerance. You should estimate the level of risk you are ready to take before trading.
Will Verasity go up?

According to the Verasity crypto price prediction from Price Prediction (as of 25 October 2022), it could go to $0.14 in 2031.

In volatile cryptocurrency markets, it is important to do your own research on a coin or token to determine if it is a good fit for your investment portfolio. Whether VRA is a suitable investment for you depends on your risk tolerance and how much you intend to invest, among other factors. Keep in mind that past performance is no guarantee of future returns. Do not put at risk any money you cannot afford not to get back.
Should I invest in Verasity?

Whether you should invest in VRA is a question that you will have to answer for yourself. Before you do so, however, you will need to conduct your own research and never invest more money than you can afford to lose because prices will go down as well as up.