Vera Bradley (VRA) stock falls after missing Q3 estimates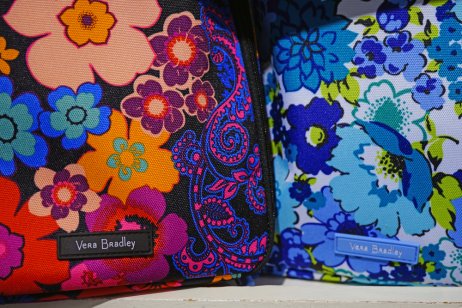 Fashion bag designer Vera Bradley (VRA) stock price took a hit on Wednesday as its fiscal third quarter financial results fell short of analysts' expectations.
Share prices had tumbled nearly 18% by midday Wednesday. Net income for the quarter ending 30 October was $5.8m (£4.38m), or 17 cents per diluted share. The Wall Street Journal's estimate trends listed expectations at 26 cents per share, while Barchart, a fintech company specialising in data services, predicted 27 cents.
Last year, Vera Bradley's third quarter showed a consolidated net income of $8.9m or 26 cents per diluted share.
Delivery delays
On a company earnings conference call with analysts on Wednesday morning, CEO Rob Wallstrom said "supply chain and delivery delays remain challenging, and we do not see this abating in the near term."
Wallstrom said the additional costs incurred for freight "negatively impacted diluted EPS by approximately 5 cents for the third quarter and 10 cents for the nine months. We have begun to take strategic retail price increases across both of our brands to mitigate some of these inflationary and supply chain pressures. Those increases began in the fourth quarter of this year and will continue over the next few quarters."
Consolidated net revenue was $134.7m for the third quarter, an increase of 7.9% compared to fiscal Q3 2021.
Duty-free status expired
Fort Wayne, Indiana-based Vera Bradley has also faced downward pressure on its margins due to higher tariffs from countries it sources to feed its supply chain including Cambodia, Indonesia and Myanmar. Items that Vera Bradley acquired from these regions were previously duty free, but that status expired at the start of the 2021 calendar year.
"In the past, Congress has retroactively reinstated the duty-free status of such tariffs to the beginning of the year; however, we are not certain when or if this will happen," Wallstrom said. "This negatively impacted diluted EPS by approximately 3 cents for the third quarter and by 6 cents for the nine months."
Vera Bradley encompasses two lifestyle brands – its original brand, Vera Bradley, and Pura Vida, a line of bracelets and other accessories. In July 2019, Vera Bradley acquired a 75% stake in Pura Vida for $75m.
For the first nine months of the 2022 fiscal year, Vera Bradley had consolidated net revenues totalling nearly $391m, an increase of almost 20% from the first three quarters of the previous fiscal year.
Travel is a bright spot
As more travellers take to the roads and skies again, Vera Bradley hopes that renewed interest will drive sales of its bags.
"With domestic traveling continuing to strengthen, the travel category remained robust, exceeding both last year and fiscal 2020 levels," Wallstrom said.
Back-to-school sales were also strong, he added.
"As expected, the back-to-school season was elongated this year, and lasted well into the third quarter. With the second and third quarters combined, back-to-school revenues were up substantially over last year as expected, and nearly flat with fiscal 2020 levels."
Goods for younger consumers
Vera Bradley is collaborating with other brands in licensing arrangements designed to attract younger customers. It has entered into licensing deals to produce themed merchandise from Harry Potter, Disney's Beauty and the Beast, Sanrio (Hello Kitty), and Peanuts. Items include apparel such as sleepwear and robes, key chains, duffel bags and throws.
The idea for Vera Bradley was born when friends Barbara Bradley Baekgaard and Patricia Miller were travelling together in 1982 and realised it was difficult to find luggage with a feminine flair, so they decided to create their own line. The company is named after Baekgaard's mother.
Read more: US mid-day: Indexes level out as travel shares fly higher