USD gains versus low-yielders; commodity currencies recover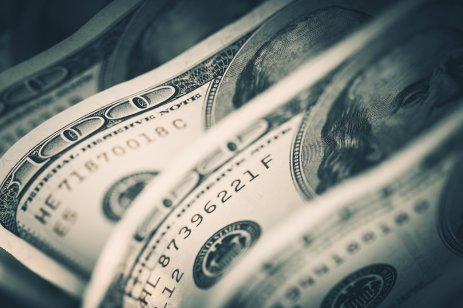 Following Friday's risk-off price action, G-10 currencies were little changed in European morning trading, as traders continued to monitor the progress of the Omicron variant.
The greenback gained ground against low-yielding currencies such as the euro (EUR), Swiss franc (CHF) and Japanese yen. The British pound increased marginally, as investors awaited signals from the Bank of England's officials.
Risk-sensitive currencies such as the Australian (AUD) and New Zealand dollar (NZD), sold-off on Friday in the wake of worries about Omicron, have regained some of their losses this morning. Aussie traders are expected to keep a watch on the Reserve Bank of Australia's interest rate announcement, due on 7 December, with a particular focus on the approach to quantitative eEasing.
Meanwhile, crude prices rose on Monday, helping oil-linked currencies recoup some of Friday's losses. The Norwegian Krone (NOK) and Canadian dollar (CAD) rose 0.4% and 0.2%, respectively, against the US dollar.
What is your sentiment on EUR/SEK?
Vote to see Traders sentiment!
Forex Daily Matrix – 6 December 2021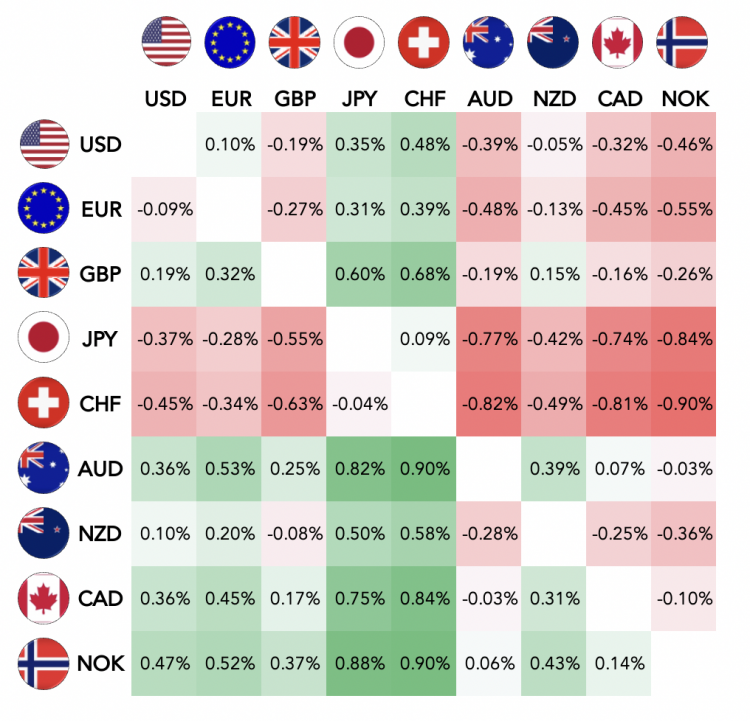 Forex Daily Matrix as of 6 December 2021, 10:15 GMT – Credit: Capital.com
US Dollar
The US Dollar Index (DXY) was last seen at 96.14 levels, unchanged on the day.
On Friday, non-farm payrolls increased by 210k in November, short of the expected figure of 450k. The unemployment rate declined by 0.4% point to 4.2%, short of analsysts' consensus of a drop to 4.5%. Despite disappointing employment growth in November, the large decline in unemployment signals a tighter labour market, raising inflation concerns.
According to St Louis Fed President James Bullard, the labour market is extremely tight and, in his opinion, the unemployment rate will fall below 4% in Q12022, bolstering the argument for the Fed to normalise monetary policy.
The yield on the two-year Treasury Note rebounded slightly above 0.6%, while the 10-year yield rose by four basis points to 1.38%.
The market remains evenly split on the probability that the Fed will begin hiking rates as early as May 2022, according to CME's latest FedWatch Tool.
US dollar (DXY) technical levels:
52-week high: 96.82
52-week low: 89.22
50-day moving average (1-day chart): 94.69
200-day moving average (1-day chart): 92.55
14-day Relative Strength Index (RSI) (1-day chart): 61.08
Chart of the day: US unemployment rate is now only slightly above pre-pandemic level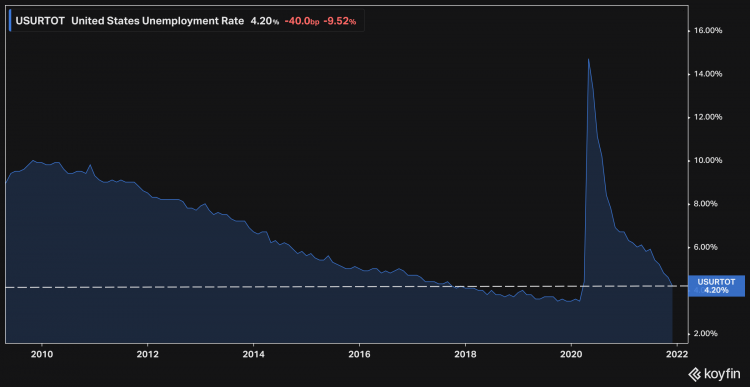 US Unemployment rate as of November 2021 – Credit: Koyfin
Euro
EUR/USD was last at 1.1303, down 0.1% on the day.
This morning, factory orders in Germany fell sharply by -6.9% month-on-month (m/m), after a growth of +1.8% m/m in September.
Meanwhile, European governments are continuing to tighten restrictions in order to tackle the Covid outbreak across the continent. German officials decided on Thursday to restrict unvaccinated individuals from all except the most necessary businesses, including grocery shops, pharmacies, and bakers, and to explore making Covid vaccinations mandatory from March. Starting from today, Italians will need to provide proof of recovery from Covid or a vaccination certificate to enter non-essential places including restaurants and theatres.
In an interview with Reuters, ECB President Lagarde confirmed that net PEPP purchases might finish by the end of March, but she highlighted that the high level of uncertainty prevents making any long-term commitments.
EUR/USD technical levels:
52-week high: 1.2349
52-week low: 1.1184
50-day moving average (1-day chart): 1.1500
200-day moving average (1-day chart): 1.1815
14-day Relative Strength Index (RSI) (1-day chart): 41.70
British pound
Cable (GBP/USD) was last seen at 1.3256 by 10:15 GMT, up 0.2% on the day.
Over the weekend, the UK government announced it was making a Covid-19 pre-departure test mandatory for all travellers returning to the UK, to prevent further Omicron cases from entering the country.
Pound traders will be assessing BoE deputy governor Ben Broadbent's speech this morning to see if the Omicron risk has scuttled a December interest-rate hike.
GBP/USD technical levels:
52-week high: 1.4248
52-week low: 1.3133
50-day moving average (1-day chart): 1.3547
200-day moving average (1-day chart): 1.3800
14-day Relative Strength Index (RSI) (1-day chart): 33.47
Forex Performance Heatmap – 6 December 2021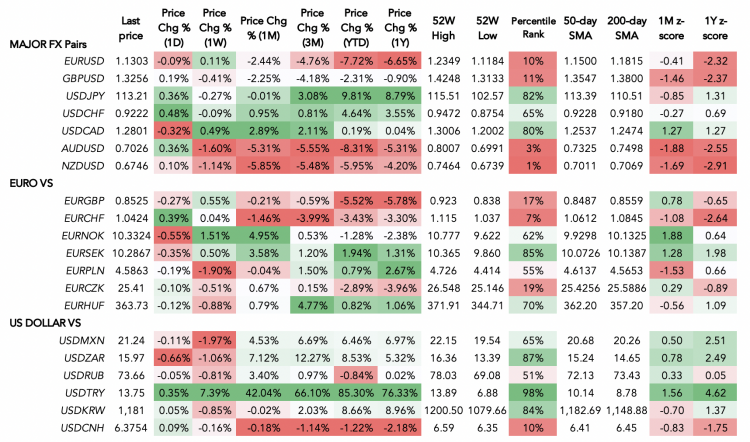 Forex Performance Heatmap as of 6 December 2021, 10:15 GMT – Credit: Capital.com
Other currency pairs (% change from previous close):