US mid-day: Wall Street closer to a losing week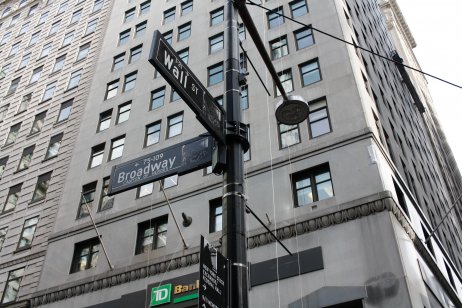 Despite a late afternoon rally following the US Federal Reserve's meeting on Wednesday, the major US benchmarks have stayed down this week.
Halfway through the session on Friday, the Dow Jones Industrial Average was around 470 points lower, or 1.3%, the S&P 500 was off near 0.9%, while the Nasdaq Composite is down about 0.3% after briefly hitting positive territory.
For the week, the Nasdaq is off nearly 3%, while the Dow and S&P are both more than 1% lower.
Winners and losers: Tech stocks limp into Friday
Shares of FedEx are around 5% higher following quarterly earnings and revenue results exceeding expectations. The company also reinstated its original 2022 EPS forecast.
As increasing Omicron cases pop up around the US, shares of Pfizer are down near 3.04%, shares of Johnson & Johnson are around 2.5% lower, while shares of Moderna are spiking nearly 2.88%.
In tech stocks, shares of Apple dropped nearly 1.0%, shares of Meta Platforms are 0.16% lower, and shares of Microsoft are trading down 1.06%, while shares of Amazon are heading the other way at around 0.39%.
In retail, shares of Walmart are around 1.36% off as shares of Costco have dropped nearly 0.43%.
What is your sentiment on US30?
Vote to see Traders sentiment!
Oil: Crude prices fall, energy shares follow
Oil futures are lower to end the week with Brent crude, the international benchmark, falling 2% to $73.50 (£55.44) a barrel.
In energy stocks, shares of Exxon Mobil are almost 1.5% off, shares of ConocoPhillips are about 3% lower, while shares of Hess and Diamondback Energy are trading down nearly 3.56% and 2.16% respectively.
In other energy stock, shares of Chevron are almost 1.7% lower.
Gold: Yellow metal hits highwater mark
Gold futures are higher again on Friday and on pace to notch their highest settlement in almost a month.
February gold is up $10.30, or 0.6%, to reach $1,808.50 an ounce.
Forex: US buck gains a step back on euro
On Friday, one US dollar equals 0.89 of the euro, after falling to 0.88 yesterday.
The yield on the benchmark 10-year U.S. Treasury note sank to 1.3772% Friday from 1.422% Thursday.
Read more: Crypto fraudsters took .7bn last year