US market close: Traders start selling as Omicron scares market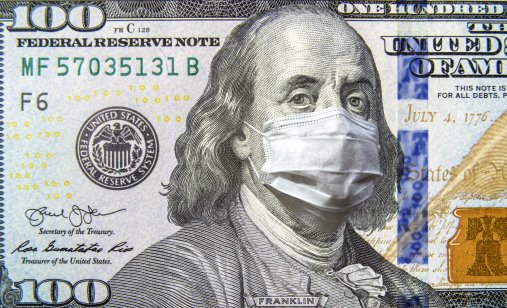 Rising Omicron concerns staggered Wall Street on Monday, sending the major US benchmarks lower as traders began a sell-off.
The Dow Jones Industrial Average lost around 430 points, the S&P 500 shed 1.1% and the Nasdaq Composite slipped 1.2%.
The small-cap benchmark Russell 2000 went down 1.6%.
Halfway through the session, the Dow was down around 650 points, the S&P 500 was nearly 1.7% lower, and the Nasdaq Composite was down about 1.5%.
Omicron cases spike before Christmas
The latest data from the Centers for Disease Control (CDC) shows more than 156,000 US cases were reported on Friday, while the Omicron strain has now been found in 43 out of the 50 US states and about 90 countries around the world.
The first US case of Omicron was confirmed on 1 December.
What is your sentiment on US30?
Vote to see Traders sentiment!
Winners and losers: Vaccine-maker stock mixed on Monday
As increasing US Omicron cases impacted trading on Monday, shares of Pfizer are 2.59% better, while shares of Johnson & Johnson are 0.29% lower and shares of Moderna have plummeted 6.25%.
In the technology sector, shares of Apple are 0.81% lower, shares of Meta Platforms are off by 2.50%, while shares of Microsoft and shares of Amazon are down 1.20% and 1.73% respectively.
Meanwhile, blue-chip stock has contributed to the Dow's negative Monday as shares of Boeing nosedived 2.16%, shares of Goldman Sachs went down 2.68% and shares of American Express fell 2.60%.
Oil: Crude's most active loses ground
Oil futures were lower on Monday as spiking Omicron cases threaten travel restrictions.
West Texas Intermediate crude for February delivery, the most actively traded US contract, closed the session off by $2.11, or 3%, to $68.61 a barrel on the New York Mercantile Exchange.
WTI prices fell to $66.12 on Friday, marking a 1.1% drop for last week.
In energy stock, shares of Exxon Mobil are down 1.43%, shares of ConocoPhillips are down just 0.015%, while shares of Hess fell 0.66% and shares of Chevron slipped 0.044%.
Gold: Yellow metal falls after last week's win
Gold futures went lower to start the week.
February gold settled $10.30, or 0.6%, lower at $1,796.40 an ounce, while March silver lost 24.2 cents, or 1.1%, to settle at $22.291 an ounce.
On Friday, gold notched a 1.5% weekly gain.
Forex: Yield pop higher on Monday
On Monday, one US dollar equals 1.29 of the Canadian dollar, 0.89 of the euro, and 0.76 of the pound sterling.
The yield on the benchmark 10-year Treasury note improved to 1.418% from 1.401% Friday.
Read more: Elon Musk may share blame for Tesla sexual harrassment lawsuits: Lawyer