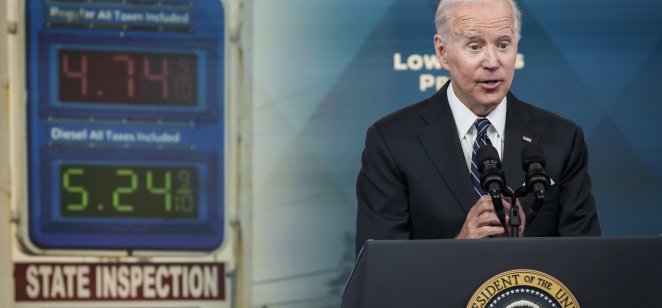 While US energy stocks have been a bright spot year-to-date, going 17% higher to become the top sector in 2022, the industry has dimmed over the last month, falling by 16% to become the worst performing sector over the last 30 days.
Piero Cingari, market analyst at Capital.com, said the change in energy stocks "may signal a shift in the trend."
Companies like Chevron (CVX), ConocoPhillips (COP) and Occidental Petroleum (OXY) are up big since the year began, but have significantly fallen the last month with Chevron slipping 19.32%, Conoco dropping 22.02%, and Occidental lopping off 17.61%.
Occidental Petroleum (OXY) price chart
Wall Street today: Indexes hang on for wins, growth stocks suffer
The Dow Jones Industrial Average (US30) added 194 points, or 0.64%, while the Nasdaq 100 (US100) jumped 1.47%, and the S&P 500 (US500) gained 0.95%.
Cingari said growth-sensitive sectors suffered the most declines, with energy (XLE) metals and mining (XME) both falling 5%, while defensive sectors like utilities (XLU) rose by 2%, marking the third consecutive session of gains.
"The S&P 500 (US500) has been flat over the last two sessions in a very constrained range of 3,700 to 3,800 points, singalling quiet days on Wall Street compared to last week," he went on. "But the devil is always in the details, and if sectors slumped indiscriminately last week, important differentiations are beginning to emerge."
What is your sentiment on OXY?
Vote to see Traders sentiment!
Read more about inflation
S&P 500 (

US500

) price chart
Commodities: Oil falls beneath $105 a barrel, gold down
Oil futures were lower as West Texas Intermediate lost 2.12% to $103.94 a barrel, while Gold futures backtracked 0.59% to $1,827.50 an ounce.
Read more