US DoJ sues American Airlines, Jetblue over flight alliance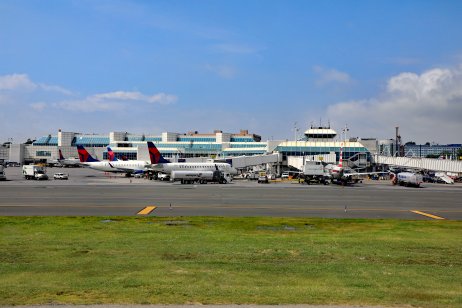 The US Department of Justice (DoJ) filed a lawsuit aimed at blocking a deal between American Airlines and JetBlue sharing travellers on flights in the US Northeast.
American Airlines and JetBlue's Northeast Alliance (NEA) has operations at four major airports in the US Northeast and in July unveiled plans to operate more than 700 daily flights from New York and Boston from the autumn, giving travellers access to 57 new markets and more than 110 codeshare routes.
"In an industry where just four airlines control more than 80% of domestic air travel, American Airlines' 'alliance' with JetBlue is, in fact, an unprecedented manoeuvre to further consolidate the industry," US attorney general Merrick B. Garland said in a statement.
"De facto merger" – DoJ
"This sweeping partnership is unprecedented among domestic airlines and amounts to a de facto merger between American and JetBlue in Boston and New York City," acting assistant attorney general Richard A. Powers of the US Justice Department's Antitrust Division added.
The suit – which includes attorneys general from six states and Washington, DC – alleges that the NEA would eliminate competition between the two airlines in the region and elsewhere, resulting in higher fares, fewer choices and lower quality service if the alliance was allowed to continue.
The CEO of American Airlines hit back against the lawsuit in a live-streamed Q&A session with the Washington Post.
Alliance is "pro-competitive" – American Airlines CEO
"They're wrong and we'll prove it. It's entirely pro-competitive," American Airlines' Doug Parker said.
JetBlue also issued a press statement in which CEO Robin Hayes denied the alliance with American Airlines was a merger.
"This is not at all like a merger with American – we have two different business models and are not working together on pricing. It's also important that you have the full picture on benefits the NEA is already delivering, and I want to reassure you that the DoJ's action will not affect our plans to continue implementing the NEA," Hayes said.
"While it's extremely unfortunate DoJ would rather take us to court than help us compete, we're ready to make a strong case on why more low-fare JetBlue growth is good for customers. We fully expect the court to find that nothing about the NEA changes our business model or our role as a force for good in the industry," Hayes added.
June air travel down 20%
Air travel is important in the US due to the nation's immense size. The industry has been hit hard by the Covid-19 pandemic as flights were grounded and airline staff was downsized. According to the latest data, US airlines carried 61.4 million passengers in June 2021, 20% fewer than in pre-pandemic June 2019.
Read more: American Airlines stock analysis