Universal Music Group strikes note with investors in debut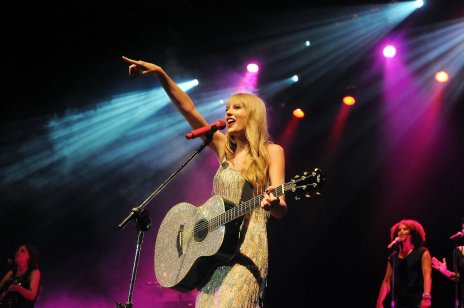 Shares in Universal Music Group soared more than 35% higher in its debut on the Euronext Amsterdam exchange, where investors signalled their belief that gains in streaming music still have a long way to run.
The share price is trading at around €25, up from a reference price of €18.5. At that price, the company – which represents musicians and song catalogues from Taylor Swift to Stevie Wonder – is valued at more than €47bn ($55bn), according to Reuters.
French media group Vivendi convinced shareholders to approve the spin-off of UMG in June with 60% of the music group's shares going to Vivendi shareholders.
Financial outlook
UMG is one of the largest players in the music entertainment space sitting at the intersection of several highly favourable secular dynamics, Bank of America (BofA) analysts said in a note obtained by Capital.com.
UMG can drive revenue through several avenues including paid music streaming subscriptions; its leading share of the marketplace; its partnership with 20% shareholder Tencent that should facilitate development in China and Southeast Asia; and its strong cash-flow generation that should open up some €10bn for M&A, catalogue investments and shareholder returns on top of more than €3bn of planned dividends, according to BofA.
UMG increased revenue to €3.831bn over the six-month period ending 6 June, which was up more than 10% over the same period last year, according to the company's initial public offering perspective.
Rising tides
Warner Music Group made its debut on the Nasdaq in June 2020 and is seeing its share price pop by more than 9% Tuesday to a new high of nearly $44 per share on the back of UMG's debut.
In a sign of a return of the IPO market amid the Covid-19 pandemic, Warner Music Group sold 77 million class A shares at $25 per share, valuing it at $12.75bn. Since then the company's value has increased by more than 46%.
Even in the face of that success, BofA analysts believe UMG can rise to even greater heights. UMG's shares are expected to trade at a 15% premium to WMG based on estimated 2022 EV/EBITDA (enterprise value to the earnings before interest, taxes, depreciation, and amortisation), according to the analysts.
"We see scope for this premium to expand given UMG's larger scale, impressive balance sheet, and cleaner shareholding structure," BofA analysts wrote in the note. "Ultimately, we think large-cap European 'compounders' could become an appropriate peer group for UMG."
Read more: Warner Music Group IPO: will it become a 'summer hit' in 2020?