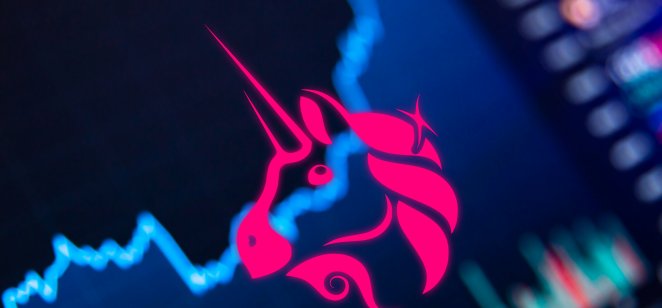 In 2021, DeFi protocols attained mainstream popularity. According to data from DeFi Pulse, the total value locked (TVL) in DeFi protocols reached $91.93bn (£25.47bn) at the time of writing (19 January), up 165% from $34.69bn on 21 January 2021.
Uniswap's TVL was valued at $8.29bn, placing it fifth, while market leader Maker's TVL was valued at $16.3bn, the data showed.
According to CoinMarketCap statistics as of 19 January, Uniswap was ranked sixth among the top DeFi projects with a market capitalisation of $9.6bn, lagging behind Terra (LUNA), Avalanche (AVAX), Wrapped Bitcoin (WBTC), Chainlink (LINK), and Dai (DAI).
Can Uniswap level up in 2022 and outshine its competitors? This article covers a detailed fundamental and technical analysis, as well as the project's latest developments, to help you form a plausible uniswap coin price prediction.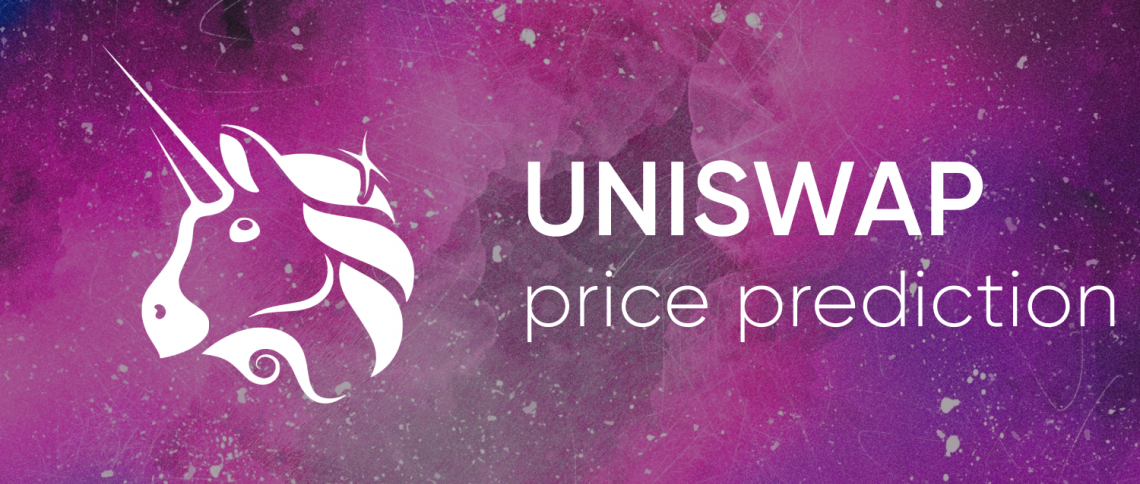 What is Uniswap and what makes it unique?
Uniswap is a decentralised exchange (or DEX) built on the Ethereum blockchain that operates on a peer-to-peer trading system defined by Ethereum-based irreversible, permanent and non-upgradable smart contracts.
The Uniswap protocol allows transactions to take place without the need for any trusted intermediaries. Additionally, it is autonomous, encrypted and self-contained.
On a traditional exchange, buyers and sellers propose various prices for an asset. When other users deem a stated price acceptable, they execute a deal, converting the listed price to the asset's market price. Uniswap uses a different approach, acting as an automated market maker (AMM) to enable the trading of crypto assets without the need for authorisation.
According to the company's
website
: "Uniswap is an automated market maker. In practical terms, it is a collection of smart contracts that define a standard way to create liquidity pools, provide liquidity, and swap assets…Reserves and prices are updated automatically every time someone trades. There is no central order book, no third-party custody, and no private order matching engine. Because reserves are automatically rebalanced after each trade, a Uniswap pool can always be used to buy or sell a token – unlike traditional exchanges, traders do not need to match with individual counterparties to complete a trade."
AMMs address the issue of low liquidity by establishing liquidity pools and incentivising liquidity providers to fill these pools with assets. The more assets and liquidity in a pool, the simpler it is to trade on decentralised exchanges.
Additionally, Uniswap follows a permissionless design structure, which implies that the protocol's services are available to the public, with no mechanism to limit who may or cannot use them.
UNI serves as the Uniswap network's utility and governance token, ensuring the project's future development. UNI token holders can vote on various proposals or delegate their votes to a third party and receive staking rewards.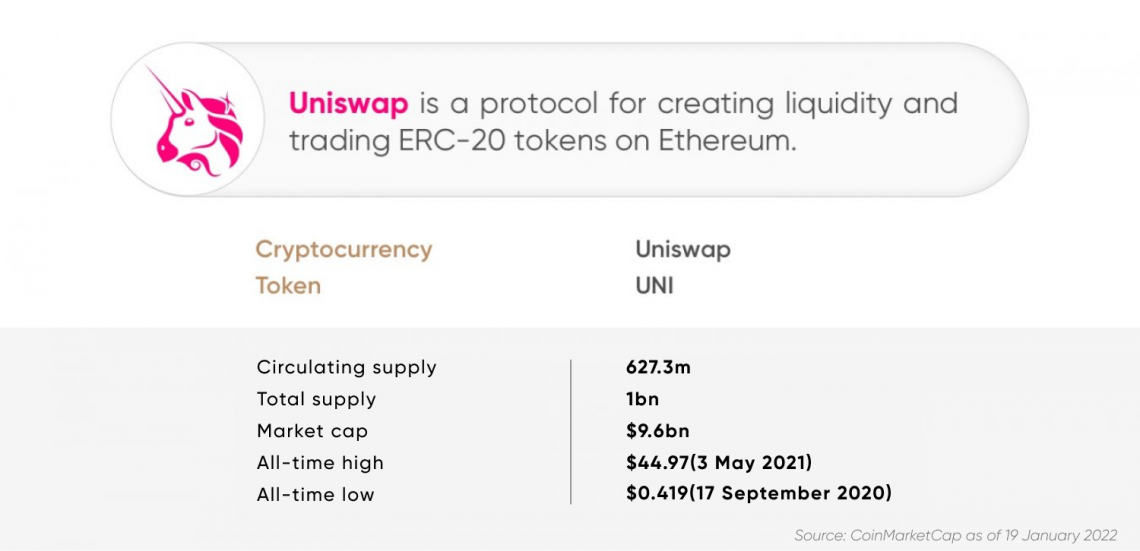 Uniswap news and price drivers
Uniswap has undergone several important milestones, which may drive the UNI token price in future:
Uniswap announced an $11m Series A fundraising round headed by Andreessen Horowitz with participation from USV, Paradigm, Version One, Variant, ParaFi Capital, SV Angel and A.Capital in August 2020.
This funding round sought to expand the team working on Uniswap v3 to boost the protocol's adaptability and capital efficiency.
Sybil, a governance tool for delegate discovery, was introduced by Uniswap in December 2020. Users delegate their votes or run for delegate seats to ensure the smooth operation of on-chain governance systems.
Sybil was created to increase acceptance of Uniswap's governance system and encourage current and prospective Uniswap delegates to verify their identities, making it simpler for delegates to find and communicate with their community members.
According to the official statement, Sybil's use cases go beyond delegation to include trade and gaming leaderboards and Ethereum-based messaging services.
Uniswap introduced the v3 mainnet version, the protocol's most sophisticated version, in May 2021.
This update emphasised the need for concentrated liquidity and capital efficiency for liquidity providers, improved execution for traders, and a superior digital infrastructure for seamless and rapid transactions.
The company stated: "The pool interface now supports the creation of Uniswap v3 positions with multiple fee tiers and concentrated liquidity ranges. Each position is represented as an
NFT
[non-fungible token] and comes with a unique piece of on-chain generative art."
4/

????️ LP positions are now NFTs!

???? NFTs will appear as unique on-chain generated art based on the properties of your position

✨ Look out for rare sparkles! pic.twitter.com/fC2e5Wzc3l

— Uniswap Labs ???? (@Uniswap) May 5, 2021
Uniswap introduced Arbitrum's alpha version in August 2021, enabling customers to trade on the platform with reduced gas fees and rapid transaction confirmation.
The Arbitrum network launched with support for 33 assets, including USDC, WETH, and WBTC. In addition, the developers mentioned that they would continue to add tokens to the network regularly.
2/

⚡️ Arbitrum transactions save users on gas costs and confirm instantly — no more pending or stuck swaps!

???? At launch, Arbitrum throughput will be roughly in line with Ethereum L1https://t.co/SwrRNffgvt

— Uniswap Labs ???? (@Uniswap) August 31, 2021
UNI/USD price analysis
Based on the earliest available price data from CoinMarketCap from 2020, UNI coin value fell from $6.90 on 18 September to $2.80 on 7 October and bottomed to $1.93 on 4 November, representing a 72% fall from September prices. It closed the year at $5.17 as of 31 December 2020.
Following that, 2021 proved to be a remarkable year for the UNI token as its price grew manifold, increasing from $5.25 on 11 January to $29.14 on 20 February – a massive increase of 455% in a little more than a month.
The price collapsed to $22.19 on 28 February before rising again to $34.28 on 7 March. The price action remained bullish, and the UNI token reached its all-time high of $44.97 on 3 May.
Bears eventually gained control and prices fell to $16.84 on 23 May, and further bottomed to $14.6 on 20 July, representing a fall of 67% from the peak.
Further, the price action turned bullish again and a small rally pushed the price to $31.3 on 1 September. Then, the price collapsed to $14.15 on 13 December. Finally, it closed the year slightly higher at $17.07 as of 31 December 2021.
During the onset of 2022, the UNI token's price action was bullish and it reached $19.74 on 5 January. The price retraced to a 30-day low of $13.97 on 9 January. At the time of writing (19 January), the UNI coin was trading at $15.35, down 65% from the all-time high and had a market capitalisation of $9.6bn.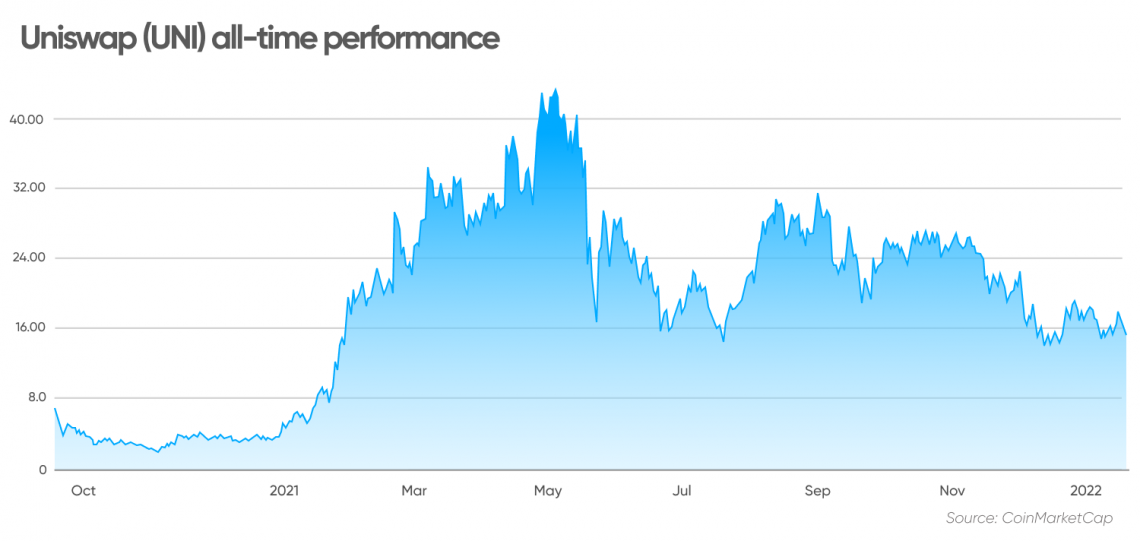 Uniswap (UNI) price prediction: Targets for 2022, 2025 and 2030
CoinCodex's short-term sentiment for the uniswap future price was bearish, with only one indicator showing a bullish signal and 23 bearish, as of 19 January 2022.
All the daily and weekly simple moving averages (SMA) and exponential moving averages (EMA) gave 'sell' signals. The Hull Moving Average (HMA) was also bearish.
The volume-weighted moving averages (VWMA) gave a 'buy' signal. Meanwhile, the Williams Percent Range, Stochastic RSI (Stoch RSI) and the Moving Average Convergence Divergence (MACD) were neutral.
According to the uniswap coin price prediction from CoinCodex, UNI price could decrease by 17.99% to reach $12.63 by 24 January 2022.
As of 19 January, algorithm-based forecasters shared long-term Uniswap forecasts:
According to Wallet Investor, the average price could reach $28.35 by the end of 2022 and $63.5 by 2025. The five-year estimate for UNI/USD indicated that it could hit $75.43 in January 2027.

According to Digital Coin's Uniswap price prediction, the average price of UNI in 2022 could be $20.88, moving up to $23.8 in 2023, $32.69 in 2025 and $65.95 in 2029.

According to Price Prediction, the average price of UNI could reach $23.46 in 2022, $73.39 in 2025, and $498.85 in 2030. Price Prediction's 10-year UNI crypto price prediction indicated the coin could reach $697.17 in 2031.
When looking for UNI forecasts, bear in mind that analysts' and algorithm-based predictions can be wrong. These UNI projections are based on fundamental and technical studies of a cryptocurrency's past performance. Past performance is no guarantee of future results.
It's essential to do your research and always remember your decision to trade depends on your attitude to risk, your expertise in the market, the spread of your investment portfolio and how comfortable you feel about losing money. You should never invest money that you cannot afford to lose.
FAQs
Is Uniswap a good investment?

Uniswap is one of the most popular DeFi protocols, which functions as a decentralised exchange for trading crypto tokens. Whether the UNI token is a good fit for your investment portfolio depends on your circumstances and risk tolerance. So you should estimate the level of risk you are ready to take before investing. And never invest money that you cannot afford to lose.
How high can the Uniswap (UNI) coin go?

According to the UNI/USD forecast from Price Prediction (as of 19 January 2022), it could hit $697.17 by 2031.
Will the Uniswap (UNI) coin reach $100?

Algorithmic forecasting tools including Wallet Investor, Digital Coin and Price Prediction (as of 19 January) suggested the coin had the potential for gains. Price Prediction estimated that UNI token could exceed $100 by 2026.
Why has the UNI price been dropping?

Uniswap faces intense competition from other DeFi protocols. Furthermore, the broader crypto climate has been bearish recently, which might have affected its price.