UN climate pact to accelerate shift from coal in Asia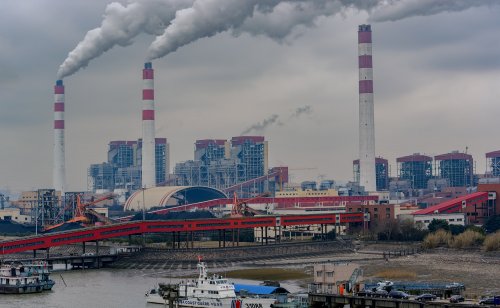 The Glasgow Climate Pact signed at last month's UN climate change conference (COP26) will accelerate the shift from coal to a more sustainable energy supply in Asia.
Fitch Solutions said on its note on Monday that forecast coal-fired power plants in Asia will continue to grow over most of the coming years before peaking at the end of this decade and decline over the longer term.
"Despite significant downside risks to coal power following the agreement, Asia will still remain highly dependent on coal for power generation, given energy security concerns as well as the large capacity of coal projects that have come online in recent years and are still under construction," the firm said.
Direct call to cut coal
While coal-fired power plants have already been facing increasing headwinds in recent years, the COP26 agreement made a direct call for markets to reduce their reliance on coal-fired power for the first time.
The agreement came as financing for coal power plants is increasingly strained with most major banks and financial institutions planning to end the funding of coal at COP26. In addition, a group of 25 markets, including the US and UK, also agreed to end the funding for wider fossil fuel sector investments in general by the end of 2022.
In September, China has also pledged to end overseas financing of the coal sector, which effectively ends foreign financial and non-domestic capital support for coal.
"This marks a notable shift for the region and presents significant downside risks to the coal power sector," said Fitch.
Coal projects in the pipeline
This has led coal-heavy nations in the region, such as Indonesia and Vietnam, to have also made commitments to end the construction of new coal-fired power plants. Their commitments followed announcements made by Pakistan and the Philippines over the past year.
However, according to Fitch Solutions data, there are more than 138 gigawatts (GW) of coal power capacity already under construction with another 238GW under pre-construction stages in Asia.
China and India account for the largest share of coal projects in Asia. Both countries have also not made explicit commitments to stop new projects domestically, and domestic financing remains forthcoming.
New coal power to support coal mining
"We believe that the projects that are already undergoing construction or have reached financial closure will likely continue to progress, while those in the early stages will face significant risks of derailing," the firm said, adding that the current batch of coal projects will be among the last wave.
Fitch Solutions said the ongoing coal-fired projects will, in turn, support the continued mining of coal and coal trade in the region, with India, Australia and Indonesia as the remaining key players.
"Nevertheless, stricter environmental standards in Asia will continue to hurt coal miners by increasing compliance costs and delaying project development as well," it added.
Read more: Coal demand resilient to China's UN power station pledge