UK house builders could be a short trade as data heads south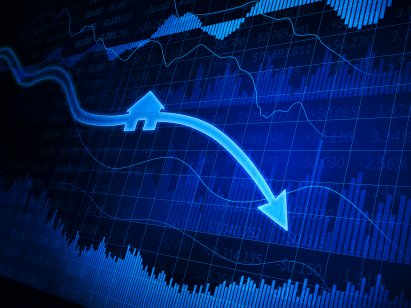 The foundations of the UK housing market appear to be slightly rocky lately. Data released on Tuesday showed that UK property sales were down in April, but house price surveys continue to show growth.
Meanwhile, PMI data suggest increasing pessimism among construction sector executives. So what does this mean for housing stocks such as Persimmon (PSN) and Berkeley Group (BKG), and could there be an opportunity for short trading?
The UK housing sector has been all peaks and troughs of late. Data published by HMRC for the month of April showed that property sales were down over 10% compared to March, and over 13% versus 2021.
What is your sentiment on PSN.L?
Vote to see Traders sentiment!
Persimmon PLC - PSN.L CFD
Market uncertainty
Sarah Coles, senior personal finance analyst at Hargreaves Lansdown, said in a note: "The vertiginous peaks and troughs in house sales have started to level out, and while they're still at a higher altitude than before the pandemic, it raises the question as to whether we're heading for lower ground as the market starts to slow."
The bad news has also continued for the construction sector. UK construction companies reported in May that the speed of recovery has lost momentum amid weaker new order gains, and that the sector had experienced its slowest rate of new order growth so far in 2022, as rising costs and economic uncertainty hit demand.
House prices are rising
But this grim picture has not been reflected in UK house prices. Within the Halifax house price data for April, it appeared the market had shrugged off rising mortgage rates and the cost of living crisis, as house price growth rose once again.
However, despite house prices rising, there is uncertainty in the market. Experts believe that house prices may fall, and this could offer an opportunity for short trading.
Shorting the housing market is based on speculating that house prices will decline, and short trading shares in companies within the industry.
Berkeley Group Holdings PLC - BKG CFD
When we look at Persimmon (PSN) and Berkeley Group (BKG)'s share price, Persimmon (PSN) has been down almost 25% year-to-date (YTD). As for BKG's stock price, again it's been down over 12%, but both stocks have rebounded in the past week.
So what opportunities are there for short trading?
Short trading
"With mortgage rates only just starting to climb to reflect the Bank of England (BoE)'s ongoing rate hikes, house price growth will slow sharply," said Andrew Wishart, senior property economist for Capital Economics.
Signs of a declining market could open the door for short traders, but that is all dependent on whether the price of homes falls – and house prices dropping doesn't seem to be on the cards just yet.
The Nationwide House Price Index in the UK jumped 14.3% year-on-year in March 2022, the strongest increase since November 2004, and well above forecasts. But despite data showing rising house prices, experts still believe a decline is on the horizon.
Barratt Developments PLC - BDEV CFD
"We still think that the housing market is likely to slow in the quarters ahead," said Robert Gardner, Nationwide's chief economist. "The squeeze on household incomes is set to intensify, with inflation expected to rise further, perhaps reaching double digits in the quarters ahead if global energy prices remain high."
The UK housing market is currently in a period of uncertainty. House sales demand and construction demand are both falling, but this is in stark contrast to rising house prices.
However, experts do believe the price of homes will begin to fall – and that could offer an opportunity to traders who wish to capitalise on the decline.