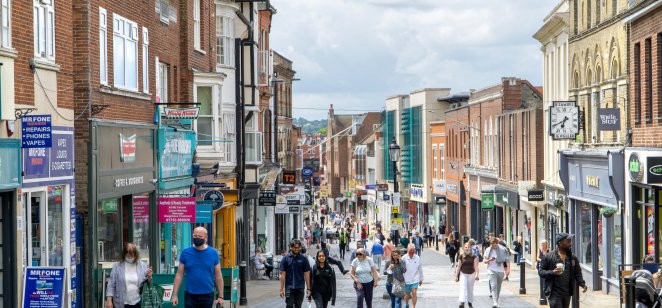 UK economic growth slowed considerably in the July to September period, new figures showed on Thursday.
The UK's gross domestic product (GDP) grew by just 1.3% in the third quarter, down from 5.5% in April to June when the economy was given a boost by the lifting of most pandemic restrictions.
Underperformed
Today's numbers were lower than the UK's Monetary Policy Committee forecast last week. It had expected the economy to have grown by 1.5%. The Office for National Statistics (ONS), which published the data, noted that quarterly GDP growth was now 2.1% lower than at the end of 2019 before the pandemic struck.
Samuel Tombs, chief UK economist at Pantheon Macroeconomics, said the UK "appears to have reclaimed its status as the G7's laggard," noting that third-quarter GDP growth was 1.4% above its pre-Covid peak in the US. He also drew comparisons in Europe, pointing out that GDP growth in France, Italy and Germany was still below pre-pandemic levels, but only marginally at 0.1%, 1.4% and 1.5%, respectively.
September uptick
In terms of individual months, GDP shrank by 0.2% in July before growing by 0.2% in August. It then continued to increase, reaching 0.6% in September.
The rise was driven by a 0.7% growth in services output in September, with human health activities growing by 6.4% as face-to-face appointments at GP surgeries in England increased.
Other data for September also published on Thursday showed consumer-facing services fell by 0.6%, largely due to a 13.3% fall in the wholesale and retail trade along with the repair of motor vehicles and motorcycles, leaving consumer-facing services 5.5% below their pre-pandemic levels.
The fall was partly offset by growth in food and beverage services (3.8%), travel services (18.4%) and rail transport (9.1%).
All other services were 1% above their pre-pandemic level in September, while overall growth in services was 1.6% up in the third quarter.
Construction recovery
The ONS found construction output increased by 1.3% in September after two months of contraction, putting the sector 1% below its pre-pandemic level.
The recently-published Construction Purchasing Managers' Index (PMI) suggests that growth in construction continued in October, despite the industry facing supply chain disruption, labour shortages and rising inflation.
On the other hand, production output fell by 0.4% in September, after two consecutive months of growth, which was attributed to a 4.1% fall in the distribution of gas.
Price rises
Nominal GDP, which includes the price of goods and services, rose by 1.4% in the third quarter, to stand at 3.2% above its pre-pandemic level.
The implied GDP deflator, which measures changes in the price of goods and services, increased by 0.2%, a rise of 0.5% on a year ago.
While previously-published ONS data showed inflation had dipped unexpectedly in the UK in September despite rising in much of Europe and the US amid soaring energy prices, this was largely because hospitality prices were skewed by the "eat out to help out" scheme in 2020, with one analyst at the time calling the figures "the lull before the storm."
Spending restrained
The UK saw a 2.5% fall in wholesale and retail trade output, driven by weak consumer spending. In real terms, spending in the third quarter was 4.4% below 2019 fourth-quarter levels.
"Households still aren't willing to spend a normal share of their incomes," said Tombs, "even though real disposable income in Q2 was only 0.8% below its Q4 2019 level and likely rose in Q3 as a result of strong growth in employment."
"Households in France and the US … were much less cautious in Q3. We think relatively high levels of virus transmission in the UK, alongside the cliff edge in government support at the end of Q3, helps to explain British households' relative caution."
Exports down
The volume of goods and services exports fell by 1.9%.
Tombs called UK exports "abysmal" and said Brexit should take part of the blame with exports 22.2% below levels seen in the fourth quarter of 2019.
"British manufacturers have lost considerable market share in global markets," he said.
Challenges ahead
Alpesh Paleja, lead economist at the Confederation of British Industry (CBI), commented: "It's encouraging that the economy maintained some momentum in September. But there's no denying that this rounded off a tough quarter for businesses, with supply constraints biting hard.
"A combination of rising Covid cases and shortages of raw materials, components and labour came together to present significant headwinds to growth."
Paul Dales, chief UK economist at Capital Economics, said: "The best of the recovery is now behind us.
"We think progress is going to slow over the next 6-9 months as shortages remain an issue and the real spending power of businesses and households is reduced by higher taxes and rising utility prices."