Two airlines see fast flights off bankruptcy lows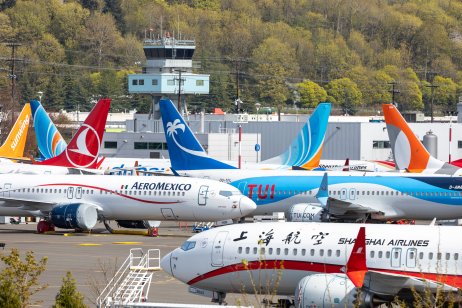 Mexico's Aeroméxico and Colombia's Avianca expect to generate positive cash flow from operations as soon as next year, the airlines said in court documents. The projections provide a snapshot of how the two companies, poised to leave bankruptcy, view post-pandemic travel trends.
Aeroméxico filed a disclosure statement on 1 October that explains its reorganisation plan to creditors and other stakeholders. It has tentatively requested a 29 November court hearing to confirm the plan following a creditor vote. Confirmation would clear a runway for Aeroméxico to implement its restructuring and exit bankruptcy.
A confirmation hearing for Avianca is scheduled for 26 October. The court has already approved its disclosure statement and creditors are voting on the plan.
Aeroméxico's forecast
Aeroméxico is projecting negative cash flow from operations in 2021 before generating positive operating cash flow in each of the next four years. Cash from operating activities should go from negative $126m (£92.50m) in 2021 to positive $676m in 2022, and total $4.5bn between 2021-2025.
Passenger revenue in 2021 is estimated to be $1.9bn in 2021, down 41% compared to 2019. Nevertheless, revenue is expected to grow at a compound annual rate of 7% between 2019 and 2025 and reach $4.9bn in 2025.
Available seat kilometres (ASKs) in 2021 will be down 31% versus 2019 but will grow at a 6% compound annual rate between 2019 and 2025. ASKs are projected to be 72.4bn in 2025. At 30 June, ASKs had returned to 63% of pre-pandemic volume.
Passenger revenue per available seat kilometre (PRASK) will decline 15% to $0.05 in 2021 compared to 2019 but will grow at a compound annual rate of 5% between 2019 and 2025 to total $0.06 in 2025.
Aeroméxico sees net profits returning in 2022-2025 after a net loss of $487m in 2021.
Avianca's projections
Avianca sees a similar flight path, the debtor said in its disclosure statement.
"Cash flow from operating activities is projected to fluctuate from approximately negative $27m in 2021 (April - December) to just under $1.7bn in 2028, with aggregate cash produced from operating activities during the forecast period of over $9.1bn," Avianca said.
Passenger revenues will grow from an estimated $977m in 2021 to $3.6bn in 2028.
Avianca sees net losses of $1.1bn and $210.7m in 2021 and 2022, respectively, before generating profit each year through 2028. Net income for 2028 is forecast to be $446.7m.
Aeroméxico's bankruptcy plan
The flagship airline of Mexico plans to leave bankruptcy by issuing new shares and shedding $1bn of debt. The reorganised company will issue as much as $537.5m of new debt and have $679m of secured financing obligations, exclusive of aircraft and equipment-related obligations.
Aeroméxico was able to upgrade its fleet in bankruptcy, simplifying it from six aircraft sub-fleets to four and cutting the average age of aircraft from 9.3 years to 8 years. The company plans to increase the use of Boeing's 737MAX aircraft and include a greater portion of Boeing 787-9 widebodies over time.
"As a result of its reorganisation, Aeroméxico expects to emerge from bankruptcy as a strong, competitive and global airline that continues to connect Mexico with the world," the airline said.
Aeroméxico filed for Chapter 11 bankruptcy on 30 June 2020 amid the Covid-19 pandemic.
"Almost overnight, by 15 April 2020, Mexican domestic capacity was reduced by as much as 75% and international capacity was reduced as much as 90%. As of the petition (bankruptcy filing) date, Aeroméxico's passenger flight operations were drastically limited to approximately 12% of the number of flights operated before the Covid-19 crisis," the airline said.
Aeroméxico is a codeshare partner with Delta Air Lines, which held 51.3% of the economic interests and 49% of the voting rights in the Mexican airline as of the petition date. Delta will own 21% of the new shares.
Avianca's plan
The second-largest airline group in Latin America will convert debt into new shares as part of its reorganisation plan. Bankruptcy lenders will own 72% of the restructured company in exchange for converting $934.7m of debt into equity.
The plan will eliminate $3bn of debt from Avianca's balance sheet. However, the airline will still carry at least $1.6bn of secured funded debt from its bankruptcy exit credit arrangement.
Existing shareholders, including ordinary shareholders and preferred shareholders, will not receive any distribution.
While in bankruptcy, Avianca has cancelled future aircraft orders and rejected and renegotiated aircraft leases. The airline expects to shrink its fleet to 109 aircraft upon emergence from bankruptcy from 158 on its petition date.
Avianca filed for Chapter 11 bankruptcy protection on 10 May 2020, citing Covid-19. Colombia closed its airspace on 20 March 2020 and began a phased reopening in September 2020, "longer than nearly all other countries in the world", the airline said.
As of 31 December 2020, Avianca took passengers to 65 destinations. For the months of January, February and March 2021, Avianca operated 91, 83 and 65 routes, respectively, and served 66, 63 and 53 destinations, respectively, which represented 58%, 54% and 43% of the capacity offered during the same period last year, before the Covid-19 pandemic.
Avianca is a codeshare partner with United Airlines.
Read more: Philippine Airlines files Chaper 11 bankruptcy in US court