What is trend trading?
Also known as trend following, trend trading is a trading strategy which assumes that security is likely to continue to move in the same direction as it is currently trending. It is based on the concept that markets have an element of predictability. Therefore, it is believed that by analysing the latest price fluctuations and historical trends, a trader can predict the future price patterns to try to capture gains through taking positions along a cycle of expected price movements.
This strategy heavily relies on using technical analysis and its components, such as technical indicators and oscillators, chart patterns and trendlines to identify the direction of market momentum.
Simply put, trend trading revolves around a trader making purchasing and selling decisions based on trends.
How does trend trading work?
Trend trading is simply an approach in which a trader identifies that a trend is in place, enters the market in the direction of the trend and holds the position until the trend reverses. It is done by finding low-risk entry points and using technical indicators throughout the trend to identify potential reversals.
Usually, trend traders pay little to no attention to retracements, which are temporary moves against the prevailing trend. However, it is crucial to confirm it is just a temporary move rather than a complete trend reversal, which indicates a need to close a trade.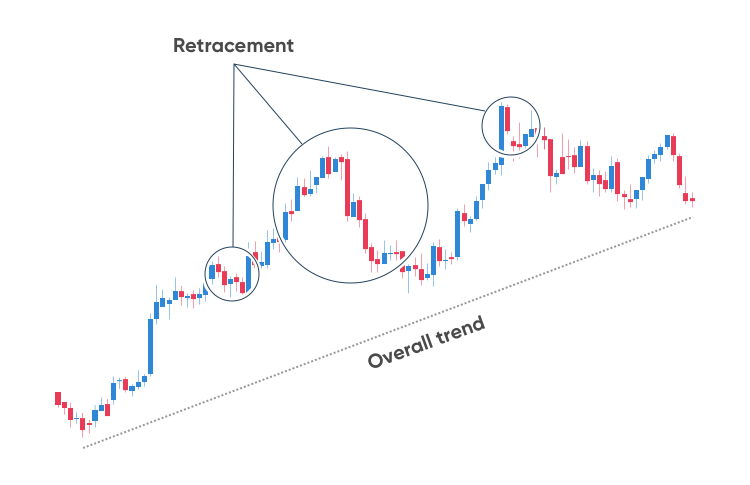 Generally speaking, there are three primary types of trend: uptrends, sideways trends and downtrends. An uptrend is characterised by a series of higher swing lows and higher swing highs, while a downtrend is defined by lower swing lows and lower swing highs. Sideways trends occur once a market price is neither reaching lower price points nor higher ones.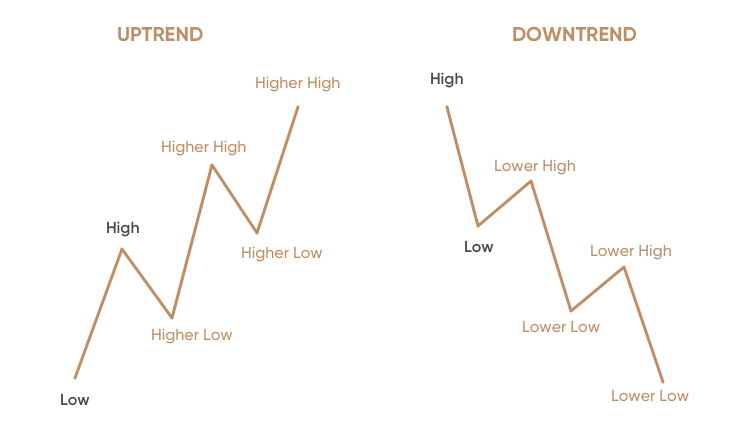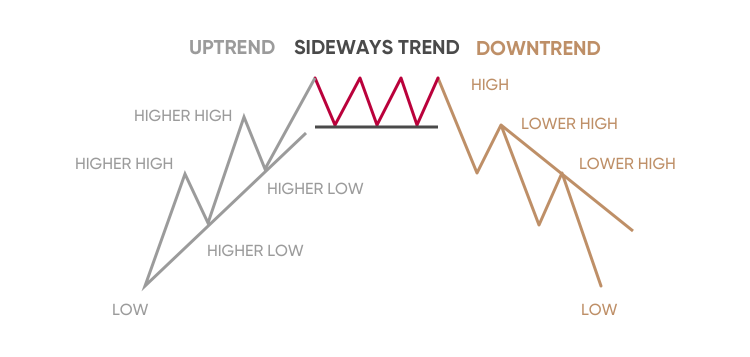 Trend traders often enter into a long position when a security is in an uptrend and tend to choose to enter a short position when an asset is in a downtrend.
Trend trading is a mid to long-term strategy. However, it can theoretically cover any timeframe, depending on how long the trend continues. For that reason, the strategy is usually adopted by traders who prefer a swing trading or position trading style, as those tend to hold a trade throughout an entire trend.
As trends may occur in any financial instrument, this style of trading works in most asset classes, including stocks, bonds, commodities and forex markets.
What are the pros and cons of trend trading?
You may have heard some professional traders say: "The trend is your friend." But is it really?
Just like any other trading strategy, trend trading does not guarantee financial success. Mistakes can happen and creating a good model to analyse trends does take work and a strong knowledge base.
The main disadvantages of trend trading are related to timing. If you are an impatient trader who wants to see quick returns on your investments, trend trading is unlikely to be your thing. Bear in mind that it takes time for trends to play out. Therefore, you need to be forbearing during the process.
Another drawback of trend trading is the potential for setting poor guidelines and restrictions. Remember that not all trends are going to proceed exactly as you expect. At times, the volatility of a market can go against the projected trend. For that reason, you need to always have a few risk-management schemes up your sleeve.
However, there are also plenty of advantages. The trend trading strategy can be highly profitable if employed correctly, given sufficient diversification, good risk management and the discipline to stick to the system.
Many refer to it as a great way to profit from large market moves without spending a lot of time in front of the computer. A trend trader can take weeks, months or even years to watch trends and hold positions without a need to constantly monitor small daily fluctuations.
Moreover, trend trading helps take the emotion out of trading by focusing on technical analysis and data. Truth be told, you will have to spend some time learning to interpret data. However, once you master trend analysis, it becomes a straightforward, emotionless process, allowing you to establish adequate goals and seize the opportunities.
What are trend trading strategies and techniques?
Apart from looking at swing lows and highs, traders can employ many different trend trading strategies, each using a combination of various indicators, tools and price action methods. Trendline, for instance, is applied to identify the trend direction and provide potential trade signals.

The most popular technical indicators used in trend trading include:
While there is no guarantee the above indicators are 100 per cent accurate at catching every single trend, they can still be used to filter out markets that are trending weakly or not trending at all.
Besides, for all strategies, a take-profit, trailing stop or stop-loss orders should be used to lock in a profit and manage risk if a trend reversal occurs.
After entering at a low-risk entry point, trend traders tend to set an initial stop-loss point that is fairly close to the entry point. For a downtrend, a stop-loss order is often placed right above a swing high that occurred prior to entry or above another resistance level. Contrariwise, for an uptrend, it is typically placed right below a prior swing low or below another support level.
Once a trade is profitable, a wide trailing stop will allow plenty of price movements to happen before exiting a trade. This ensures the trader remains in the trade for the duration of the trend and does not exit too early, missing out on the potential profit from the big move later in the trend.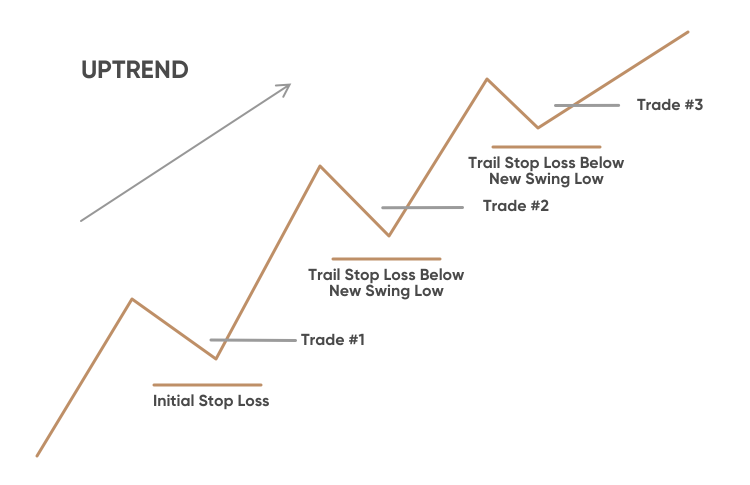 Keep in mind that technical analysis is just a part of a successful trend trading strategy. It takes proper preparation, knowledge and experience to make money in the long run.