Content
Why is Stellar important to traders?
Launched in July 2014, Stellar is a platform that connects banks, payments systems and people to move money quickly, reliably and at almost no cost. Stellar has the native cryptocurrency Stellar Lumens, which is often just referred to as Stellar. Stellar was designed to facilitate fiat currency transfers, allowing cross-border transactions between any pair of currencies.
Stellar runs on an open-source decentralised payment network, called the Stellar protocol. The Stellar network has been used by companies such as IBM, KlickEx, Deloitte, Parkway Projects, Tempo, Wanxiang Labs and Stripe.
Stellar is the main competitor to Ripple, as they are both attempting to use cryptocurrency to enable quicker and cheaper digital ledgers as an enterprise solution. You can also run decentralised apps (dApps) on Stellar's network, where Stellar even offers its own smart contract. For instance, you can run Initial Coin Offerings (ICOs) on the Stellar platform – this is something many cryptos did on Ethereum's network. The network is simpler than those of EOS and Ethereum, so it can complete with these two cryptocurrencies on this front. The value of a lot of cryptocurrencies is linked to the projects behind them, even if the project does not use the native coin by default.

Stellar trading hours
You can trade Stellar CFDs on Capital.com 24/7.
How to trade Stellar CFDs
An individual has two options when trading in the cryptocurrency market. Firstly, they can buy actual cryptocurrency on exchanges, such as buying Stellar Lumens on an exchange like BCEX , so they own the Stellar themselves. This is considered a long-term investment, as the individual is waiting for the price to rise significantly, so they can sell their crypto coins on an exchange.
Alternatively, they can trade a contract for difference (CFD) on Stellar Lumens, and speculate on the price difference. A CFD is a financial instrument, which is a contract, typically between a broker and an investor, where one party agrees to pay the other the difference in the value of a security, between the opening and closing of the trade. You can either hold a long position (speculating that the price will rise) or a short position (speculating that the price will fall). This is considered a short-term investment as CFDs are used within shorter timeframes. For instance, to trade Stellar CFDs, you can speculate on the XLM/BTC pairing.
Trade Stellar to US Dollar - XLM/USD CFD
There are pivotal differences between buying a cryptocurrency and trading a CFD in a crypto market. When buying cryptocurrency, it is stored in a wallet, but when trading CFDs the product is stored in your account, which is regulated by a financial authority. You are more liquid when you purchase CFDs because you are not tied to the asset, you have merely purchased the underlying contract. As well as this CFDs are a more established and regulated financial product.
Trade Stellar CFDs with Capital.com. Sign up at Capital.com to use our desktop platform, or download our mobile app to start trading on the most popular global markets anywhere, anytime. 
What is Stellar? What is cryptocurrency?
Stellar is a cryptocurrency that is native to a system designed to enable quick and low cost international transactions. A cryptocurrency is a digital asset conceived for use as a medium of exchange, which uses cryptography to secure transactions, control the supply of additional units, and corroborate transfers. In short, cryptocurrency is a decentralised electronic currency. Cryptocurrency is stored in a 'wallet', which can take various forms. For instance, Stellar can be stored in an online wallet, or alternatively in an offline electronic wallet, and it can even be stored physically in hardware.
Why trade Stellar CFDs with Capital.com
Advanced AI technology at its core: A Facebook-like News Feed provides users with personalised and unique content depending on their preferences. If a trader makes decisions based on biases, the innovative News Feed offers a range of materials to put him back on the right track. The neural network analyses in-app behaviour and recommends videos, articles, news to polish your investment strategy.
Trading on margin: Providing trading on margin (up to 2:1 for cryptocurrencies), Capital.com gives you access to the cryptocurrency market with the help of CFDs.
Trading the difference: When trading a Stellar CFD, you don't buy the underlying asset itself, meaning you are not tied to it. You only speculate on the rise or fall of the Stellar price. CFD trading is nothing different from traditional trading in terms of strategies. A CFD investor can go short or long, set stop and limit losses and apply trading scenarios that align with his or her objectives.
All-round trading analysis: The browser-based platform allows traders to shape their own market analysis and forecasts with sleek technical indicators. Capital.com provides live market updates and various chart formats, available on desktop, iOS, and Android.
Focus on safety: Captal.com puts a special emphasis on safety. Licensed by the FCA and CySEC, it complies with all regulations and ensures that its clients' data security comes first. The company allows to withdraw money 24/7 and keeps traders' funds across segregated bank accounts.
Stellar price history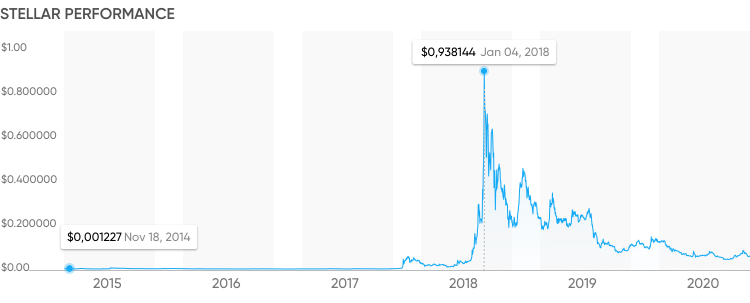 In 2014, Jeb McCaleb – founder of Mt. Gox (the famous Bitcoin exchange) and co-founder of Ripple – launched the network system Stellar. At its launch, the network had 100 billion Stellar coins. 25 percent of those were given to other non-profits working toward financial inclusion. In August 2013, Mercado Bitcoin, the first Brazilian Bitcoin exchange, announced that it would start using the Stellar network. By January 2015, the Stellar platform had around 3 million registered user accounts, and the Stellar cryptocurrency had a market valuation of around $15 million.
FAQ
Storing Stellar: What is a wallet? Why do I need it to store cryptocurrency?

Before buying Stellar, you will need a place to store it. This is what a wallet is for, and it consists of two elements: a private key and a public address. A wallet requires a private key, specific to the individual, that enables access to the Stellar address stored in the wallet, which is also the public key. The wallet is what enables Stellar, or any cryptocurrency, to be a secure medium of exchange. Essentially, people can send Stellar, to certain wallets using the public key, which only the individual can access with their private key. Some individuals choose to keep their coins in their wallet provided by their cryptocurrency exchange, due to the fact that a lot of exchanges have mobile apps that allow people to easily buy, sell and spend cryptocurrencies.
What are the dangers of storing cryptocurrencies?

Cryptocurrency exchanges or online wallets are far from immune to the dangers of cybertheft. The infamous case of the Mt Gox Bitcoin exchange highlights this. Historically, Mt Gox was the largest global exchange for Bitcoin, until it declared bankruptcy in 2014 after its security had been compromised. Mt Gox had 850,000 Bitcoins, valued at $450 million in February 2014, before their exchange was emptied by hackers. It is believed that the private keys of Mt Gox's digital wallet were stolen from as earlier as 2011. These risks are avoided when trading Stellar CFDs because you do not need a wallet.
Is there a bubble in the cryptocurrency market?

A 'bubble', in market terminology, is where the price of an asset far exceeds its intrinsic value. For instance, the dot-com bubble that occurred between 1995 and 2001, is a prime example, where information technology industry firms saw their stocks rise, merely because of the market sentiment around that particular industry, irrespective of their profits or chances of succeeding. This market then crashed in March 2000.

The problem here is that it is hard to determine the value of cryptocurrency to begin with. Although a lot of investors are holding cryptocurrencies as if they were equities, they are not. Yet they do not particularly act like currencies either, which makes comparisons to currency valuations difficult. However, with any new technology, caution is advised. It could well be the case that the valuations of Bitcoin or Stellar are not overvalued, and that the bubble, if there is one, is represented by the various new cryptocurrencies that are being driven by market sentiment. Arguably, this is comparable to the dot-com instance, where stocks like Amazon were not overvalued, but others like Pets.com, which went from IPO to liquidation in 268 days, clearly were. So, it seems that only time will tell whether the market is overheating, but in either case, there are options to trade using CFDs to take both long and short positions.

From late 2017 to early 2018, there was a surge in the price of Bitcoin (reaching $20,000 per Bitcoin), followed shortly behind by other cryptocurrencies. The market then crashed between January and February 2018, and Bitcoin free fell, dropping 65% in value. Consequently, most other cryptocurrencies crashed as well. So there clearly was a bubble in the crypto market. The question that this begs is whether there still is one. The value in most cryptocurrencies is derived from their potential; how they could be used to advance society in the future. Without institutional acceptance however, the potential value, will remain merely potential, but whether this implies that cryptocurrencies are overvalued is another question.