Content
What is NIO?
Based in Shanghai and known as the "Chinese Tesla", NIO is an electric vehicle (EV) maker founded in 2014 by Chinese entrepreneur William Li. The company was formerly known as NextEV, with NIO being the name of its premium electric vehicle brand launched in 2016. It has manufacturing and software centres in China, a research and development centre in the US and design centres in Germany and the UK.
NIO listed its stock in the US through an initial public offering (IPO) in September 2018 on the New York Stock Exchange (NYSE) under the ticker symbol NIO. The IPO raised $1bn (£737m, €815m) and gave the company an initial valuation of $6bn.
As NIO is not a US-based company, it listed American depositary shares (ADSs) – which each represent one Class A ordinary share – rather than common stock. ADSs are equity shares in companies based outside of the US that are held by US depositary banks for trading on US exchanges.

Why is NIO important to traders?
NIO is one of the publicly traded companies standing at the forefront of the electric vehicle revolution. Investors can take in a position as a proxy for how they expect the market to develop.
The relatively low NIO share price makes it a viable alternative for individual investors with a small portfolio value that may not be able to allocate sufficient funds to buy Tesla (TSLA) stock, which has skyrocketed in value. NIO stock value has soared in response to increased interest in the EV market, climbing by more than 1,000 per cent in 2020.
The Chinese government is heavily promoting the adoption of electric vehicles as a way to reduce pollution, meet targets of the reduction of greenhouse gas emissions and drive innovation among Chinese companies in technology and products that can be exported abroad. The government invested $1bn in NIO as a way to support the company and the development of the industry.
NIO is attracting investors as it is focusing on developments to address consumer concerns about purchasing electric vehicles and encourage adoption of electric cars over cars with internal combustion engines. In November 2020, the company launched a high-density battery pack to power long-range driving, as well as a battery subscription service that allows car owners to switch out their batteries.
NIO trading hours
On the NYSE, the stock is available for trading from Monday to Friday as per the following schedule: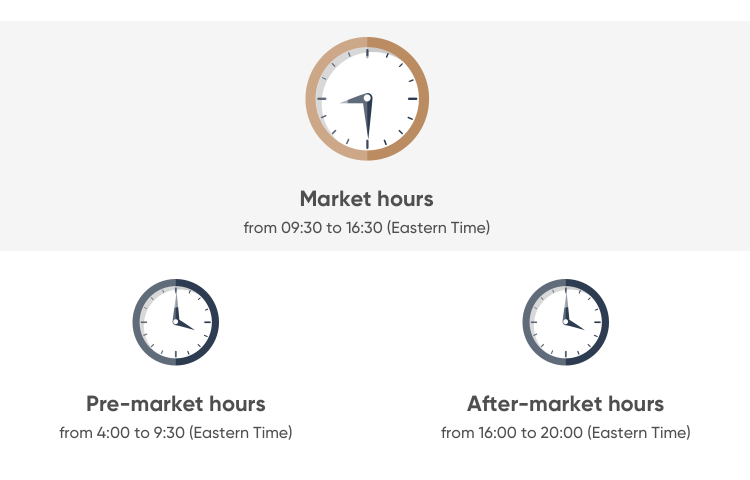 With Capital.com, you can trade NIO shares during the regular US market hours: from 09:30 to 16:30 Eastern Time (14:30-21:00 UTC) Monday to Friday. This gives you plenty of time to monitor the company's activity and stay on top of the events that may affect short-term movements in the share price.
You can follow the NIO share price in US dollars in real-time with Capital.com's comprehensive chart.
How to trade NIO CFDs
There are two ways you can invest in NIO shares. Firstly, you can buy shares on the NYSE through a share broker or dealing platform. In this case, you actually own a share in the company. This can be considered a long-term investment, as the individual is usually waiting for the price to rise over time.
Alternatively, you can trade a contract for difference (CFD) on NIO stock, and speculate on the price difference of the underlying asset, without having to actually own it. A CFD is a financial contract, typically between a broker and a trader, where one party agrees to pay the other the difference in the value of a security, between the opening and closing of the trade. This is considered a short-term investment or trade, as CFDs tend to be used within shorter timeframes.
Investing in NIO stock with CFDs gives you the opportunity to trade it in both directions. You can either hold a long position, speculating that the NIO share price will rise, or a short position, speculating that the price will fall.
Trade NIO Limited - NIO CFD
Another key difference between trading shares with CFDs and buying them from the stock exchange is the leverage that is employed. CFDs are traded on margin, which means that a trader can open larger positions with their capital. However, it is crucial to note that as CFD trading involves the use of leverage, losses, as well as profits, are magnified.
Looking for a reliable CFD trading provider to invest in NIO shares? If so, try our award-winning web trading platform or download our mobile app, which will become your smart CFD trading assistant. Just spend three minutes of your time to sign up and start your journey of NIO share trading with Capital.com today.
Why trade NIO CFDs with Capital.com
If you are looking to trade NIO shares using CFDs, Capital.com has the advantage of offering advanced features to help investors refine their strategies and enjoy the ultimate trading experience.
Advanced AI technology at its core: a Facebook-like News Feed provides users with personalised and unique content depending on their preferences. If a trader makes decisions based on biases, the innovative News Feed offers a range of materials to put him back on the right track. The neural network analyses in-app behaviour and recommends videos, articles and news to help polish your investment strategy, allowing you to refine your approach to NIO share trading.

Trading on margin: providing trading on margin with the help of CFDs, Capital.com gives you access to the stock market even with a limited amount of funds in your account.

Trading the difference: when choosing to trade NIO stock with CFDs, you do not buy the underlying asset itself, meaning you are not tied to it. You only speculate on the rise or fall of the NIO share price. CFD trading is nothing different from traditional trading in terms of strategies. A CFD investor can go short or long, set stop-loss and take-profit orders and apply trading scenarios that align with their objectives.

All-round trading analysis: the browser-based platform allows traders to shape their own market analysis and forecasts with sleek technical indicators. Capital.com provides live market updates and various chart formats, all available on desktop, iOS, and Android.

Focus on safety: Captal.com puts a special emphasis on safety. Licensed by the FCA, CySEC and NBRB, it complies with all regulations and ensures that its clients' data security comes first. The company allows withdrawal of money 24/7 and keeps traders' funds across segregated bank accounts.
History of NIO
Since its founding in 2014, NIO has focused on the design, manufacturing and development of premium smart electric vehicles and driving adoption by offering value-added services to make owning an electric car as convenient as a fossil-fuel car.
NIO's Chinese name is Weilai, meaning "Blue Sky Coming", reflecting its commitment to a more environmentally friendly future.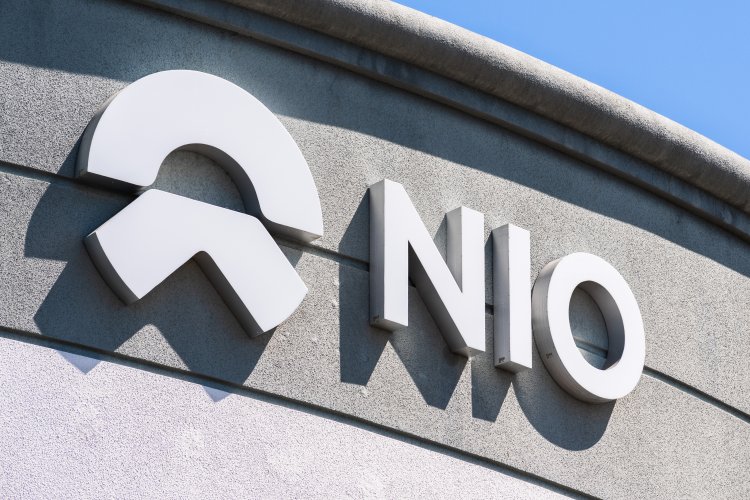 The company launched its first model, the EP9 supercar, in 2016. Its design, fast acceleration and best-in-class electric powertrain technology helped to position NIO as a premium brand. In December 2017, NIO launched its first volume manufactured electric vehicle, the seven-seater SUV ES8, and began making deliveries from June 2018.
NIO followed that by launching the five-seater high-performance premium electric SUV, ES6, in December 2018 and began the first deliveries in June 2019. The business sells its vehicles through its own sales network, including its showrooms called NIO Houses and its mobile application.
NIO has launched comprehensive value-added services and a convenient and innovative suite of charging solutions include Power Home, its home charging solution; Power Swap, its battery swapping service; Power Mobile, its mobile charging service through charging trucks; and Power Express, its 24-hour on-demand pick-up and drop-off charging service. With these services, it aims to allay consumers' concerns about the battery life of electric vehicles and encourage them to make the switch.
In the first nine months of 2020, NIO delivered 26,375 vehicles, more than doubling from 12,341 in the same period of 2019. On January 3, 2021, the company reported it delivered a total of 43,728 vehicles in 2020, representing a growth of nearly 113 per cent year-on-year.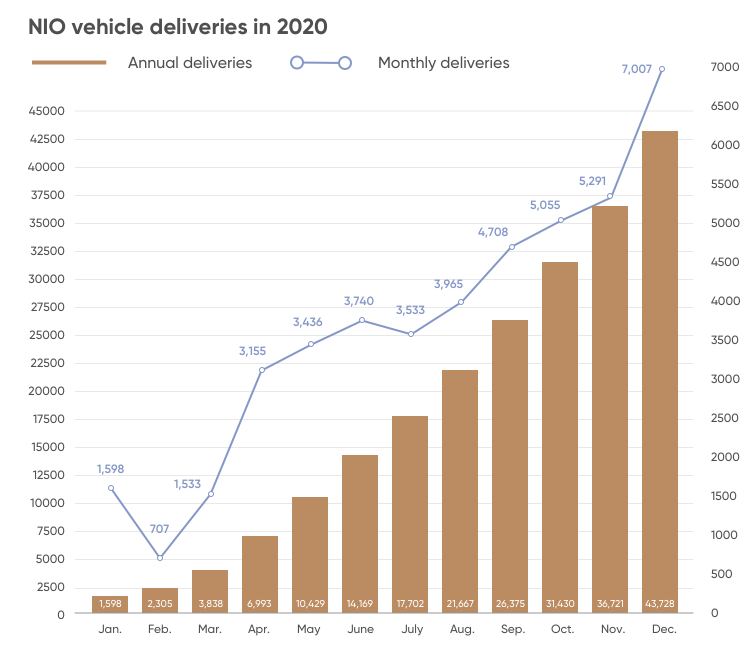 NIO stock price history
NIO filed for its IPO in the US in August 2018 and went public on September 12, 2018. It was the third-largest US listing of a Chinese company that year. Ahead of the IPO, the company received financial backing from Chinese technology giant Tencent Holdings (0700).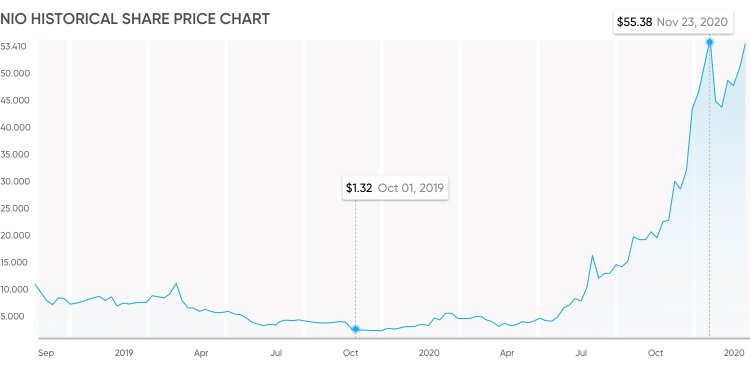 NIO share price history emphasises the rapid trajectory of the stock rally. The IPO was priced at the low end of the company's $6.25-8.25 per share target range, and the share price initially fell when the stock started trading as NIO suffered from comparison with Tesla, which, at the time, was engulfed in troubles that concerned investors.
The stock traded up to $10 in March 2019, but subsequently fell to just $1.51 in October 2019. However, NIO stock performance delivered massive returns to investors in 2020.
The sharp rally in technology stocks and EV companies including Tesla in 2020 fed into NIO stock trading, propelling the share price to reach a high of $55.38 per share in November.
In December 2020, the business raised around $3bn by offering 68 million American depositary shares at a price of $39 per share to finance research and development into new products and next-generation autonomous driving technologies, sales and service network expansion to increase its market penetration and for general corporate purposes.
FAQ
Which carmakers does NIO compete with?
What drives the NIO share price?

The historical NIO share price chart reflects a strong correlation with the share price of Tesla and other electric vehicle stocks, as investor sentiment on the overall industry has been the key share price driver.

Besides, the company's stock also responds to NIO's vehicle sales and quarterly earnings announcements, as well as the financial performance of the wider stock market.