Content
What is Microsoft?
Microsoft is an international technology company, which specialises in the development and sale of a wide range of enterprise and consumer software, hardware, electronics and services.
Microsoft is deservedly considered one of the world's most successful technology companies. In April 2019, it gained a trillion-dollar market capitalisation becoming only the third trillion-dollar American company after Apple and Amazon. No wonder, then, that Microsoft's founder Bill Gates is one of the richest people in the world with a multi-billion dollar fortune.
Over the past five years Microsoft stock has moved up by 231 per cent, mainly due to the success of Office, Azure and commercial cloud services. In the 2019 fiscal year, the company's revenue amounted to $126bn, derived from three major segments:
More personal computing – $46bn in 2019 (revenue derived from Windows OS, Surface, Xbox and gaming, Bing ads)
Intelligent cloud – $39bn (sale of private, public and hybrid server products and cloud services including Azure)
Productivity and business processes – $41bn (sale of Office subscriptions, LinkedIn revenues and cloud enterprise solutions (CRM and ERP)).
Having been at the forefront of the world's technological transformation for 40 years, Microsoft continues dominating the technology sector. Microsoft's share price history dates back to 1986, when the company went public. Shares of the IT giant are listed and traded on the NASDAQ stock Exchange under the ticker abbreviation MSFT. The company is a constituent of the Dow Jones Industrial Average (DJIA), NASDAQ-100, S&P 100 and S&P 500 indices.

Microsoft stock trading hours
Microsoft shares are traded on the NASDAQ stock exchange according to the regular trading session schedule (GMT-05:00):
Pre-Market trading hours from 4:00 to 9:30
Market hours from 9:30 to 16:00
After-Market hours from 16:00 to 20:00
If you choose to trade CFDs, you can follow the Microsoft stock performance live in US dollars with a comprehensive Microsoft stock price chart on Capital.com:
Monday to Friday from 14:30 to 21:00
How to invest in Microsoft stock with CFDs?
An individual has two options when trading on the stock market. Firstly, they can buy shares in companies on the exchanges where they are listed. For instance, they can invest in Microsoft stock on the NYSE stock exchange, so they actually own a share in the company. This can be considered a long-term investment, as the individual is usually waiting for the price to rise over time.
Trade Microsoft - MSFT CFD
Alternatively, they can trade Microsoft shares through a contract for difference (CFD) and speculate on the price difference of the underlying asset, without actually owning it. A CFD is a financial contract, typically between a broker and an investor, where one party agrees to pay the other the difference in the value of a security, between the opening and closing of the trade. Microsoft stock trading allows you either hold a long position (speculating that the price will rise) or a short position (speculating that the price will fall). This is considered a short-term investment or trade, as CFDs tend to be used within shorter time frames.
The key difference between trading a long position with a CFD and buying a security is the leverage that is employed. CFDs are traded on margin, which means that a trader can open larger positions with their capital.
Why trade Microsoft stock CFDs with Capital.com?
Advanced AI technology at its core: a Facebook-like News Feed provides users with personalised and unique content depending on their preferences. If traders make decisions based on biases, the innovative News Feed offers a range of materials to put them back on the right track. The neural network analyses in-app behaviour and recommends videos, articles and news to polish your investment strategy.
Trading on margin: providing trading on margin (up to 5:1 for individual equities), Capital.com gives you access to Microsoft stock market with the help of CFDs.
Trading the difference: when investing in Microsoft stock CFD, you do not buy the underlying asset itself, meaning you are not tied to it. You only speculate on the rise or fall of the Microsoft share value. CFD trading is nothing different from traditional trading in terms of strategies. A CFD investor can go short or long, set stop and limit losses and apply trading scenarios that align with their objectives.
All-round trading analysis: the browser-based platform allows traders to shape their own market analysis and forecasts with sleek technical indicators. Capital.com provides live market updates and various chart formats, available on desktop, iOS, and Android.
Focus on safety: Captal.com puts a special emphasis on safety. Licensed by the FCA and CySEC, it complies with all regulations and ensures that its clients' data security comes first. The company allows to withdraw money 24/7 and keeps traders' funds across segregated bank accounts.
Microsoft (MSFT) stock history
The stock market has seen a few companies that have been as successful as Microsoft over the years.
Breaking down MSFT share price history, we can identify three key periods:
1980s to 2000 – the global tech boom helped to drive Microsoft's stock higher. PCs became an indispensable part of business and personal life, creating demand for further technological innovation and the need for hard- and software, capable of keeping up with the growing demand.
2000 to 2002 – Microsoft's stock growth prospects decreased. The company's two major cash cows – Windows OS and Office suite – helped to bring consistent earnings and revenue. However, the company took a back seat in the smartphone, portable music player and tablet markets, giving away its status as a major market mover to its rivals in the tech world.
2013 to the present day – Microsoft entered the recent phase of its history, which is also successful. The MSFT shares have been growing rapidly, driven by the company's initiatives to move towards new directions, such as cloud computing and mobile. Besides, the company made several huge steps to grow through acquisitions (LinkedIn) and partnerships (Samsung and Lenovo).
Microsoft stock price history chart
Once considered a "mature" stock, usually owned for the sake of stability more than growth, Microsoft has all the chances to be seen as a growth stock again. Under the leadership of Satya Nadella, who took the CEO post in 2014, the company has escalated its business towards a new growth engine.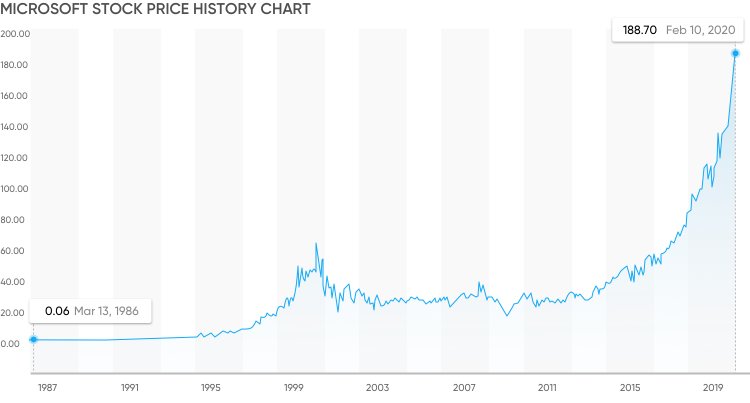 Microsoft stock has been steadily rising, jumping 63 per cent in 2019. The growth is propelled by the success of the company's Azure public cloud business and Office 365 productivity suite.
Microsoft stock reached its all-time high of 188.70 on February 10, 2020 after the company beat fiscal Q2 2020 revenue and profit estimates. Quarterly revenue increased 13.7 per cent to $36.91bn across all the major product lines.
The latest MSFT share price as of February 11, 2020 hovers around 188.67. Several analytical agencies share a bullish view on the Microsoft stock price forecast 2020 and beyond. If you are wondering "should I invest in Microsoft stock?", follow the MSFT stock price live and get the latest Microsoft stock chart info at Capital.com.
FAQ
What factors affect the Microsoft stock price?

As with any equity, quarterly earnings announcements and the financial performance of the wider stock market are two crucial factors to watch when deciding how Microsoft stock will perform.

Reporting its second quarter earnings for fiscal 2020, the Microsoft's CEO Satya Nadella said, "We are innovating across every layer of our differentiated technology stack and leading in key secular areas that are critical to our customers' success. Along with our expanding opportunity, we are working to ensure the technology we build is inclusive, trusted and creates a more sustainable world, so every person and every organisation can benefit".

According to the latest report, the company beat the key numbers:

Earnings per share: $1.51 vs expected $1.32
Revenue: $36.91bn vs $35.68bn
Who are Microsoft's main competitors?

Although Microsoft can boast an outstanding success story, it does not mean its path has always been easy. The company has been involved in prolonged and aggressive competition with various rivals, including some of the most prominent technology companies. The list of Microsoft's major competitors is headed by Apple (AAPL), Google (GOOG), SAP, IBM (IBM) and Oracle (ORCL). Due to a diversified range of products and services, Microsoft faces tough competition in numerous areas of the technology sector.