Content
Why is Lloyds important to traders?
Lloyds Banking group is a one of the major financial services providers in the United Kingdom. It operates in a wide range of banking and financial services, focused on commercial and personal clients. They include retail, corporate and commercial banking, general and life insurance, pensions and investment provision.
The group offers its services through an extensive network of 2,000 branches of its popular brands, which include Lloyds bank, Bank of Scotland, Halifax, and Scottish Widows. It has more than 30 million customers and enjoys the reputation of the leading British provider of current and savings accounts, credit cards, personal loans and mortgages.
Lloyds banking group is listed and traded on the London Stock exchange under the ticker symbol LLOY and on the New York Stock Exchange under the ticker symbol LYG. Lloyds is one of the largest constituents of the FTSE 100 index. With the market capitalisation of $28.6 billion as of July 2020, Lloyds Banking Group is ranked 115 in the Forbes' list of the world's biggest companies.

Lloyds shares trading hours
If you choose to trade CFDs, you can follow the Lloyds share price live in US dollars with the comprehensive Lloyds share graph at Capital.com:
Monday to Friday from 07:00 to 11:00, and from 11:03 to 15:30
This gives you plenty of time to monitor the company's activity and keep an eye out for any events that may affect short-term movements in the Lloyds share value.
Trade Lloyds Banking Group PLC - LLOY CFD
How to trade Lloyds shares with CFDs
An individual has two options when trading in the stock market. Firstly, they can buy shares in companies on the exchanges where they are listed. For instance, investing in Lloyds shares on the London stock exchange (LSE) or on the New York Stock Exchange you actually acquire a share in the company. This can be considered a long-term investment, as the individual is usually waiting for the price to rise over time.
Alternatively, they can trade a contract for difference (CFD) for the Lloyds banking group stock, and speculate on the price difference without actually owning the asset. A CFD is a financial contract, typically between a broker and an investor, where one party agrees to pay the other the difference in the value of a security, between the opening and closing of the trade. You can either hold a long position (speculating that the price will rise) or a short position (speculating that the price will fall). This is considered a short-term investment or trade, as CFDs tend to be used within shorter timeframes.
The key difference between Lloyds share trading through a long position with a CFD and buying a security is the leverage that is employed. CFDs are traded on margin, which means that a trader can open larger positions with their capital.
You can trade Lloyds shares with CFDs right now. Just sign up at Capital.com and use our advanced web platform or download the best-in-class investment app to trade on the go. It will take you just 3 minutes to get started and access the world's most traded markets.
Why trade Lloyds CFDs with Capital.com
Advanced AI technology at its core: A Facebook-like news feed provides users with personalised and unique content depending on their preferences. If a trader makes decisions based on biases, the innovative news feed offers a range of materials to put them back on the right track. The neural network analyses in-app behaviour and recommends videos, articles, news to polish investment strategy.
Trading on margin: Providing trading on margin (up to 5:1 for individual equities), Capital.com gives you access to the Lloyds stock trading with the help of CFDs.
Trading the difference: When you invest in Lloyds shares with CFDs, you don't buy the underlying asset itself, meaning you are not tied to it. You only speculate on the rise or fall of the Lloyds stock performance. CFD trading is nothing different from traditional trading in terms of strategies. A CFD investor can go short or long, set stop and limit losses and apply trading scenarios that align with their objectives.
All-round trading analysis: The browser-based platform allows traders to shape their own market analysis and forecasts with sleek technical indicators. Capital.com provides live market updates and various chart formats, available on desktop, iOS, and Android.
Focus on safety: Captal.com puts a special emphasis on safety. Licensed by the FCA and CySEC, it complies with all regulations and ensures that its clients' data security comes first. The company allows you to withdraw money 24/7 and keeps traders' funds across segregated bank accounts.
Lloyds share price history
The story of Lloyds Banking Group can be traced back to 1695 with the origin of the Bank of Scotland, the second-oldest UK's bank after the Bank of England. Lloyds bank was founded later in 1765 by Sampson Lloyd II and John Taylor. With a series of successful mergers, Lloyds moved up to become one of the Big Four banks in the UK.
After a period of rapid growth in the late 19th and 20th centuries, it merged with Trustee Savings Bank (TSB) in 1995. The current form of Lloyds Banking Group as we know it today emerged in 2009 with the acquisition of Halifax Bank of Scotland (HBOS).
In February 2009, Lloyds banking group announced that HBOS losses exceeded £10 billion. The news triggered a sharp LLOY share price drop of 32 per cent on the London Stock Exchange, which dragged other bank shares downwards.
To avoid the crash of the banking sector and stabilise the financial system, the UK government took 43 per cent of the Lloyds Banking Group stock. Only by May 2017, Lloyds announced that the government sold its last shares in the group.
Today, Lloyds has the team of 65,000 people and lends to one in four first time buyers in the UK. The company funds one-third of all lending on UK new-build properties. The group enjoys more than 13 million active online clients.
With Capital.com's streaming Lloyds stock chart, you can quickly view the price of LLOY stock in real time, and also trace the Lloyds historical share price to see the full picture.
Lloyds share price history chart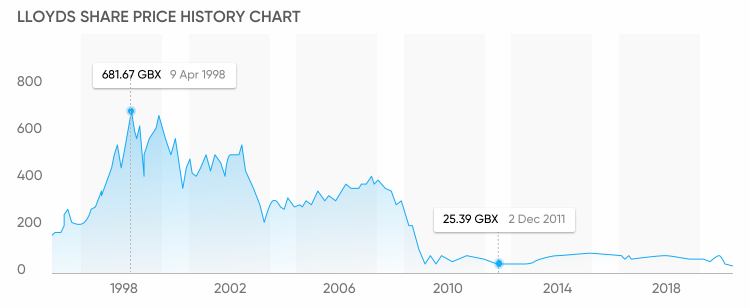 Is Lloyds stock a good investment?
The stock market crash of 2020 put an end to the longest bullish stock market movement in history. The Lloyd Banking Group has been significantly affected by the Coronavirus lockdown and a looming recession, and the LLOY shares today are characterised by the period of extreme volatility. Year to date, Lloyds shares fell 50 per cent hovering around £30 at the moment of writing.
Still, some analysts predict that Lloyds share price will bounce back to £60-£65 in five years' time. Therefore, buying at current levels of around £30 could represent a solid long-term investment opportunity. A more moderate forecast from WalletInvestor suggests that the LLOY stock is expected to grow up to £37, which is still a 22 per cent increase from its latest price.
If you are interested in Lloyds share trading and are wondering "should I invest in Llloyds stock?", follow the LLOY share price live and spot the best trading opportunities at Capital.com.
FAQ
Who are Lloyds's main competitors?

The two major Lloyds Banking Group's competitors include:

HSBC is one of the leading UK international investment banks and financial services companies. In 2018 it was ranked the 7th largest bank in the world and the largest in Europe. HSBC operates through an extensive multinational network, with branches across Europe, Asia, North and Latin America, the Middle East and North Africa and serving over 40 million customers.
UBS is a Swiss multinational investment bank and financial services provider. It is considered an important financial institution within the European economy due to its large positions in the EMEA region, Asia Pacific markets and the Americas.
What factors affect the Lloyds share price?

As with any equity, quarterly earnings announcements and the financial performance of the wider stock market are two crucial factors to watch when deciding how Lloyds bank stock will perform.

António Horta-Osório, Lloyds Banking Group Chief Executive, commented on the company's Q1 2020 earnings report: "The economic outlook is clearly challenging with the longer-term outcome dependent on the severity and length of the [Covid-19] pandemic and the mitigating impact of Government and other measures in the UK and across the world. Throughout this period of uncertainty we will continue to work closely with Government, regulators and other authorities and use the strength of our balance sheet and business model to ensure that we play our part in supporting our customers and the UK economy.

Profit: 95 per cent drop to £74 million for the first quarter of 2020 compared to £1.6 billion for the same period in 2019.
Earnings per share: 67 per cent drop to 0.5p for the first quarter of 2020 compared to 1.5p for the same period in 2019.