The future of Toys R Us and 3,200 jobs is hanging in the balance after the pension lifeboat said it will not back the retailer's rescue plans unless it agrees to pay £9 million into its pension fund.
The Pension Protection Fund (PPF) has said it intends to vote against restructuring plans put forward by Toys R Us on Thursday – a move that could plunge the embattled chain into administration.
The PPF is demanding that Toys R Us makes the payment to secure three years' worth of funding upfront for its defined salary staff pension scheme, which has a shortfall of between £25 million and £30 million.
But it is believed Toys R Us does not have enough cash to meet the PPF demands.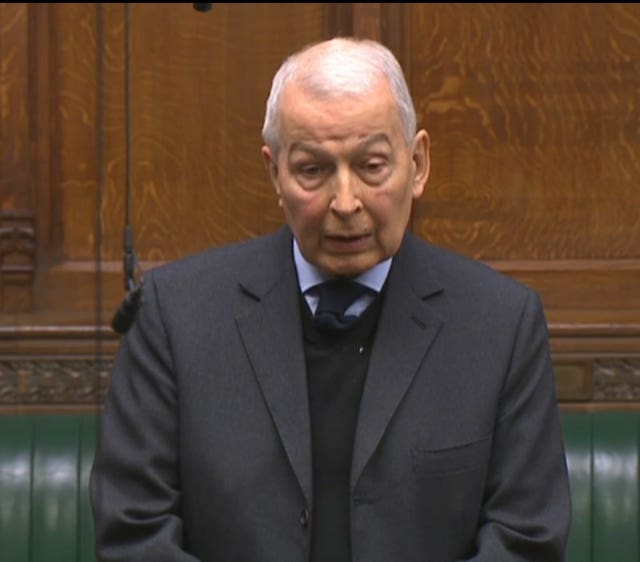 Labour MP Frank Field has demanded answers over recent payments from Toys R Us and executive bonus handouts (PA)
The PPF's proxy vote intentions mean the planned company voluntary agreement (CVA) may not go ahead, as Toys R Us needs the backing of 75% of creditors, including landlords.
But the PPF stressed that talks will continue with Toys R Us until Thursday's CVA final vote in the hope of reaching an agreement on the funding.
Malcolm Weir, director of restructuring and insolvency at the PPF, said: "We can confirm that the PPF has today submitted its proxy vote on the proposed Toys R Us CVA by the required deadline. We have indicated we intend to vote against the proposals."
He added: "Given the position of the company, we strongly believe seeking assurances for the pension scheme is reasonable given the deficit in the scheme and questions about the overall position of the company.
"We remain in dialogue with the company and their advisers and we are able to amend our vote if suitable assurances provided."
Commons Work and Pensions Select Committee chairman Frank Field has also waded into the Toys R Us saga amid concerns over the waiving of a loan worth more than £580 million to a holding company in the British Virgin Islands, while also raising questions over recent bonus payments to the chain's top bosses.
Under its CVA plans, Toys R Us is proposing to close at least 26 loss-making UK stores, putting up to 800 jobs at risk out of its 3,200-strong workforce, while landlords will also take significant rent cuts.
Toys R Us trades from 84 stores in the UK and has 21 concessions.
The PPF's tough stance comes after The Pensions Regulator faced heavy criticism for failing to act to better protect pensioners during the failure of BHS.
Toys R Us said on announcing its CVA plans that trading has suffered as its warehouse-style stores opened in the 1980s and 1990s have proved "too big and expensive to run", while it is also understood to have struggled to keep up with online competitors.
The announcement comes just months after the US-based retailer filed for bankruptcy protection in the US and Canada as it battled mammoth debts and increasing competition online.
Capital Com is an execution-only service provider. The material provided on this website is for information purposes only and should not be understood as an investment advice. Any opinion that may be provided on this page does not constitute a recommendation by Capital Com or its agents. We do not make any representations or warranty on the accuracy or completeness of the information that is provided on this page. If you rely on the information on this page then you do so entirely on your own risk.