Toyota stock forecast: Can the automaker recover amid disappointing EV sales?
Subscribe to Weekly Highlights
The major market events for the week ahead right in your inbox.
Subscribe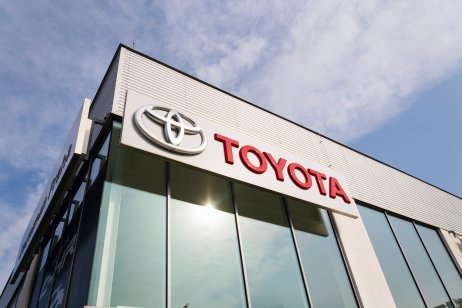 Content
Shares in Toyota Motor Corporation (7203) have slipped again after reports the carmaker faced an "unprecedented" challenge to revive electric vehicle sales. The Financial Times quoted Shinya Kotera, president of Kinto, a Toyota leasing subsidiary delivering the all-electric bZ4X into Japan, highlighting the problem.
The publication's report claimed Kinto wouldn't be able to meet Toyota's annual sales target of 5,000 units of the bZ4X in either the first or second year. The gloomy news follows last year's safety recall of 260 bZ4X vehicles in the US that was triggered by concerns hub bolts attaching the wheels were loosening.
Toyota (7203) live stock price
But what does this mean for shareholders? Is the company still worth considering or should they remain cautious for the time being?
In this TM stock forecast we look at the company's latest results, assess the outlook and highlight the Toyota Motor stock predictions of stock market analysts.
What is Toyota Motor Corporation?
Our Toyota Motor stock forecast starts with an overview. Toyota was founded in 1937 and has since established itself as one of the largest vehicle makers in the world across a number of brands. These include popular names such as Lexus, Daihatsu, and truck maker Hino, as well as the wide range of Toyota vehicles.
In addition, the company owns a large stake in Denso, a parts supplier, as well as around 20%of Subaru, and investments in a range of other businesses.
Toyota shares were first listed on the First Section of the Tokyo, Nagoya, and Osaka stock exchanges in May 1949. They were listed on the New York Stock Exchange (NYSE) and the London Stock Exchange (LSE) in September 1999.
Toyota is currently the second largest automaker by market capitalisation with its $192.05bn valuation only trailing the $375.29bn of Tesla (TSLA), as of 13 January 2023.
What is your sentiment on 7203?
Vote to see Traders sentiment!
Toyota Motor stock price analysis
It's certainly been a tough 12 months for investors in TM stock price as a number of issues have taken their toll on the business.
At the start of last year, the TM stock price stood at $201. But as the market closed on 12 January 2023, it was down to $142. These levels are significantly below the stock's all-time high closing price of $206.11 on 13 January 2022.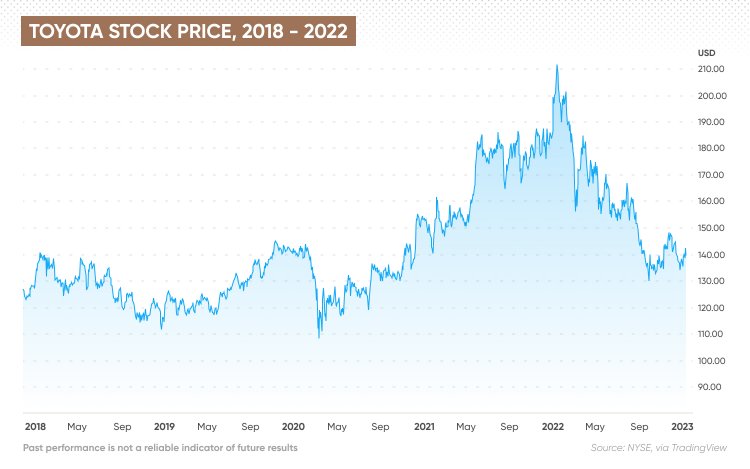 Past performance is not a reliable indicator of future results
Source: NYSE, via TradingView
Looking at the longer-term picture, the TM stock price is currently around where it was five years ago in January 2018, which was $137.20. According to Morningstar, the company's 10 year trailing returns came in at 6.28% at the time of writing, which was below the 9.70% for the industry.
Second-quarter earnings report
In November 2022, the company's second-quarter results revealed sales revenues of 17trn 709.3bn Japanese yen – 14.4% higher than the corresponding period in the previous year. However, operating income was down 34.7% to 1trn 141.4bn yen and the net income figure came in 22.1% lower at 1trn 171 bn yen.
The results statement highlighted ongoing problems such as the rapid changes of foreign exchange rates, raising interest rates, and soaring materials prices.
Alongside production constraints continuing due to low supply of semiconductors, there was also a lockdown in Shanghai and a flood in South Africa.
"We worked hard with our dealers, suppliers, and production sites in order to deliver as many cars as possible to our customers," it stated. "Operating income decreased due to soaring materials prices and one-time costs despite the positive effect from the depreciation of the yen."
The full-year forecast, meanwhile, remained unchanged and is anticipated to see operating income of 2trn 400bn yen.
"We have revised our vehicle production forecast downward by 500,000 units to nine million 200 thousand units, taking into consideration risks such as the procurement of semiconductors," it added.
Semiconductor shortages hurt production
Any Toyota Motor share price forecast should consider the potential impact of other news and a trading update issued in late December 2022 warned of some issues to tackle. It revealed that global sales and production in November 2022 both exceeded the previous year's level as a result of "solid demand", particularly in North America.
However, it also added a caveat about future results. "The situation remains difficult to predict due to semiconductor shortages and Covid-19," it stated.
"However, we will continue to carefully monitor the parts supply situation and minimize sudden decreases in production as much as possible while making every effort to deliver as many vehicles to our customers at the earliest date." Elsewhere, it's fair to say there have been some issues with bZ4X, Toyota's first mass-produced all electric car.
Safety recall of bZ4X
Last year, Toyota announced a safety recall after hub bolts attaching the wheels were found to loosen at the point where they can detach from the vehicle.
According to an update published in early October 2022, the recall involved certain 2023 model year bZ4X in the US. Approximately 260 vehicles were involved.
"For all subject vehicles in the US, the hub bolts will be replaced with newly designed hub bolts with washers and the wheels will be replaced with improved ones," it stated. "The remedy will be provided by Toyota dealers at no cost to the customer."
Separately, The Toyota RAV4 was the best-selling Sport utility vehicle in the US between January and November 2022, according to Statista. The analysis revealed around 333,352 vehicles were sold in this period. Toyota was also the leading brand for passenger cars during this period, with the Toyota Camry recording almost 269,300 sales.
Toyota Motor stock forecast: What do the analysts expect?
So, what are the Toyota Motor stock predictions of stock market analysts covering this fiercely competitive sector?
The stock was a 'hold' based on the opinions of five analysts compiled by MarketBeat as of 13 January. Four had this rating in place, while one saw it as a 'buy'. Their consensus view was that the TM stock price could rise to $179.41 in the next twelve months. However, the company was downgraded at the back end of 2022 with Citigroup having reduced its rating from 'buy' to 'neutral'.
According to the Toyota Motor stock forecast for 2023 from algorithmic forecaster WalletInvestor as of 13 January, the company was "an acceptable long-term investment".It believed the stock could rise to $149 over the coming year. Meanwhile, the site's Toyota Motor stock forecast for 2025 had the price reaching $194 by January 2025.
However, it remains to be seen what the longer-term impact of the comments attributed to Shinya Kotera of Kinto, the leasing subsidiary and the impact on any future Toyota Motor stock forecast.
According to David Whiston, sector strategist at Morningstar, the weak yen weakened Toyota's purchasing power for raw materials, especially outside Japan. In his TM stock forecast, written in early November 2022, he highlighted the problems that the company has been facing over the past year. He said:
"Toyota has suffered greatly from the chip shortage in calendar 2022, as has Honda, so we are not surprised to see Toyota finally reduce its fiscal 2023 consolidated vehicle wholesales outlook but only by 50,000 units to 8.8 million, still higher than fiscal 2022's 8.23 million."
Final thoughts
This Toyota Motor stock forecast doesn't constitute investment advice and it's important to remember that analysts' predictions can be wrong. You must always carry out your own due diligence before trading, looking at the latest news, a wide range of commentary, technical and fundamental analysis.
Past performance is no guarantee of future returns so you should never trade money you can't afford to lose.
FAQs
Is Toyota Motor a good stock to buy?

Whether Toyota is a good stock depends on your opinion of the automaker as well as your personal investment objectives. It's important to draw your own conclusions about a company's prospects and likelihood of achieving analysts' targets.
Will Toyota Motor stock go up or down?

The stock was a 'hold' based on the opinions of five analysts compiled by MarketBeat as of 13 January. Four had this rating in place, while one saw it as a 'buy'. Their consensus view was that the TM stock price could rise to $179.41 in the next twelve months. However, the company was downgraded at the back end of 2022 with Citigroup having reduced its rating from 'buy' to 'neutral'. Note that analysts' predictions can be wrong.
Should I invest in Toyota Motor stock?

This will be up to you. Your long-term investment goals and attitude to risk must play a part in the decision-making process, along with the conclusions you've reached on the company itself. Remember to never invest more than you can afford to lose.
Related reading