Marijuana stocks to buy in 2021: 5 ways to get exposure to the growing industry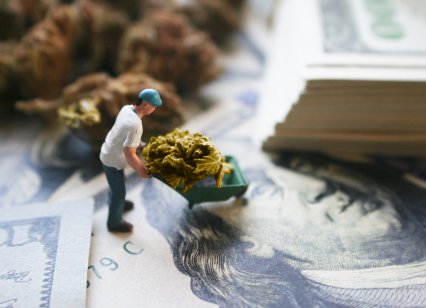 Only a few years ago, cannabis was illegal across the US. Today, although it still remains illicit on the federal level, 34 states and two territories have already legalised medical marijuana and 15 states, two territories and Washington D.C. have legalised its recreational use.
For the market to develop its full potential, cannabis must be removed from the Controlled Substances Act. And such perspectives now look more realistic than ever as Vice President Kamala Harris was the Senate sponsor of the Marijuana Opportunity Reinvestment and Expungement (MORE) Act.
Vivien Azer, an analyst at Cowen, said in the recent note that with the Democratic-led government, marijuana decriminalisation and further legislation might finally have a chance to be passed through Congress. Azer added: "We expect Congress will give cannabis companies access to commercial banking and insurance. We also see medical cannabis being protected."
Even while cannabis remains illicit federally, the market's organic growth and state-level legislations will continue building an environment where investors can make some hefty profits.
According to the recent New Frontier Data report, legal marijuana sales in the US are expected to skyrocket to $35bn by 2024. In Canada, where cannabis is legal for both recreational and medicinal purposes, sales are estimated to rise to $4.6bn.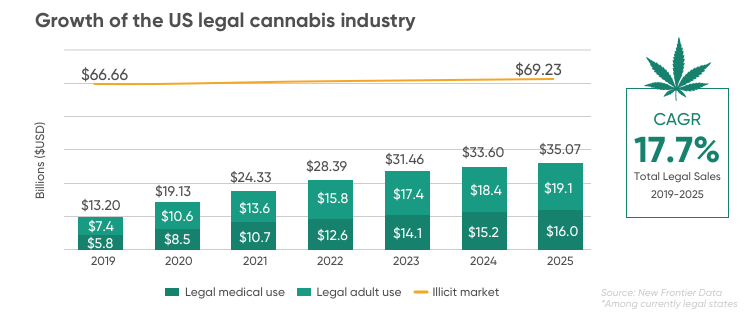 Based on the latest edition of the Annual Marijuana Business Factbook, the US cannabis industry has the potential to generate up to $130bn annually into the US economy by 2024.
To help you better navigate the growing market, Capital.com presents a list of the 5 best marijuana stocks to buy in 2021 – all available for trading on our trading platform.
Marijuana stocks to buy in 2021: 5 companies to keep on your radar
Aphria (APHA) and Tilray (TLRY)
Aphria is Canada's top producer and distributor of medicinal and recreational cannabis, operating through wholesale and retail channels domestically and internationally. It has operations in more than ten countries across the world and is the main distributor of medical marijuana in Germany.
In 2020, APHA stock has been one of the most resilient Canadian cannabis stocks, growing 30 per cent. At the time of writing, January 19, shares traded at CA$13.61.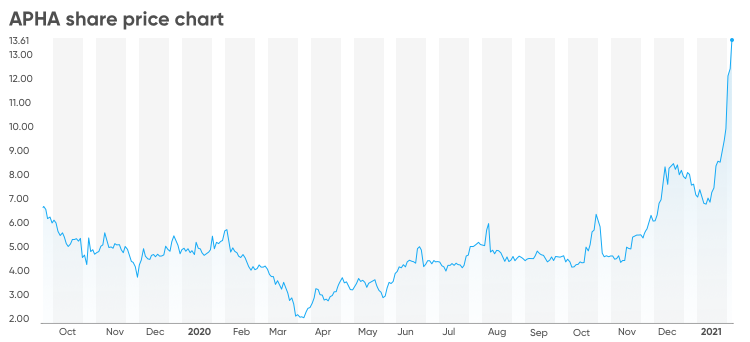 On January 14, the company reported CA$160.5m in net revenue for its fiscal second quarter of 2021, representing an increase of 33 per cent from Q2 2020. The growth was driven by the recovery of its German medical unit from the pandemic's aftermath, sales of the recently acquired US-based craft brewery SweetWater Brewing, and an overall rise in cannabis sales.
During a conference call with analysts on January 14, chief executive officer Irwin Simon spoke about the opportunities in the US: "The recent election will likely provide a stronger near-term potential for change of federal cannabis regulations and at Aphria, we are ready and well-positioned for it."
"We expect change to happen faster and decisions to be made sooner under the new Democratic leadership."
In December 2020, Aphria announced a reverse merger with Tilray — another member of Canada's top cannabis stocks to invest in. The merged entity will be the world's largest marijuana company in terms of revenues, which will hold a 17 per cent share of the Canadian pot market.
Simon said that the deal should be completed in spring, adding: "The combined company would have a market share approaching 20 per cent, the largest share held by any single licensed producer in Canada, and 700 basis points higher than the next closest competitor."
Apart from the US and Canada, the combined company will also be well positioned to have a strong European presence, thanks to Aphria's medical cannabis distribution subsidiary in Germany and Tilray's cannabis cultivation and processing facility in Portugal.
The merged company will operate under Tilray's name and trade under the ticker symbol TLRY on the Nasdaq exchange.
As the biggest players on the Canadian market with rather bright prospects, both marijuana companies are included into our list of the best cannabis stocks to watch in 2021.
Altria Group is one of the world's largest producers and marketers of tobacco, cigarettes and related products. The company is known worldwide for its Marlboro brand.
In 2019, Altria became an active figure in the marijuana market after acquiring a 45 per cent stake in Canada's cannabinoid company Cronos Group (CRON) for $1.8bn. In summer 2020, Altria filed for two patents for cannabis vaporisers.
If you are looking for a marijuana stock to invest in 2021 but do not want to pour your cash into the pot-only business, the MO stock allows you to get exposure not only to the cannabis sectors but also to the well-established tobacco industry.
According to CNN Business, the average Altria share price forecast from 15 analysts that issued 12-month price targets for the stock is $49 per share, with a low of $37 per share and a high of $60 per share. The current consensus among polled analysts is to buy the stock.
However, the MO share price came as a disappointment to investors in 2020, shedding 18 per cent by the end of the year. While some analysts believe this might change in 2021, we suggest you do as much research as possible before buying into the stock.
Constellation Brands (STZ)
Altria is not the only company that allows you to invest indirectly in cannabis. Among such pot stocks to watch is Constellation Brands, a US producer and marketer of wine, beer and spirits. It has more than 100 brands in its portfolio and is the largest beer import company in the US measured by sales.
In 2017, the company invested in Canopy Growth (WEED), a Canadian cannabis producer, buying a 9.9 per cent stake for $191m. In 2018, it increased its stake to 38 per cent by investing an additional $4bn, and in 2020, it exercised warrants upping the stake to 38.6 per cent.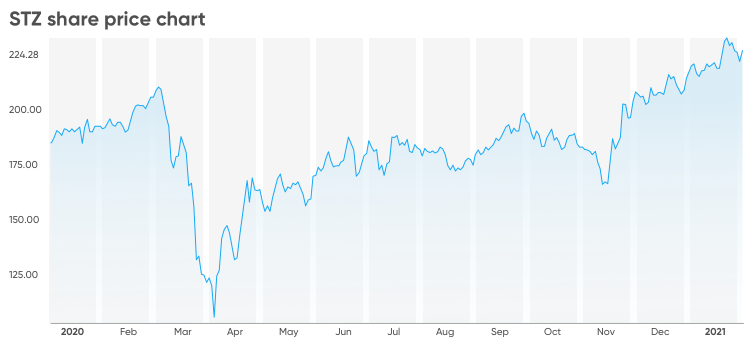 Traded on the NYSE, the company's stock has mainly been in an uptrend ever since last year's market crash in March, gaining more than 110 per cent from $105.64 on March 23, 2020, to $222.91 on January 19, 2021.
Based on data compiled by CNN Business, the median price target for the stock is $258 per share, according to 12-month price forecasts provided by 20 analysts. The high estimate is $276, while the low is $154.00. The current consensus among polled analysts for the stock is a buy.
GW Pharmaceuticals (GWPH)
Founded in 1998, GW Pharmaceuticals is a UK-based biopharmaceutical company that is focused on the discovery, development and commercialisation of therapeutics from its cannabinoid product platform. The business is known for its multiple sclerosis treatment product Sativex, as well as Epidiolex, the medicine used for the treatment of Lennox-Gastaut and Dravet syndromes, refractory childhood epilepsies and tuberous sclerosis complex.
Today, GW Pharmaceuticals is one of the leading cannabinoid-based medicines providers globally.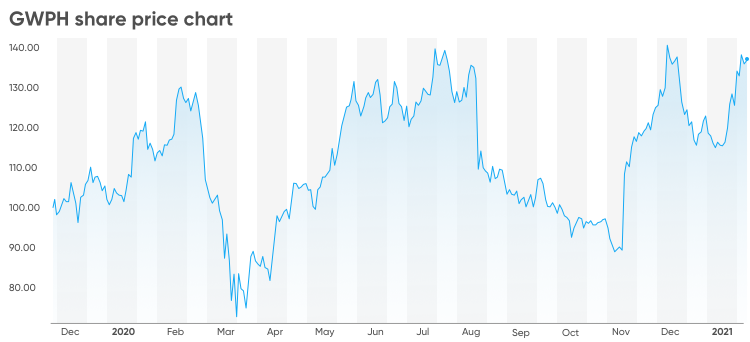 In 2020, the stock dipped dramatically in March during the broader market sell-off but then quickly gained an upside momentum, soaring to $139.54 in mid-July. After going through another major plunge, it ended the year at $115.41. GWPH shares started to rise in early 2021 and, at the time of writing, the share price stood at $136.91 per each.
The average price forecast for the stock is $181.5 per share, according to the 16 analysts who offered 12-month estimates. This represents a potential 32 per cent growth from its current price, making GWPH one of the top 5 marijuana stocks to invest in 2021.
What is your sentiment on EA?
Vote to see Traders sentiment!
Beware of the risks when investing in marijuana industry
While the cannabis market does offer a plethora of interesting investment opportunities, it remains a nascent industry with loads of risks and a number of challenges to overcome. For investors, it translates into increased unpredictability and volatility. As such, it is important for anyone looking to get into the market to stay up-to-date with the latest news and developments on the legality, growth, distribution and use of marijuana.
Read more: Roku stock forecast: will 2021 be a repeat of 2020?