Thyssenkrupp (TKA) sees doubling of full-year profit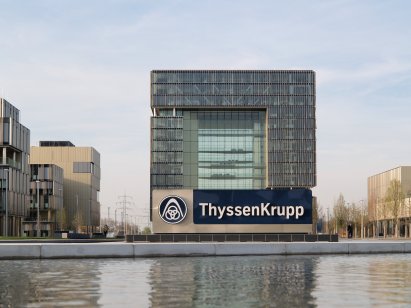 German steelmaker Thyssenkrupp reported on Thursday that it expected full-year earnings for the current year to nearly double those of a year ago as it dramatically cut net losses.
The company said it expected adjusted earnings of between €1.5-€1.8bn for 2021-2022 compared to almost €800m a year ago. Meanwhile, net losses – which totalled €5.5bn last year – were reduced to €19m.
Overall, Thyssenkrupp, which employs more than 25,000 in the Ruhr valley, came close to breaking even as order intake improved 41% and sales rose 18% to €34bn.
Steel spin-off
Improving economic conditions augur hope for the company for separate listing of hydrogen and steel units. Chief executive Martina Merz is hopeful that a spin-off of Thyssenkrupp's steel division will get the green light at its February 2023 annual general meeting.
Thyssenkrupp is a major supplier to Germany's car industry but European steelmakers have had a tough time with intense Chinese competition.
What is your sentiment on TKA?
Vote to see Traders sentiment!
Hydrogen IPO
The industrial giant is also in the process of preparing a float of its hydrogen unit, with an initial public offering for its Uhde Chlorine Engineers (UCE) in the planning stages.
In listing UCE, Thyssenkrupp will retain a majority stake. A special purpose acquisition company (SPAC) had been reported to be under consideration for the IPO.
Momentum right direction
While Merz said the company still faced "enormous" challenges such as weathering the current semiconductor crisis, "Thyssenkrupp is going in the right direction," she added.
"Our performance is improving significantly, which is reflected in our figures. We aim to benefit from this momentum in the next phase of our transformation in order to restore our businesses to profitable growth.
"However, enormous challenges remain, especially due to the semiconductor shortage and the uncertainties arising from the coronavirus pandemic."
Thyssenkrupp shares were down 1.45% in early trading this morning at $10.20 though this is a doubling of its stock value 12 months ago.