Tesla (TSLA) software upgrade could result in new options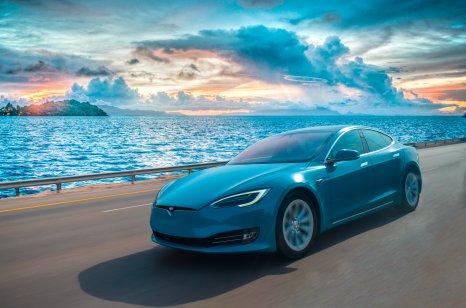 A Tesla (TSLA) software update has created the possibility that the EV maker will be able to offer an array of options to owners in the future, according to an analyst.
For example, the update appears to enable Tesla owners to allow multiple drivers access to their cars through the company's mobile app, said Tasha Keeney in a report that ARK Invest provided to Capital.com.
The update could allow a Tesla owner's family members, car renters, and/or professional ride-hail drivers to share virtual keys.
"Facilitating the hand-off of virtual keys could help increase utilisation of Tesla vehicles – one step toward transforming the personal car from a stranded asset into a revenue-generating machine," Keeney wrote.
Editor praises car-sharing feature
On Friday 3 December, EV trade publication Electrek called the new ability to share vehicles through the mobile app "a more involved part of the Tesla ownership experience than the Tesla account on (the company's) website."
"The car-access feature is very useful for people who own several Tesla vehicles," wrote Elecktrek editor-in-chief Fred Lambert. "I've been using it for a while since I have three Teslas in different places, and when I'm not driving a car, I let friends and family have them.
"They are able to use (the vehicles) just like (they were) their own through the app without having to share my Tesla account.
"Now having the capability in the app is going to make it easy to add drivers (up to five) on the go."
Other possibilities
Tesla CEO Elon Musk has spoken many times about his goal of setting up a ride-hail service known as Tesla Network whereby customers would use an Uber- or Lyft-like app to book vehicles.
But, in 2019, he also described a robotaxi service, which he expected to be in operation by 2020 but has been delayed.
Keeney laid out a strategy whereby Tesla could launch the ride-hail network in advance of establishing the self-driven taxi business.
While a robotaxi network's total addressable market is 100 (times) larger than that of a ride-hail service, Tesla would generate recurring profitability earlier and more predictably were it to launch both services," wrote Keeney in a separate 2020 analysis that ARK also provided to Capital.com.
ARK's modelling indicates that, in 2025, a ride-hail service could increase Tesla's operating earnings by more than $30bn and bolster the company's valuation relative to its stand-alone EV business.
Company could boost profit
"If Tesla were to decide against the commercial launch of robotaxis, then a ride-hail service alone could improve its profitability and ultimately account for roughly 30% of the company's enterprise value, by ARK's estimates," Keeney wrote.
Keeney wrote that Tesla would have to develop city-by-city sales and recruitment strategies for a ride-hail service, and its startup costs could exceed those of a robotaxi network launch. She said missed timelines by Tesla, Alphabet subsidiary Waymo, and others suggest that the technical challenge associated with autonomous driving is "daunting."
However, Tesla has "a significant competitive advantage" over Waymo in that the world's largest EV company can source real-world driving data and deploy actual tests of its autonomous system on a large scale.
"While ARK believes Tesla already has access to more driving data than any company in the world, ride-hail miles could be even more valuable to Tesla as they would mimic the future trips taken in robotaxis," Keeney wrote. "A ride-hail network would give Tesla significantly more data to train Autopilot."
Read More: BuzzFeed (BZFD) shares fall 20% below offer price in debut