Tesla (TSLA) stock up 10% on production, delivery numbers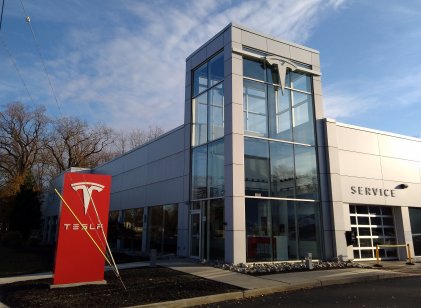 Tesla stock is 10% higher in US trading Monday after the electric vehicle (EV) and clean energy company released record fourth-quarter and full-year 2021 production and delivery numbers that topped analyst estimates.
After moving lower late last week on a recall announcement, Tesla shares opened at $1,147.75 per share, up 9% from Friday's close of $1,056.78. At 11:00 ET (UTC-5) Tesla was at $1,168.17, up 10.5%.
"Let's make the roaring '20s happen!," tweeted Tesla CEO Elon Musk. "Great work by the Tesla team!"

Credit: Twitter
Analyst reaction
JPMorgan Securities lead automotive equity research analyst Ryan Brinkman said in a research note: "We extrapolate the higher rate of fourth quarter deliveries into future quarters also, resulting in more operating leverage than we had previously modelled." JPMorgan raised its 2022 price target for Telsa to $295 per share from $250 while maintaining its underweight on the stock.
JPMorgan also increased its fourth quarter 2021 earnings per share (EPS) guidance to $2.22, versus consensus estimates currently at $1.98 per share. Additionally, JPMorgan revised its full-year 2022 earnings to $7.50 per share from the previous $6.30 per-share estimate and 2023 full-year EPS to $9.00 from $8.25.
Telsa is scheduled to report fourth quarter 2021 earnings this month. Third quarter EPS was $1.86 per share.
Wedbush analyst Dan Ives tweeted "[t]his was a 'trophy case' quarter for Musk & Co." adding the production and deliver numbers created "massive momentum moving into 2022."
What is your sentiment on TSLA?
Vote to see Traders sentiment!
2021 performance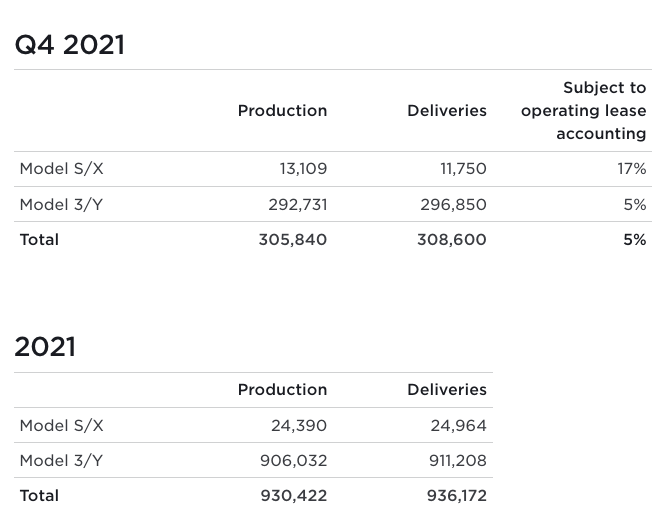 Tesla Q4 2021 Vehicle Production & Deliveries - Credit: Tesla
Sunday afternoon Tesla reported fourth quarter combined new vehicle production totalling 305,840. Of that number, 292,731 were the less expensive Model 3/Y option, a 22% increase from the previous quarter. Deliveries for Q4 2021 topped 308,000 vehicles, with 296,850 of the total being the Model 3/Y, roughly 40,000 more than expected.
Full-year production topped 930,000 vehicles, 906,000 of which were the Model 3/Y. Deliveries for 2021 topped 936,000, nearly double Tesla's 2020 production.
Analyst reaction
JPMorgan's Brinkman added that while the target price implies a downside for the Austin, Texas-based EV manufacturer's stock over the next year, it still values Tesla as the world's most valuable car manufacturer. "Tesla's (900,000) of 2021 unit volume, by contrast, ranks it as only the 20th largest automaker by 2021 unit volume," noting that by production Tesla is sandwiched just behind India's Tata Motors and ahead of China's Chery International.
While the production and delivery numbers are impressive for Tesla, it still trails Toyota's nine million annual unit volume, "indicating it still has a long way to go to grow into its elevated valuation."
More bullish on Tesla than JPMorgan, Wedbush's Ives said "Tesla continues to dominate market share as evidenced again this quarter while battling through the chip shortage and now is seeing China demand step up big time after facing headwinds earlier in 2021."
Wedbush also maintained its Outperform rating on Tesla stock and upped its 2022 full-year price target to $1,800 per share from the previous $1.400.
Read more: Tesla faces false advertising claims