Tesla sell-off: is TSLA stock a good buying opportunity long term?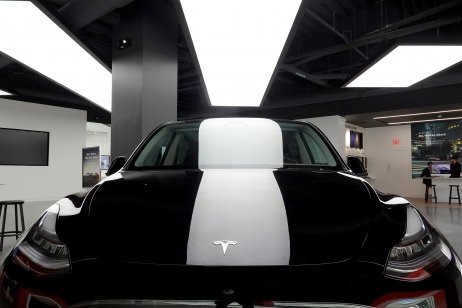 There are many names in the Nasdaq who have taken quite a hit at certain times this year. In fact, looking at the Nasdaq's biggest fallers it is a veritable who's who of tech giants including Netflix (NFLX), Meta (META) and Alphabet (GOOG) but one stock enjoying a post dip rally is Tesla (TSLA).
At the start of 2022, Tesla (TSLA) ranked as one of the world's most valuable companies, with a market cap of around $1.2 trillion. But a lot has happened since then – in fact Tesla's stock now has shed more than $700bn in value.
Musk himself has sold almost $40bn of his own stake in the company in the last year – and this sends a strange signal given his bullish talk about the EV manufacturer's prospects.
Musk's offloading of Tesla shares has meant investors are (understandably) questioning his focus.
'No further TSLA sales'
And this week, Musk filed a regulatory document indicating he had sold an additional 22 million shares of Tesla for about $3.6bn. Concerned investors were keen to remind the Tesla founder of a Tweet from him back in April that said: "No further TSLA sales planned after today."
One way or another Elon Musk has found himself in the headlines of late – and the stock has felt the impact of its founder's actions.
As Danni Hewson financial analyst at AJ Bell points out news that Elon Musk had indeed shed billions more of his stock wasn't really a surprise but the EV giant's not exactly having the best time of it at the moment.
"In a tweet earlier this week Mr Musk commented that "Tesla will be great long-term, but doesn't control macroeconomic tides".
Hewson adds: "Mr Musk's split focus is troubling, especially at a time when expectations are that Tesla's next set of financial results won't look too pretty. But sell-offs create buying opportunities and there seem to be plenty of investors more than happy to focus on the long term if it comes at a discounted price."
What is your sentiment on TSLA?
Vote to see Traders sentiment!
Tesla share price chart
Over the month, Tesla shares have slipped from a high of around $195 to a low of just over $156 but the stock rose in trading yesterday – to $157.67 with after-hours trading hitting $158.45. (This time last year Tesla stock was around the $310 level - so historically it remains at a pretty depressed price.)
And Marketbeat shows that of 35 analysts currently covering Tesla, 19 rate the stock a 'buy'; 11 a 'hold' and 5 a 'sell'.
Clearly there are more bullish than bearish on the EV maker – with a consensus price target of $264.91.
However, the five rating the stock a sell indicate the degree of confusion and wariness in relation to Musk's decision making and his business priorities.
The belief that Musk' is a visionary with a Midas touch is one that has less resonance now – after Tesla shares have taken a pounding and the Twitter takeover he tried to squirm out of.
But perhaps what investors are focussing on is Tesla cars are indeed a strong product in a market that is likely to see continued growth over coming years. All the noise does not change the marketability of the vehicles.
On that score, brokers might be right in seeing Tesla as good value at current levels.