Tesla sales boom in China in September
Subscribe to Weekly Highlights
The major market events for the week ahead right in your inbox.
Subscribe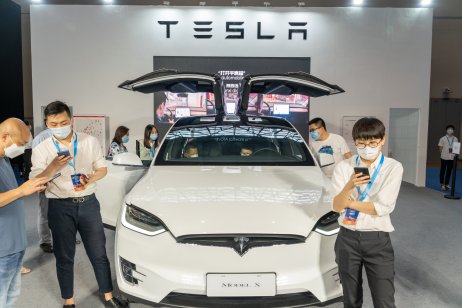 Content
Tesla's sales in China boomed in September as the US electric vehicle (EV) maker sold a record 56,006 China-made vehicles.
Only 3,853 of that total were exported, according to data released by the Chinese Passenger Car Association (CPCA) Tuesday.
"China demand rebounded in the quarter and is (a) clear indicator of the step up in EV demand taking place globally with China leading the way," wrote Wedbush analyst Daniel Ives in a client note that he provided to Capital.com.
Tesla's sales in the world's largest market rose 26.53% from 44,264 in August, with a record 31,379 of those exported.
Tesla's sales trending upward
"Selling (more than 50,000) in the month for the key China region speaks to huge (upward) trajectory that highlights our bull China thesis for Tesla for the next few years," Ives wrote.
The CPCA data indicated that purchases of fossil-fuel-powered vehicles declined, as overall passenger car sales declined 17% year-over-year to 1.6 million in September.
So far this year, the country's EV production and sales are outpacing their conventional-vehicle counterparts, according to a China Association of Automobile Manufacturers (CAAM) report released Tuesday.
China's EV passenger car production spikes
China's EV passenger car production spiked 189% year-over-year to 275,000 from 95,000 in September 2020, while sales skyrocketed 181% year-over-year to 281,000 from 100,000.
Those totals were up 15.5% and 11.8%, respectively from August.
Overall Chinese auto production down
By comparison, China's total passenger car production fell 13.6% year-over-year to 176,700 units from 204,500 as manufacturers grappled with the global microchip shortage that has forced temporary plant shutdowns and slowdowns. Meanwhile, China's total passenger car sales dropped 16.4% to 175,100 from 208,800.
Using wording similar to a recent report from China's official news agency Xinhua, the CAAM said Chinese EVs are gaining more footing in overseas markets – including Europe, where green transportation is growing rapidly.
The group noted in a press release that EV maker NIO opened a showroom in Oslo, Norway – "the first of its kind" – last week.
Read More: Li Auto posts wider loss as EV market crackdown looms