Tata Power share price forecast 2022-2025: Investing in future renewables?
Subscribe to Weekly Highlights
The major market events for the week ahead right in your inbox.
Subscribe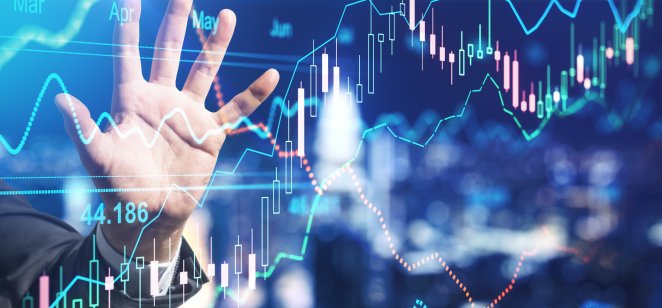 Content
Shares in Indian power company Tata Power (TATAPOWER) have cooled since it hit the highest price for 2022 in April, despite strong financial results for the first quarter of the 2023 financial year and thriving renewable energy business.
The stock traded at INR215.30 on 26 September at the National Stock Exchange of India (NSE), about 27.76% down from the highest price of INR298.05 for 2022, which was hit on 7 April.
Indian energy companies are on analysts' radars amid a looming power crisis and the country's gradual move to clean energy. Indian power generation has been under pressure to increase coal imports amid rising electricity demand and persistently high coal prices.
Can Tata Power's stock price reverse its decline? We look at the company's share performance and what factors are driving the Tata Power share price prediction.
What is Tata Power?
Tata Power is the
largest private power generator in India
, with an installed generation capacity of 13,068 megawatts (MW). Through its power distribution subsidiaries such as Tata Power Mumbai Distribution and Tata Power Delhi Distribution, the Mumbai-based company serves 12.2 million customers.
Apart from its power distribution business, what does Tata Power do? The company operates 1,211 ckt.km (circuit kilometers) of transmission network in Mumbai and its suburbs.
It also has a joint venture with Power Grid Corporation of India in the construction of 2,328 circuit kilometres (ckt) of transmission lines from Siliguri in West Bengal via Bihar to Mandola in Uttar Pradesh.
Resurgent Power, a joint venture in which Tata holds a 26% stake, has obtained a letter of intent to acquire 100% shareholding in NRSS XXXVI, which is developing a 153km transmission system.
Tata Power is one of 29 publicly-listed subsidiaries of Indian multinational conglomerate Tata Group, which has businesses from steel and vehicles to hospitality. As of 31 December 2021, Tata Group and its subsidiaries had a combined market capitalisation of $314bn.
Tata Power share price prediction: Technical analysis
Tata Power's share value has gradually recovered from an all-time low of INR27 on 12 May 2020. Like many power stocks, during the onset of the Covid-19 pandemic in 2020, the company's share price plummeted due to a drop in electricity demand as offices, factories, and businesses closed to reduce the spread of the disease.
Recovering electricity demand as the country emerged from the devastating second wave of the pandemic in May last year helped the stock to begin an uptrend from the second half of 2021.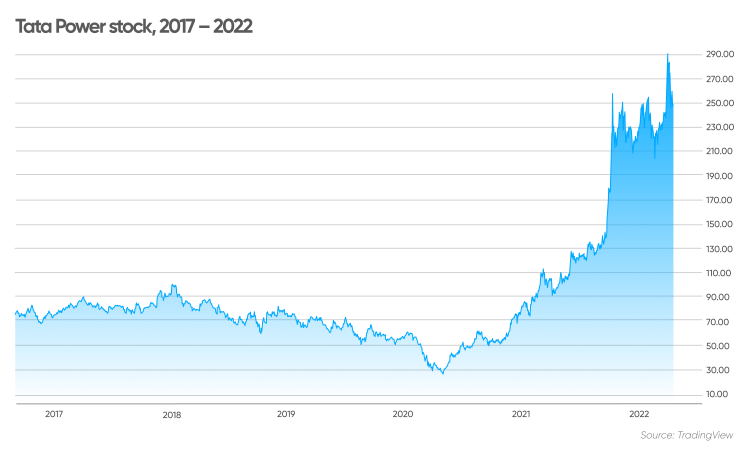 In addition, the move towards clean energy in India bodes well for the company's stock. According to reports, India could see $500bn worth of investment in the clean-energy business by 2028.
In a note on 18 July, Jefferies estimated that renewable capacity in India would rise by 82% by financial year 2026/2027 and 2.8 times by financial year 2030.
Tata Power's stock chart analysis showed the shares gained roughly 192% in 2021 and the stock continued its strong performance into 2022.
In the first week of April, the stock rallied for four days in row from 4 April to 7 April, reaching the highest price for the year at INR298.04 on 7 April, fuelled by acute power shortage in the country and the company's venture into renewable energy. In those four days, the stock gained more than 10%.
But its value has retreated since then, trading at INR215.30 at the time of writing (26 September), according to data from TradingView. The rally cooled despite the company's announcement on 14 April that the BlackRock Real Assets consortium, including Mubadala Investment, would invest $525m for a 10.53% stake in Tata Power Renewables.
Tata Power share analysis showed the stock has dropped 2.6% year to date, but has gained 53.46% in the past 12 months, based on TradingView data.
Tata Power company news: Latest earnings
On 26 July, Tata Power reported a 90% increase in its consolidated net profit to INR8.84bn ($111.28m), in the first quarter of 2023 financial year ended 30 June 2022, from INR4.66bn in the same quarter for financial year 2022.
It booked consolidated revenue of INR147.76bn in the quarter, up 48% from INR99.74bn in the same quarter in the prior-year period. The company attributed solid Q1 results on strong performance of all its businesses.
"We have started the new fiscal year on a solid note with all of our business clusters – Generation, Transmission, Distribution, including Odisha, and Renewables – performing very well. This is aptly reflected in our 11th consecutive quarter of PAT growth," said Tata Power CEO Dr Praveer Sinha in the statement.
However, its earnings before interest, taxes, depreciation, and amortisation (EBITDA), or operating profit, dropped 11% to INR21.07bn in the quarter, from INR23.65bn in the year-ago period.
| | |
| --- | --- |
| Long position overnight fee | -0.0164% |
| Short position overnight fee | 0.0059% |
| Overnight fee time | 22:00 (UTC) |
| Spread | 1.8 |
| | |
| --- | --- |
| Long position overnight fee | 0.0464% |
| Short position overnight fee | -0.0723% |
| Overnight fee time | 22:00 (UTC) |
| Spread | 0.006 |
| | |
| --- | --- |
| Long position overnight fee | -0.0500% |
| Short position overnight fee | 0.0140% |
| Overnight fee time | 22:00 (UTC) |
| Spread | 60.00 |
| | |
| --- | --- |
| Long position overnight fee | -0.0156% |
| Short position overnight fee | 0.0013% |
| Overnight fee time | 22:00 (UTC) |
| Spread | 0.03 |
The company plans to spend INR140bn on capital expenditure with INR100bn allocated for its renewables business.
Power tariff negotiation
Tata Power is also negotiating a power tariff revision to compensate for persistently high imported coal prices.
In May, India's Ministry of Power ordered electricity generation companies to import at least 10% of of all their coal requirement to boost power supply amid rising domestic demand. However, the ministry said some power generators were reluctant to do it because the high imported coal prices – which stood at $140/tonne at time – and the existing power purchase agreement (PPA) rate means they could suffer losses.
Tata Power had sought an electricity tariff increase to INR9.11 per unit against INR6.05 per unit rate for its massive Mundra coal-fired power plant, Economic Times reported. However, the country's electricity commission only agreed for less than the requested increase, the Economic Times reported.
In April, Tata Power received regulatory approval for a merger with its wholly-owned subsidiary, Coastal Gujarat Power Limited (GCPL) which operates the 4,000MW coal-fired power plant in Mundra, Gujarat.
Kolkata-based asset management firm AUM Capital said in a note on 3 June that the company was in advance talks with the Gujarat government for a tariff revision to compensate for fuel cost for the Mundra plant and its Mundra UMPP and intends to work with others states like Rajasthan for full fuel cost pass-through.
If the talks are successful, along with a moderation in the international coal price, it would reduce the loss and could make Mundra UMPP profitable, the firm said.
"CGPL's Mundra unit operated at a PLF (plant load factor) of just 25% in FY22 compared to 73% in FY21 due to high fuel cost under-recovery and lower PAF (plant availability factor) also led to penalties and thus impacting cost absorption. However, now a few states like Gujarat and Rajasthan have allowed pass through of the costs amidst power shortages and high coal costs," it added.
Tata Power shares: Buy, sell, or hold?
With many factors at play, will Tata Power shares go up? Analysts have mixed views on a Tata Power stock forecast.
ICICI Securities maintained its price target of INR 262, but downgraded its rating for the stock to 'add' from 'buy'. A company with 'add' rating means it has between 5% to 15% returns, according to the Mumbai-based financial service.
"We believe, the long-term potential of the company's businesses is good, especially its renewables and distribution businesses, and that the company is the best-placed private player in the power sector, with businesses across the value chain and backward integration," said ICICI analysts Rahul Modi and Anshuman Ashit on 25 August.
HDFC Securities on its note on 27 July maintained its 'reduced' rating on Tata Power shares and kept its Tata Power share price target 2022-2023 unchanged from April at INR231 apiece.
Jefferies, in its Tata Power share price prediction on 18 July, maintained an 'underperformed' rating for the company, but raised its price target to INR180 per share from INR140 on a base case basis.
"We remain concerned on medium-term execution and sustainable returns on the power portfolio. We believe the coal price rise and shortage concerns, potentially fuelling a further rally, has driven most of the recent upside," the firm wrote in the note.
AUM Capital, in its June note, was more bullish for its Tata Power share price forecast for 2022, recommending a 'buy' for the stock at a price target of INR291.
As of 26 September, algorithm-based forecasting service Wallet Investor was very bullish on its Tata share price prediction, rating the stock as "a very good long-term (one-year) investment", according to its forecasting system.
In its Tata Power stock prediction, Wallet Investor expected Tata Power to rise to INR259.457 in December 2022. In its Tata share price forecast for 2025, the service predicted the share price to jump to INR482.497 in December 2025 and INR601.795 in September 2027.
When looking at Tata Power stock forecasts, keep in mind that analyst and algorithm-based predictions can both be wrong. It is critical to conduct your own research. Your decision to trade should be influenced by your risk tolerance, market knowledge, and portfolio spread. And never trade money you cannot afford to lose.
Is Tata Power a good stock to buy? The bottom line
Analysts have mixed recommendation on the stock. Tata Power has a solid business footing and electricity demand is expected to remain robus, with renewable energy set to play a bigger role in India's electricity provision
Whether Tata Power stock is a suitable investment for you should depend on your own objectives. Remember, it's important to reach your own conclusions about the stock and its likelihood of achieving analyst targets.
FAQs
How high can Tata Power shares go?

Wallet Investor forecast that Tata Power's share price could reach INR601.795 in September 2027. Yet there are many factors at play and predictions can be wrong. Always conduct your own due diligence.
Should I invest in Tata Power?

Whether you should invest in Tata Power shares depends on your risk tolerance, investing goals and portfolio composition. Always conduct your own research. Remember that past performance does not guarantee future results. And never invest or trade money that you cannot afford to lose.
What is the future of Tata Power?

It is very difficult to predict the future of a company as there are many factors that will influence its performance. Some are affected by the company's bussiness strategy, while others are influenced by broader macroeconomic issues. Remember that markets are volatile, so there are no guarantees.
Related reading