What is swing trading?
Swing trading refers to the medium-term trading strategy that is used by traders who profit from price swings. Swing traders identify a possible price trend and then hold a particular asset for a period of time – from a minimum of one day to several weeks – in an attempt to gain capital.
Swing trading strategies employ fundamental or technical analysis in order to determine whether or not a particular security might go up or down in price in the near future. Swing traders often create a set of rules that are based on received information. By checking these technical indicators, traders search for securities with impulsive price movements and look for the best entry point when opening positions. This type of trader does not particularly consider the long-term value of a given stock.
If we look at the types of trading from a time perspective, swing trading stands between two other well-known strategies: day and buy-and-hold trading. Day trading is based on holding a stock for less than a day (perhaps for a few hours or even seconds).
Day trading is considered to be one of the most speculative strategies as traders attempt to profit from the short-term manoeuvres in the stock market, selling at a prearranged price to hedge against the risk of any counter moves that might happen during out-of-hours trade.
Unlike day trading, buy-and-hold (also called "trend") trading is a long-term strategy. When using it, investors follow a particular trend. It can be anything: sticking to a cyclical rally to benefit from rises in stocks that are more closely related to a strengthening global economy, or a "growth" strategy that focuses on those stocks that pay the highest dividends.
Each type of trading has its pros and cons. Swing trading provides traders with various technologies to trade; a better profit opportunity per trade in comparison to day trading; the dollar risk per trade is lower than with buy-and-hold trading, as it happens faster; and losses can be kept to acceptable levels, as decent stop-loss techniques can be applied. The potential of quick rewards that are possible in swing trading often keep traders motivated and interested, and serve as inspiration to improve their skills and raise more capital.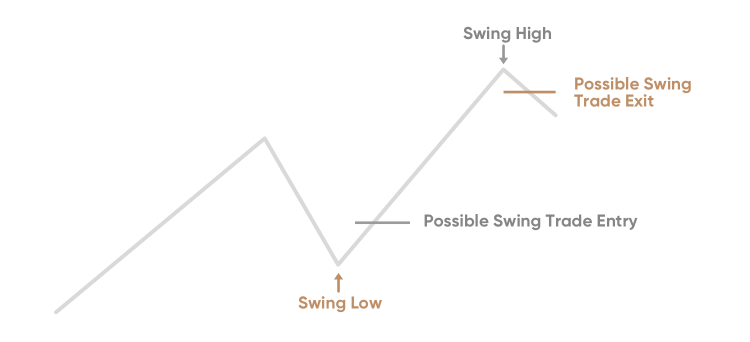 Swing trading strategies and techniques
How do you swing trade? There are several different swing trading strategies often implemented by traders. Here are the four most popular: breakouts, breakdowns, reversal and retracement.
Breakout
A breakout technique is an approach where a trader takes a position on the early side of the uptrend, looking for a market or stock that is most likely to "breakout". The trader gets into the trade as soon as he or she sees the desired level of volatility and movement of a stock that breaks a key point of stock's support or resistance.
Breakdown
A breakdown strategy is the opposite of a breakout. The stock price goes lower than a defined support level and the chart points toward lower prices. Then, traders monitor the same fundamentals as with breakouts.
Reversal
This technique uses a price changing momentum when its growth or fall slows down before having a complete reversal. The method has a good ratio of risk to reward and works best with variable markets.
Retracement
A concept that is quite similar to reversal. Retracement is applied when the price reverses within a larger trend, but not to its high or for any length of time. A stock temporarily retraces to an earlier price point and then continues to move in the same direction later.
What instruments do swing traders typically trade?
There are many types of financial instruments that can be used for swing trading. As usual, each type has its own advantages and disadvantages. The choice of an instrument depends on the trader's risk profile, level of experience and present market conditions.
We will list the most popular of the instruments for this type of trading:
Currencies. When working with currencies, the swing trading trader is looking for a particular currency to move in an expected direction (both down and up) in comparison to another currency.
Cryptocurrencies. These relatively new digital currencies have had their ups and downs. Nevertheless, cryptocurrencies keep attracting more and more investors and traders worldwide. Some of the most popular coins include: Ripple, Bitcoin, Ethereum and Tron.
Individual stocks. Another choice for swing trading is with individual company stocks. The idea behind it is exactly the same: swing traders buy a stock for a specific period of time, then sell it for a profit.
Swing trading helps the traders to diversify their investments. Yet, it is important to remember that every trading method has its pros and cons, and it is up to the trader which one of them he or she will choose.