Supply shortages relieve downward pressure on energy prices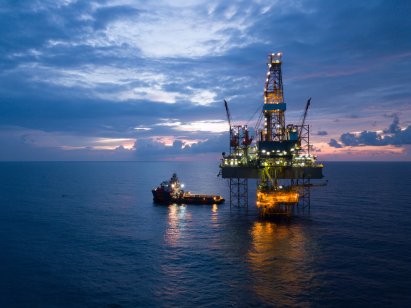 The value of oil has recovered from the gradual losses it had accumulated since the end of last week – around 3% – due to dampened prospects over lockdown fears. Brent Crude Oil and US Crude Oil traded at $74.29 (around £55.80) and $71.52 per barrel respectively. Elsewhere, US Natural Gas traded at $3.91 per million British thermal units, a slight rise on yesterday.
According to a report published by the American Petroleum Institute (API), crude oil inventories fell to their lowest levels since 2014 in November. Despite increasing production by 100,000 barrels to 11.6 million barrels per day, its highest figure since April 2020, demand has continued to outpace supply.
The US Energy Information Administration (EIA) expects the imports of crude oil to increase in 2022 in the United States, further highlighting the disparity between demand and supply.
Russian gas supplies to Europe also fell on Tuesday, as reported by Reuters. This has resulted in the region switching to oil to meet its energy demands, placing further limits on any downward price pressure on both commodities.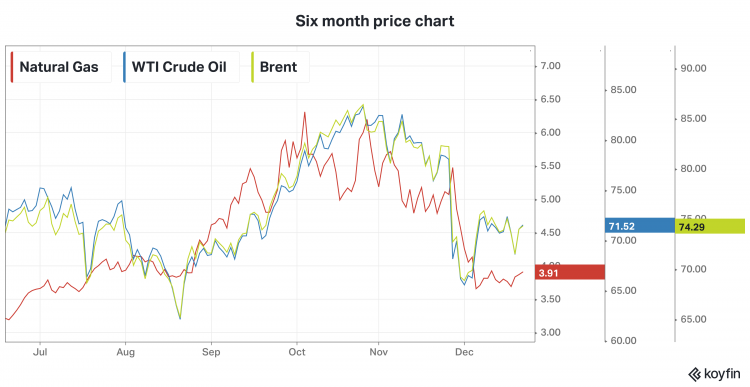 Six month spot price for energy commodities, as of 22 Dec 2021 – Credit: Koyfin
Performance
Day range: $73.70 - $74.59
52 week range: $49.13 - $86.70
52 week price change: 47.94%
10-day Exponential Moving Average (EMA): $73.32
14-day Relative Strength Index (RSI): 38.13
Day range: $70.96 - $71.77
52 week range: $46.16 - £83.83
52 week price change: 51.25%
10-day Exponential Moving Average (EMA): $70.34
14-day Relative Strength Index (RSI): 40.03
Day range: $3.81 - $3.91
52 week range: $2.26 - $6.47
52 week price change: 38.96
10-day Exponential Moving Average (EMA): $3.85
14-day Relative Strength Index (RSI): 37.51