Supply chain issues hit Bed Bath & Beyond (BBBY) Q3 earnings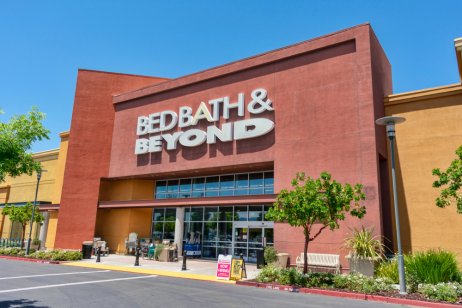 Bed Bath and Beyond (BBBY) losses widened in its latest set of earnings as "unprecedented macro forces" hit the North American retailer's top and bottom lines.
"During the third quarter our revenue momentum was below our expectations," Bed Bath and Beyond chief executive Mark Tritton said in a conference call.
"Unprecedented macro forces continue to permeate operating conditions leading to a near-term versus long-term bifurcation in our performance."
For the fiscal third quarter ended 27 November, net loss widened to $276.4m (£204m) from a loss of $75.4m a year earlier on net sales which fell 28% to $1.88bn from $2.62bn.
Loss per share of 25 cents
Adjusted loss per share of 25 cents fell below analysts' estimates of one cent, according to figures widely available on financial news sites.
Comparable sales – a key metric for retailers – fell 7%.
Bed Bath and Beyond sells a wide assortment of merchandise in the home, baby, beauty and wellness segments.
On a conference call to investors and analysts, Tritton went into detail on how various factors have combined to curb the retailer's sales.
Increasing inventory disruptions
"While we effectively offset higher freight costs that have been at the core of global supply chain pressures, increasing inventory disruptions impacted our ability to meet demand during the holiday season."
Tritton said that in preparation for the Holiday Season and against the backdrop of a challenging supply chain environment, Bed Bath and Beyond "fortified its plans to secure the right breadth and depth of product."
"Unfortunately, despite strong customer demand, operational challenges such as vendor constraints locked inventory and our current ill-equipped legacy infrastructure impacted our ability to drive further improvements in sales trends," Tritton explained.
$100m in lost sales
"Issues in receipt flow and on-shelf availability affected our top 200 items. The customer experience was compromised as strong demand wasn't met with strong product availability. This resulted in approximately $100m in lost sales versus demand or a mid-single digit impact to the quarter and an even higher impact in December."
Product supply chain issues were not the only factor in the company's drop in sales: promotional flyers didn't get into consumers' hands.
For context, Tritton explained that "a disproportionate amount of our sales are generated from circulars" which are "a key traffic driver" for the business.
Paper supply issues
"Paper supply and labour issues with print vendors impeded our ability to reach full-scale circulation. Timely delivery of these circulars was also an issue that prevented a historical level of circular distribution and further impacted our ability to drive traffic and generate sales."
Looking ahead, Tritton said anticipates conditions "to remain complex" and Bed Bath and Beyond was "defining solutions to navigate each quarter."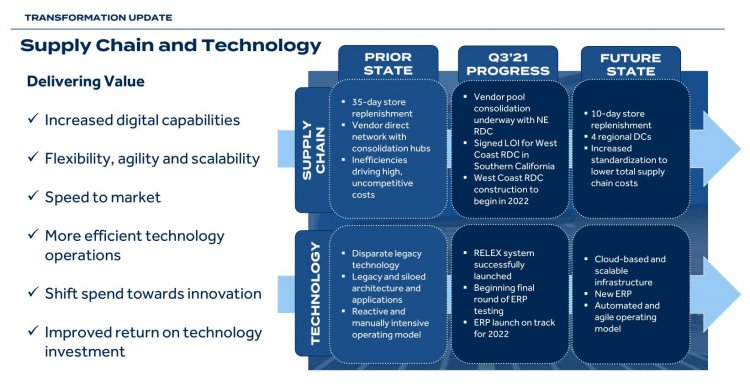 Bed Bath and Beyond is working to enhance its supply chain – Photo: Bed Bath and Beyond
"We are working with our vendors to target constrained inventory and improve flow between distribution centres and stores," Bed Bath and Beyond's Tritton said.
Earnings guidance
For the fiscal fourth quarter, Bed Bath and Beyond said it expect sales of $2.1bn and adjusted EPS in the range of flat to 15 cents. For the current fiscal year ending 28 February 2022, the company sees sales of $7.9bn, high-single digit comparable sales growth and adjusted EPS in the range of flat to a loss of 15 cents.
As at 10:30 am EDT (UTC-5), BBBY was up 8% at $14.48.
Read more: Interest rate hikes to hit M&A deals