Stocks today: FTSE 100 hits 20-month high, VIX at six-week low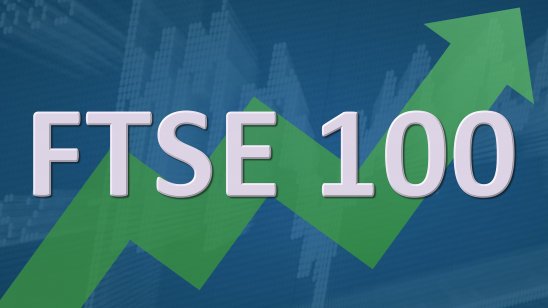 UK stocks powered ahead to a 20-month high on Friday, with investor sentiment buoyed by a series of upbeat global corporate earnings announcements.
European stocks also rallied with the Euro Stoxx 50 heading for the best week since March, as the optimism over companies' third-quarter financial results eclipsed fears of an energy crisis that had weighed on the market in recent weeks. US equity futures and Asian shares also showed a similar trend.
The CBOE Volatility index, or VIX, a measure of expected fluctuations in US stocks, fell for the fourth day to a six-week low, indicating a steadily improving sentiment and positive risk appetite among investors.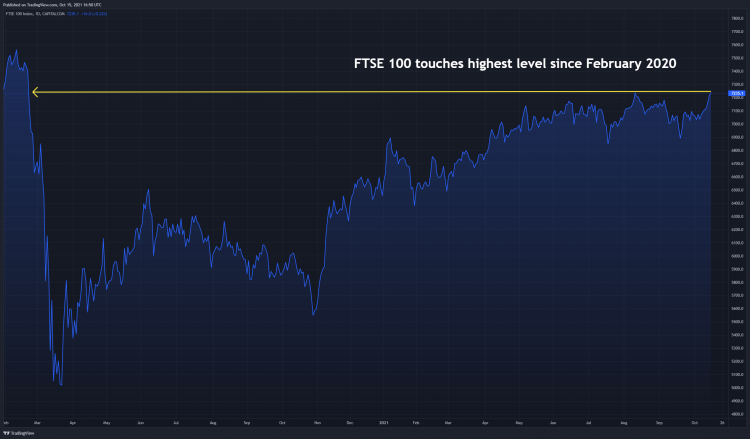 FTSE 100 chart – Credit: TradingView
Why are stocks up today?
Investor confidence in equities has got a boost after global banking giants including Bank of America, Morgan Stanley and JPMorgan Chase this week announced third-quarter results that surpassed analyst expectations. Market sentiment was also buoyed by expectations that the travel sector is set to reap benefits as pandemic-related restrictions continue to be lifted around the world.
What is your sentiment on UK100?
Vote to see Traders sentiment!
Market Highlights
The FTSE 100 was up 0.2% at around 7,232 Friday afternoon in London, after earlier climbing as high as 7,247.3, the highest level since February. The index gained almost 2% this week, on track for the biggest five-day advance since June

The Euro Stoxx 50 rose 0.3%, taking its weekly gain to 2.7% -- the gauge is on track for the best five-day rise since March
Brent crude oil hit a new three-year high on Friday, just shy of $85 per barrel, and was set to gain for the sixth consecutive week.
Stock market sentiment improves
The VIX index fell below 16.56 to a six-week low, reflecting a recovery of investor confidence after the market was weighed down by worries about inflation and an energy crisis in recent weeks

The US dollar index dropped for a third day, reflecting a decline in demand for safe-haven assets
Top stocks gainers: UK and Europe
In the UK, the top performing sectors were minerals, transportation and retail

Evraz, International Consolidated Airlines Group and Ocado Group were the best performing companies in their respective segments

In Europe, the best gainers were online payment platforms, semiconductors and luxury goods

Adyen B.V Parts Sociales, ASML NV and Kering led profits in their respective sectors
Top stocks losers: UK and Europe
On the FTSE 100, consumer services, technology services and consumer non-durables were the segments which took a hit

Pearson, Informa and Burbery led losses in their respective segments

On the Euro Stoxx 50, financial services, media and optical equipment were lagging behind

Santander, Vivendi and EssilorLuxottica were the worst performers in their respective segments