European stocks rally as Tesla crosses $1trn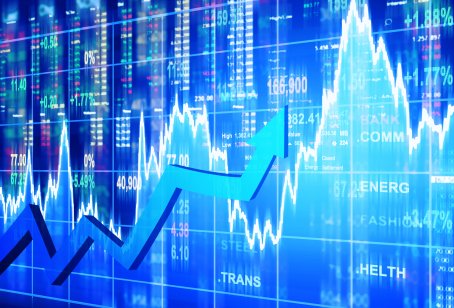 European stocks gained on Tuesday morning, with the Euro Stoxx 50 touching a 6.5-week peak, while US markets closed at an all-time high on Monday, as big tech stocks took the lead.
UK stocks also climbed after strong third-quarter earnings from UBS, which significantly boosted investor confidence. Investors were also looking forward to the UK Budget on Wednesday.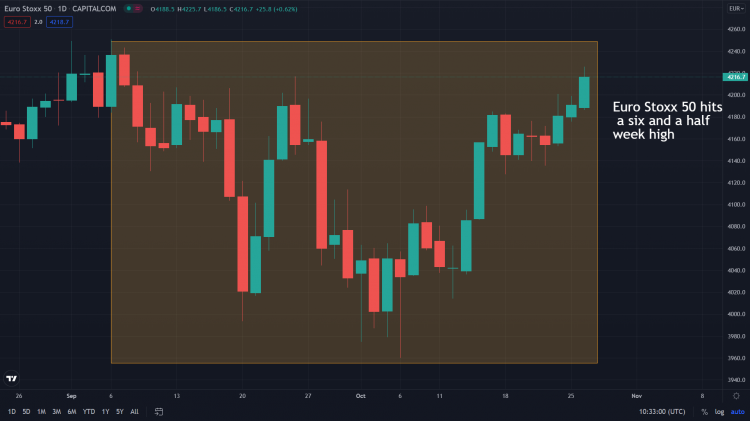 Stocks chart – Photo: TradingView
Why are stocks up today?
The rise in stocks is primarily due to Tesla crossing $1trn in value, causing US markets to hit an all-time high yesterday and send positive ripples across European and UK markets. Tesla has benefitted from Hertz placing a massive order of 100,000 cars for its rental fleet, shooting Tesla's share value skyward. The Euro Stoxx 50 also hit a 6.5-week high, on account of continuing strong earnings from the banking sector, with UBS being the latest to announce good third-quarter earnings.
What is your sentiment on US30?
Vote to see Traders sentiment!
Market highlights
UK's FTSE 100 inched up 0.62% on Tuesday, boosted by strong earnings from UBS.

The Euro Stoxx 50 index also climbed up 0.71%, after US markets hit an all-time high yesterday.

Brent crude oil traded at $85.46, down by 0.62%, retreating from the recent speculations that oil could soon touch $100 per barrel.
Market sentiment
The CBOE Volatility Index, or VIX, a measure of expected fluctuations in US stocks, dropped to 14.91, indicating a decrease in market anxiety and rising investor confidence.

The US dollar index also fell slightly to $93.96, reflecting a decrease in the demand for safe assets as investor confidence rises with rallying stock markets.

The 10-year US bond yield index also fell for the third consecutive day to $1.647, indicating a stabilisation of inflation anxieties for the time being.
Top stock gainers: UK and Europe
In the UK, the best performing sectors were consumer non-durables, transportation and consumer services.

Reckitt Benckiser, International Consolidated Airlines Group and Compass Group led gains in their respective segments.

In Europe, the top gaining sectors were semiconductors, postal services and insurance.

ASML NV, Deutsche Post and Munich Re were the best performers in their respective segments.
Top stock losers: UK and Europe
On the FTSE 100, the worst performing sectors were retail, non-energy minerals and commercial services.

Ocado Group, Polymetal International and Rentokil Initial led the losses in their respective segments.

On the Euro Stoxx 50, the segments that took the biggest hits were optical equipment, electric utilities and energy.

EssilorLuxottica, Iberdrola and Schneider Electric were lagging in their respective sectors.
Top news
Read more: Swiss bank UBS sees double digit rise in third quarter profits