Stock markets: UK stocks climb as miners extend gains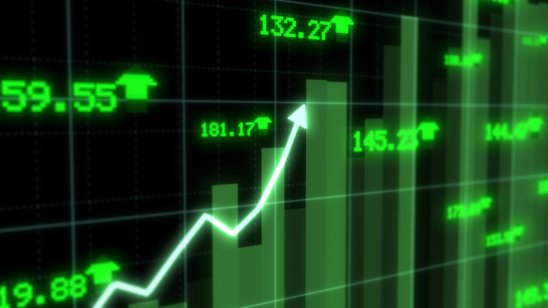 UK stocks moved higher Thursday morning, with the FTSE 100 index gaining as rising iron ore prices lifted hopes of increased steel demand from China. The Chinese government recently announced it would relax fiscal policy and provide more support to the struggling property development sector, which was welcomed by mining companies.
European stocks reflected the same sentiment, with the Euro Stoxx 50 advancing, as investors strived to remain positive, amidst an increasing number of Covid-19 cases. Data released yesterday from purchasing managers indicated the possibility of good growth in the region, which helped lift market sentiment.
Overnight in Asia, Hong Kong's Hang Seng index gained as well, with the US S&P 500 index following suit.
What's interesting today: Shares of Mitchells & Butlers jumped, as the UK operator of pubs and restaurants reported like-for-like sales grew 2.7% in last eight weeks since the end of the financial year. The restaurateur remains concerned about the rising costs of utilities and labour. Investors are worried whether a lack of alcohol during the holiday season will affect business profits, as the UK still faces a shortage of heavy goods vehicle drivers.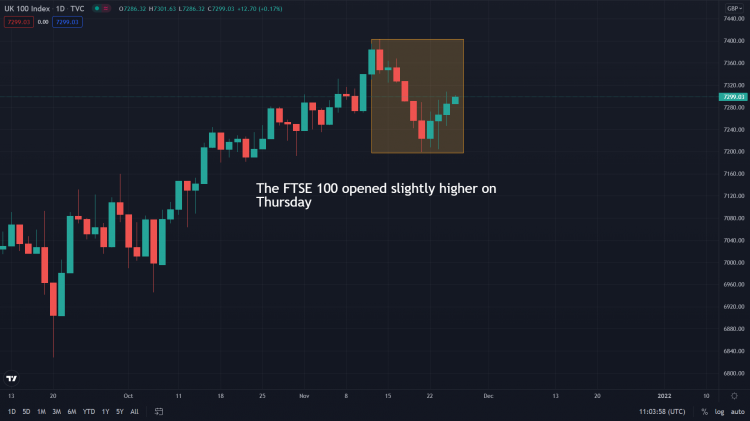 Stocks chart – Credit: TradingView
Why are stocks up/down today?
Miners extend gains: Mining shares rallied as iron ore prices increased, igniting hopes of growing Chinese steel demand.
What is your sentiment on UK100?
Vote to see Traders sentiment!
What this means

: The mining and property sector have been two of the most affected every since the coronavirus pandemic started, leading to metal and commodity prices falling and many miners seeing their operations in South America and Africa stalled. Thus, the recent Chinese relaxation of fiscal policy, along with increased support to the property sector, caused iron ore prices to rise, leading to renewed investor hopes of recovery, especially in Chinese markets and potentially giving rise to higher demand.
Stock markets: key highlights
The FTSE 100 index increased by 0.16% to reach 7298.0 points

The Euro Stoxx 50 index also rose 0.26% to 4287.4 points

Germany's DAX index climbed up 0.195 to 15908.9 points

France's CAC 40 index inched up 0.18% to 7054.6 points

The leading sectors were finance and consumer services, whereas communications and retail trade lagged behind

US S&P 500 futures rose 0.22% to $4709.5
Market sentiment
The CBOE Volatility Index, or VIX, a measure of expected fluctuations in US stocks, dropped to 18.58, as the market stabilised further

The US dollar index fell slightly to $96.81

The US 10-year bond yield index dropped to 1.643% as well
Top stock gainers: UK and Europe
In the UK, St James's Place, Intercontinental Hotels Group and Compass Group were the top stock gainers

St James Place shares rallied after the wealth manager recently announced its venture into the virtual reality space

Intercontinental Hotels Group shares increased after Jefferies upgraded them to "buy"

Compass Group shares gained after they announced better-than-expected profits

In Europe, Shell, VINCI and LVMH Moet Hennessy Louis Vuitton were the best performers

Shell shares rallied after the oil and natural gas company was reported to be considering opening a new biofuels plant in Singapore

LVMH Mot Hennessy Louis Vuitton saw shares do well after its recently released series. "The Doers"
Top stock losers: UK and Europe
On the FTSE 100, Vodafone Group, Ocado Group and Rightmove were the top losers

Vodafone Group recently launched a new smartphone trade-in programme, known as "Bring Back Friday" in order to promote the recycling of their old phones

Ocado Group's shares suffered after the price fell following speculations that Marks and Spencer were considering buying the group's UK branch, which has not materialised as yet

Rightmove shares dipped after house asking prices fell to their lowest point since January

On the Euro Stoxx 50, Allianz, Zurich Insurance and Adidas were the worst performing companies

Zurich Insurance shares dropped as the company recently announced that it would not be underwriting fresh oil exploration projects any longer

Adidas Originals recently announced a partnership with Coinbase
Stocks news: what you need to know today
German GDP rises in the third quarter, however government spending dips
Read more: Mitchells & Butlers (MAB) returns to profitability