Stock markets: FTSE 100 drops as investors await Russia-Ukraine peace talk result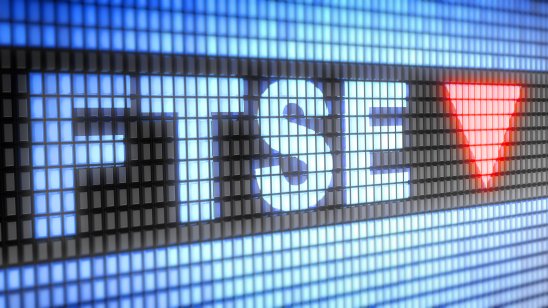 UK stocks dipped on Thursday morning, with the FTSE 100 index inching lower as investors anxiously waited for the result of peace talks between Russia and Ukraine. Ukraine has already mentioned that it is open to peace talks, but is not inclined to give up territory.
The uncertainty contributed considerably to investor anxiety, especially as Western sanctions and bans on Russian supppliers are putting a strain on oil and commodity markets worldwide.
European stocks reflected the same downbeat sentiment, as investors looked forward to the European Central Bank monetary policy meeting. Speculations of Christine Lagarde taking a more dovish approach and choosing to wait and evaluate the situation before taking any major steps abounded.
Overnight in Asia, Hong Kong's Hang Seng (HK50) index climbed up, as did the US S&P 500 (US500) index.
What's interesting today: National Express Group (NEX) announced an annual profit, following the company revealing that it was mulling its options for Stagecoach (SGX) after a rival company upped its bid. DS Smith (SMDS) has announced that they expect box volume growth to neutralise higher costs, boosted further by rising prices.
Why are stocks down today?
Following approximately two weeks of fighting, the Russia-Ukraine peace talks seem finally to be on the table now, and investors are keenly awaiting the result.
What is your sentiment on UK100?
Vote to see Traders sentiment!
What this means: The Russia-Ukraine conflict has thrown the whole world into turmoil, with an especially harsh impact on oil and commodity markets and supply-chain constraints driving prices up even higher.

Russia has also faced a number of international sanctions from Western powers, mostly, which have further escalated the situation. Hence, investors are hoping the peace talks will cause markets to recover in the near future.
Stock markets: key highlights
The FTSE 100 (UK100) index inched lower by 1.10% to 7,111.9 points.
The Euro Stoxx 50 (EU50) index dropped by 2.21% to 3,682.7 points.
Germany's DAX (DE40) index dipped by 2.07% to 13,561.3 points.
France's CAC 40 (FR40) index edged lower by 2.10% to 6,253.6 points.
The leading sectors in the UK were finance and mining, whereas consumer services and consumer non-durables took a hit.
US S&P 500 futures dropped by 0.55% to $4,251.3.
Market sentiment
The Chicago Board Options Exchange (CBOE) Volatility Index, or VIX (VIX) – a measure of expected fluctuations in US stocks – increased to 33.31.
The US Dollar Index (DXY) dropped to $98.29.
The US 10-year bond yield dipped to 1.946%.
Top stock gainers: UK and Europe
The top stock gainers in the UK were London Stock Exchange Group (LSE), M&G (MNG) and Glencore (GLEN).
London Stock Exchange Group shares rallied following the company announcing that it would be ceasing news distribution in Russia.
M&G shares inched up following the company recently buying TCF in order to venture into the portfolio market.
Glencore shares edged up following Barclays (BARC) increasing its price outlook recently.
The best performing companies in Europe were Adidas (ADSGN), Deutsche Post (DPW) and Adyen BV Parts Sociales (AYDEN.AS).
Adidas shares gained following the company announcing it is closing its stores and online site in Russia.
Deutsche Post shares inched up following the company upping dividends as profits increased.
Adyen B.V Parts Sociales shares climbed up following the company being given an 'outperform' rating by Credit Suisse recently.
Top stock losers: UK and Europe
The worst-performing companies in the UK were Polymetal International (POLY), Evraz (EVRgb) and ITV (ITV).
Polymetal International shares dropped following the LSE cancelling trading in the company's shares.
Evraz shares dipped following the company announcing it would be exiting the FTSE 100 index by the end of this month.
Vonovia shares dip despite receiving a 'buy' rating from Goldman Sachs (GS) recently.
Inditex shares dropped following the company announcing that it was stopping trade in Russia for the time being.
Ab InBev shares inched lower following the company having to deal with falling margins for the past few months.