Stock markets: FTSE 100 dips as UK inflation hits 10-year high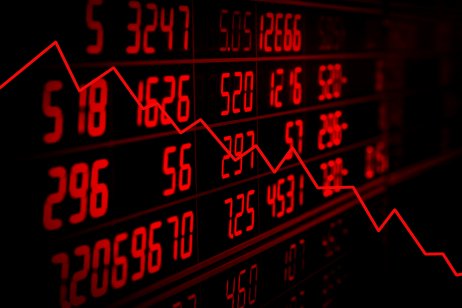 UK stocks dipped lower on Wednesday morning, as inflation hit the highest point in 10 years, at 4.2%, making interest-rate hikes in December all the more likely as the Bank of England attempts to control the situation.
European stocks, on the other hand, were more optimistic, with the EURO STOXX 50 gaining on the back of the US-China talks, even as investors were concerned about rising natural gas prices.
Overnight in Asia, Hong Kong's Hang Seng Index also dropped on the back of worries about increasing Covid-19 cases, whereas the US S&P 500 Index gained.
What's interesting today: Volkswagen announced plans to double its employees in its energy and charging division as it looks to take over US rival Tesla. The establishment of better power infrastructure will give the auto giant a key advantage in the electric vehicle space. Travel stocks on the other hand suffered, as more countries tighten their restrictions again in response to rising Covid-19 cases.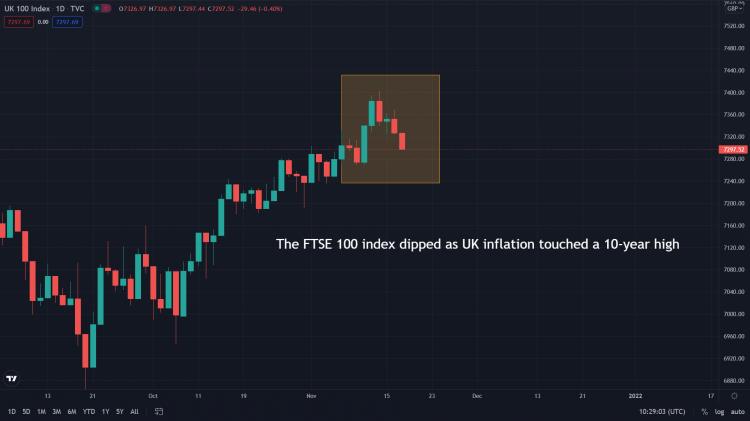 Stocks chart – Credit: TradingView
Why are UK stocks down today?
UK inflation at 10-year high: Recently released inflation data shows that UK inflation has touched the highest number in 10 years, at 4.2%.
What is your sentiment on UK100?
Vote to see Traders sentiment!
What this means: Although the UK and the rest of Europe have been grappling with rising inflation for the last few months – with multi-year highs being seen in Europe – investors are concerned that this 10-year high is going to force the Bank of England (BoE) to take a more forceful stance regarding interest-rate hikes. As a result, an increase in interest rates may come as early as December, despite the BoE previously choosing to stall hikes for the time being.
Stock markets today: key highlights
The FTSE 100 Index dipped slightly 0.06%, to 7322.8 points
The EURO STOXX 50 Index, on the other hand, climbed up 0.12% to 4406.9 points
Germany's DAX Index also rose 0.17% to 16275.9 points
France's CAC 40 Index also reflected the same sentiment by increasing 0.10% to reach 7159.9 points
The leading sectors were technology services and mining, whereas utilities and retail were lagging behind
US S&P 500 Futures also gained 0.07% to reach $4699.5.
Market sentiment
The Cboe Volatility Index, or VIX, a measure of expected fluctuations in US stocks, dropped to 16.32 as the market stabilised further
The US Dollar Index climbed up to $96.24
The US 10-Year Bond Yield Index also rose to 1.649%.
Top stock gainers: UK and Europe
In the UK, Sage Group, Lloyds Banking Group and Natwest Group were the best-performing companies
Sage Group shares increased after the group joined the likes of ACCA and ICC to urge businesses to simplify carbon reporting and accounting standards
Lloyds Banking Group investors had reason to celebrate as the company announced that it had doubled its profits to touch £2bn ($2.7bn), on the back of the mortgage market doing well
Natwest Group recently announced strong third-quarter earnings, causing shares to rally
In Europe, the top gainers were Kering, Shell and Siemens
Kering shares rallied as the company appointed Matthieu Blazy as the creative director of Bottega Veneta
Shell has recently announced an historic move from the Netherlands to the UK, due to dividend tax and climate-ruling issues
Siemens shares gained after the group overtook their long-time rival GE.
Top stock losers: UK and Europe
On the FTSE 100 Index, SSE, Informa and B&M European Value Retail were the top losers
SSE announced that it would be selling its stake in its electric network in order to fund investments in its wind power plans
Informa has seen shares drop approximately 27% over the last three years
B&M European Value Retail shares dipped, following the slowdown of the shopping boom caused by the pandemic
On the EURO STOXX 50 Index, Deutsche Post, Rio Tinto and Nestlé were the worst performing companies
Deutsche Post shares suffered after the company warned of supply chain issues until Christmas
Rio Tinto recently announced its plans to build a massive battery factory in Serbia
Nestle shares dipped amidst concerns of the building of Nestlé Tower having stalled.
Stocks news: what you need to know today
UK inflation hits a 10-year high
Korean Airlines profitability increases, pushed by cargo business
Coffee prices soar as Brazil faces supply chain constraints
Sterling stands strong as December rate hikes become more likely in the face of rising inflation.