Stock markets: FTSE 100 advances pulled up by oil stocks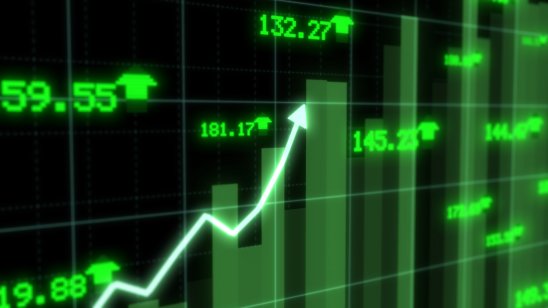 UK stocks climbed up on Friday morning, led by commodity stocks, ending a turbulent week on a high note, after stocks wobbled considerably following the discovery of the Omicron variant. The market was mostly pulled up by oil giants such as BP (BP) and Royal Dutch Shell ((RDSA) as investors were hopeful following the OPEC+ committee's pledge to review oil production levels if demand takes a hit due to Omicron.
European stocks on the other hand, were more subdued amidst increased restrictions by Germany and the US to curb the spread of the virus. Tech stocks and luxury stocks were the biggest decliners as investors remain uncertain about future lockdowns.
What's interesting today: Retailer Wickes Group (WIX) saw shares rise by approximately 10% after it adjusted its profit outlook with a strong fourth quarter so far. Mining stocks dipped, but were set to recover losses from the past week as commodity prices continued to gain. Financial services company Hargreaves Lansdown welcomes Amy Stirling as Chief Financial Officer, to take over from Philip Johnson.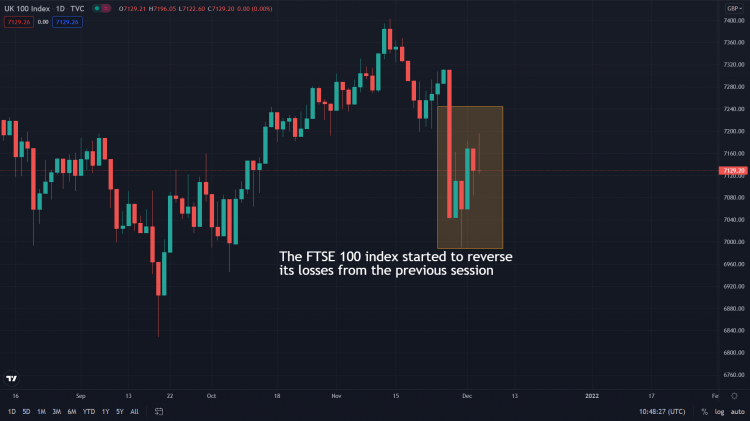 Stocks chart – Credit: TradingView
Why are UK stocks up today?
OPEC+ committee's decision to review oil production: The OPEC+ committee has agreed to review oil production levels before their next meeting
What is your sentiment on UK100?
Vote to see Traders sentiment!
What this means

: Oil prices have been extremely volatile in the last few months, with multiple record highs touched as well as sudden dips. This decision by the OPEC+ committee was welcomed with a sigh of relief by investors and oil production giants equally, as it would help regulate prices in a period where demand is uncertain, and is likely to fall at a moment's notice due to ongoing supply chain constraints. BP and Royal Dutch Shares both rose following this announcement.
Stock markets: key highlights
The FTSE 100 index inched up 0.53% to 7166.7 points

The Euro Stoxx 50 index on the other hand, dipped 0.24% to touch 4098.1 points
Germany's DAX index edged up 0.77% to 15380.1 points
France's CAC 40 index climbed up 0.81% to 6850.8 points

The leading sectors were communications and transportation, whereas technology services and retail lagged behind

US S&P 500 futures inched up 0.09% to $4580
Market sentiment
Top stock gainers: UK and Europe
Top stock losers: UK and Europe
Stocks news: what you need to know today
Read more: Stock markets: UK stocks climb as miners extend gains