Sterling falls as Omicron spreads, TRY hits record lows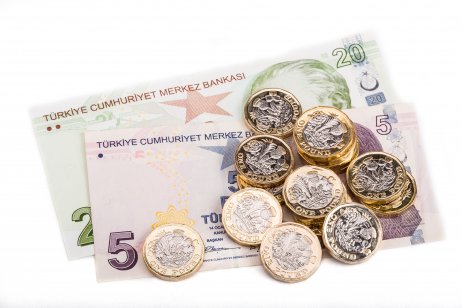 The British pound (GBP) weakened in European morning trading as UK may face a "tidal wave" of Omicron infections, prompting Prime Minister Boris Johnson to announce an end-of-year deadline for the country's booster immunisation campaign.

Among developing currencies, the Turkish lira (TRY) plunged to a new record low of 14.32 against the US dollar, falling around 3% on the day, after the country's new Finance Minister reiterated the country's commitment not to raise interest rates.
The US dollar continues to flex its muscles against all major currencies as investors await a pivotal Federal Reserve meeting this week, which may signal a move toward a more hawkish stance to battle inflation. The US Dollar index (DXY) was last seen at 96.38, up 0.5% on the day.
Risk aversion, prompted by Omicron fears and the Fed's potential hawkish tilt, weighed on high-beta currencies. The New Zealand dollar (NZD) and Australian dollar (AUD) fell 0.4 percent and 0.5 percent versus the US dollar respectively. Oil-related currencies such as the Norwegian krone (NOK) and Canadian dollar (CAD) weakened also, even though Brent prices remained above $75 a barrel.
What is your sentiment on USD/ZAR?
Vote to see Traders sentiment!
Forex Daily Matrix – 13 December 2021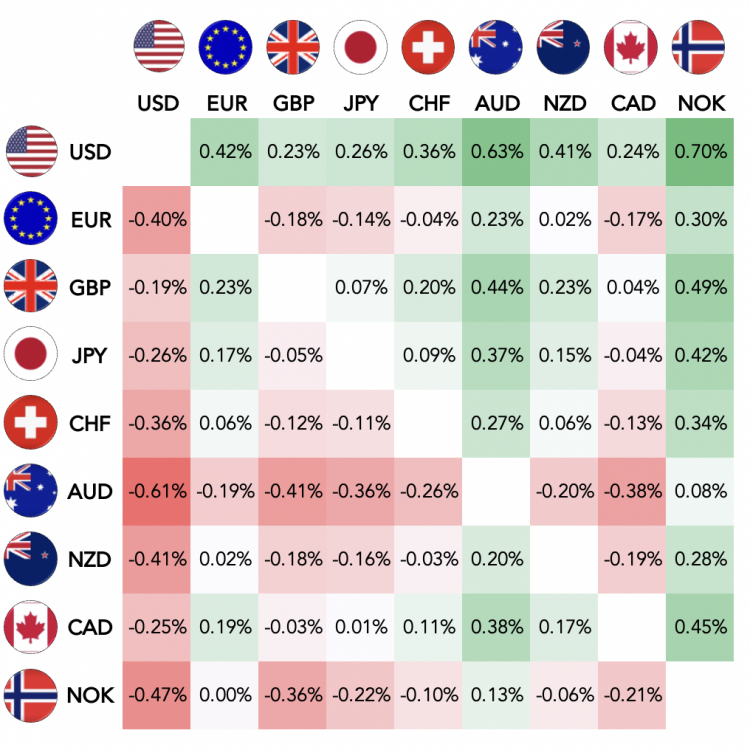 Forex Daily Matrix as of 13 December 2021, 10:30 GMT – Source: Capital.com
US Dollar
At time of writing, the US Dollar Index (DXY) was at 96.38, up 0.5% on the day.
On Friday, US inflation surged to new multi-decade highs, although the reading was in line with expectations.
Core CPI inflation, which excludes food and energy prices, rose by 0.3% points to 4.9% year-on-year in November, its highest level since 1991. Headline inflation jumped by 0.6%-points to 6.8% year-on-year, the highest level since 1982. Inflation is spreading not only among goods but increasingly among services, with notable rises in the prices of airline tickets, shelter (rent), hotels and medical services.
This week, the market is awaiting a crucial Federal Reserve meeting on Wednesday, which is likely to announce an acceleration of tapering while also signalling a quicker interest-rate hiking cycle to rein in inflation.
US money markets now assign a 60% probability to a rate hike as soon as May 2022, and a 66% chance to three cumulative hikes by the end of 2022, according to CME's latest FedWatch Tool.
US dollar (DXY) technical levels:
52-week high: 96.82
52-week low: 89.22
50-day moving average (one-day chart): 94.90
200-day moving average (one-day chart): 92.66
14-day Relative Strength Index (RSI) (one-day chart): 60.48
Chart of the day: TRY loses 40% of its value in three months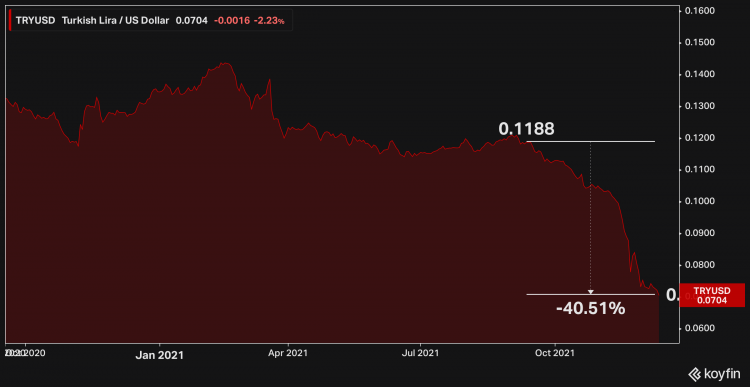 Turkish lira in freefall: TRY has lost 40% of its value since mid-September – Source: Capital.com
British pound
By 10:30 GMT today, the cable (GBP/USD) was trading at 1.3244, down 0.2% on the day, while EUR/GBP was 0.2% lower at 0.8503.
Sterling has started Monday's session under some selling pressures, as concerns over the UK's Omicron epidemic weighed on the pound ahead of the Bank of England's Thursday decision.
Prime Minister Boris Johnson announced a booster programme before the New Year yesterday, warning of an impending "tidal wave" of Omicron cases in the UK and raising the country's Covid alert level from 3 to 4.
Markets currently anticipate the Bank of England to push back its first rate hike in 2022, although Tuesday's UK employment data and Wednesday's inflation indicators might make the judgement more dubious if data come in significantly above expectations.
GBP/USD technical levels:
52-week high: 1.4248
52-week low: 1.3133
50-day moving average (one-day chart): 1.3517
200-day moving average (one-day chart): 1.3783
14-day Relative Strength Index (RSI) (one-day chart): 37.35
Euro
EUR/USD was last at 1.1262, down 0.4% on the day.
On Friday, EUR/USD saw some respite as US inflation rose in line with expectations, but this morning, the currency pair was pulled down by deteriorating risk sentiment.
The market's focus this week will also be on the upcoming meeting of the European Central Bank, although investors do not expect Frankfurt to shift its stance considerably.
EUR/USD technical levels:
52-week high: 1.2349
52-week low: 1.1184
50-day moving average (one-day chart): 1.1467
200-day moving average (one-day chart): 1.1798
14-day Relative Strength Index (RSI) (one-day chart): 40.68
Forex Performance Heatmap – 13 December 2021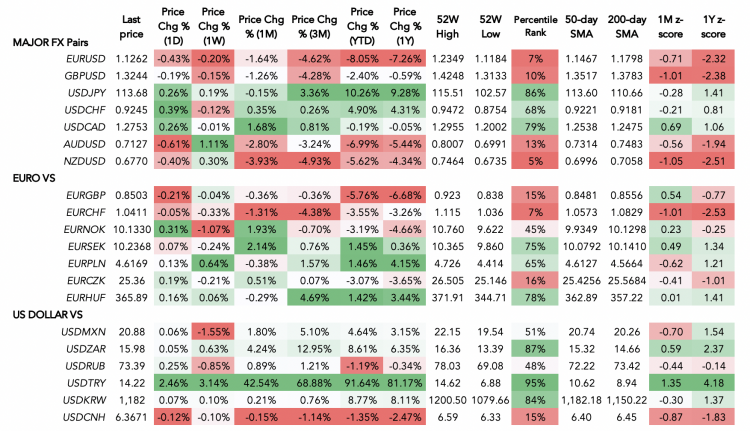 Forex Performance Heatmap as of 13 December 2021, 10:30 GMT – Source: Capital.com
Other currency pairs (% change from previous close):
Read more: Turkish lira at record lows after central bank sackings