Stagecoach continues takeover talks with National Express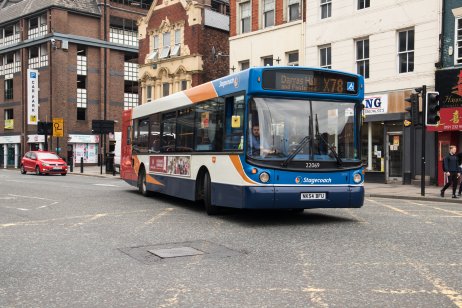 Stagecoach, Britain's biggest bus and coach operator, is still looking for business opportunities – despite being in takeover talks with potential buyer National Express.
In a trading update on Tuesday, the company said discussions between the two parties were ongoing and there was no certainty that any offer will be made.
"We are continuing to seek new opportunities to diversify and grow the business," it said.
Stagecoach also said it was pleased to have successfully retained the rail replacement contract for London North Eastern Railway and continues to "actively pursue" other such bids.
Unchanged outlook
CEO Martin Griffiths said the outlook for the coming year was unchanged, despite uncertainty over the industry's recovery.
"The momentum in passenger journeys and sales reflects a pick-up in activity and travel across the UK, and growing confidence to return to public transport," he said.
He added that strong partnerships between bus operators, national government and local transport authorities were fundamental to transforming the country's bus networks and tackling climate change.
Following the announcement, the company's share price slipped 0.2% to 82.7p during early trading in London.
Recovering passenger demand
Stagecoach reported that passenger demand for its regional bus operations has been recovering in recent weeks as new terms begin at schools and universities across the country.
The company said that journey numbers were in excess of 70% of equivalent 2019 levels by the end of September, while operating vehicle mileage is 94% of where it was two years ago.
"For the week ended 2 October 2021, journey numbers were 70.1% of the figure for the equivalent period in 2019, fare-paying journey numbers were 74.4% and concessionary journey numbers were 60.2%," it added.
London bus operations
Stagecoach also said it was pleased with the "continued strong operational and financial performance" of its London business.
It also said that progress had been made to develop its commercial activities to supplement the core Transport for London contract work.
"Similar to our local regional bus businesses, our ongoing Sheffield Supertram business is receiving government payments for continuing the essential tram services it provides," the coach and bus operator added.
Funding package
In addition, Stagecoach reported that the Light Rail Revenue Restart Grant scheme ended on 19 July 2021 and has been replaced by a £56m ($76m) funding package to operators that runs until April 2022.
"We continue to work with South Yorkshire Passenger Transport Executive and the Department for Transport on arrangements for allocating this funding," the company said.
The group's interim results for the half-year ending 30 October 2021 are scheduled to be announced on 8 December 2021.
Read more: National Express in talks to buy rival operator Stagecoach