Sportradar shares dip after IPO at $27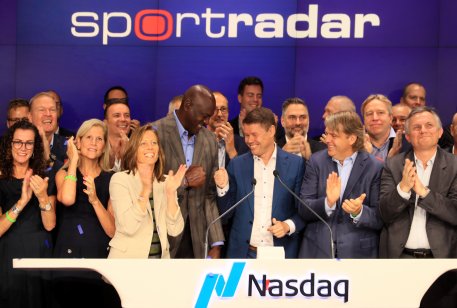 Swiss sports wagering data provider Sportradar Group AG priced its scheduled public share offering overnight at $27 per share (£19.49), according to records filed with the US Securities and Exchange Commission Tuesday morning.
After ringing the Nasdaq opening bell Tuesday under ticker "SRAD", celebrating the 19 million shares sold for $513m in proceeds, shares were freed to trade at noon and moved lower to $24.81 in mid-afternoon trading.
Priced below guidance
The Gallen, Switzerland-based data provider, which has its US headquarters in Minneapolis, Minnesota, priced below the initial price guidance set at $28 per share. Additionally, 2.85 million over-allotment option shares were included in the sale.
JP Morgan Securities and Morgan Stanley acted as joint bookrunners, along with joint-lead managers Citigroup and UBS Investment Bank. B of A Securities, Deutsche Bank Securities, Jeffries and Canaccord Genuity as co-managers.
Settlement is scheduled for 16 September.
Major sports league agreements
Operating primarily in Europe, Sportradar also operates in the US and Asia, the company reported in its F-1 shelf filing. A relatively new entrant into the US market, the company has non-exclusive distribution agreements in place with Major League Baseball and the National Basketball Association, as well as exclusive non-US global rights agreements with both leagues.
Additionally, the company has agreements including exclusive worldwide media data rights for both leagues, as well as the National Hockey League.
Other sports-related agreements include TwinSpires, the online betting arm of Churchill Downs Inc., The America East college sports conference and strategic partnerships with the National Football League's Baltimore Ravens and New York Jets aimed at enhancing local-market sponsorship and marketing strategies.
Sportradar recently extended an existing agreement with online bookmaker Fanduel Group to continue providing odds and data, including pre-match, live in-game betting services, including live match trackers, the company announced. Additionally, Sportradar has an agreement with NBC Regional Sports Networks to provide live data to television broadcasts.
"Sports betting is the fastest growing category within the broader gaming market," the company reports. "The global sports betting market is projected to grow from $47 billion in 2021 to $81 billion" by 2025. Citing a recent report from PriceWaterhouseCoopers, Sportradar states, "86% of sports industry leaders believe that live sports viewing will become significantly richer, immersive and interactive in the future."
Read more: Sportradar Group AG IPO: should you buy in?