Southwest beats Q3 estimates, blames Covid-19 for net loss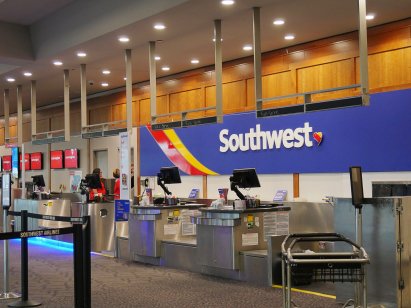 Southwest Airlines beat both top and bottom-line earnings estimates for the third quarter, the US budget carrier announced Thursday, although the recent surge in Covid-19 infections dragged its earnings-per-share to a quarterly loss.
The Dallas, Texas-based airline reported a loss of $0.23 per share for the three months ended 30 September, topping expectations of a $0.27 per-share loss on $4.68bn in revenue, besting the expected $4.58bn.
The quarterly $135m loss was credited to a Covid-19-related revenue penalty, the company noted in its earnings press release.
Southwest shares opened at $49.30 per share, down from Wednesday's closing price of $49.47.
$300m Covid-19 penalty
"We were aggressive with our capacity plans for third quarter 2021, coming close to pre-pandemic third quarter 2019 available seat miles," said chair and chief executive Gary Kelly in the release. "Our active (versus inactive) and available staffing fell below plan and, along with other factors, caused us to miss our operational on-time performance targets, and that created additional cost headwinds. The net effect, including a revenue penalty of $300m due to the Covid-19 surge, was a loss of $135m, excluding special items."
Available seat miles, or capacity, grew 46% year over year in the third quarter but were down 2% compared with the 2019 third quarter.
To address recent staffing issues, Southwest plans to hire an additional 5,000 new employees by the end of 2021.
"We have reined in our capacity plans to adjust to the current staffing environment, and our on-time performance has improved, accordingly," Kelly added. "We are aggressively hiring to a goal of approximately 5,000 new employees by the end of this year, and we are currently more than halfway toward that goal."
Unprofitable fourth quarter
Southwest estimates 54% growth in available seat miles for the fourth quarter, down from the previous estimate of 60% and 8% below the 2019 level for the same period.
Looking ahead, citing increased fuel and labour costs, Southwest does not expect to be profitable next quarter. "Based on the current cost outlook, and despite the current momentum in revenue trends, the company does not expect to be profitable in fourth quarter 2021," Southwest said. The airline is projecting fuel costs of $2.25–$2.35 per gallon compared to the $1.25 it paid in Q4 2020.
Read more: Southwest Airlines shares turbulent as cancellaitons continue
Read more: Southwest expects loss in Q3