Solar energy stocks: US Inflation Reduction Act could provide hot opportunity
Subscribe to Weekly Highlights
The major market events for the week ahead right in your inbox.
Subscribe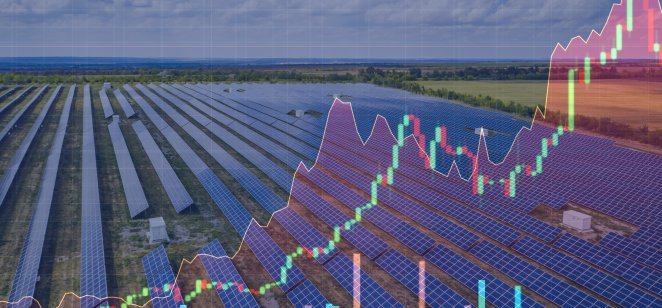 Content
Solar stocks, including Enphase Energy (ENPH), First Solar (FSLR) and Sunrun (RUN), are among the emerging "companies to watch" as the Inflation Reduction Act (IRA) increases the odds that US policy will continue to move in the direction of clean energy, regardless of the midterm election outcome.
What is your sentiment on FSLR?
Vote to see Traders sentiment!
Enphase Energy (ENPH) price chart
First Solar (FSLR) price chart
Sunrun (RUN) price chart
That's according to David Russell, the vice president of Market Intelligence at TradeStation in the US, who spoke to Capital.com about how the sector is gaining popularity among investors.
"There is nothing in the midterms that undermines the focus on green energy at this point so it creates the potential for more growth in the area," he said.
Solar stocks outperforming the market
Russell highlighted how solar stocks have been outperforming the broader overall market which is down this year.
"I find it interesting that most of the top performers [on the S&P 500] this year are traditional fossil fuel companies like Exxon Mobil (XOM) and Occidental Petroleum (OXY) – but in the top performing non fossil fuel stock is Enphase Energy, which is a solar energy stock, so the industry has been performing well and investors are moving money towards it."
Exxon Mobil (XOM) price chart
Occidental Petroleum (OXY) price chart
He also noted how the spike in energy prices has given people the appetite for alternative energy.
"If oil was at $20, we'd be talking about something different," Russell added.
Brent crude oil price chart
US crude oil (WTI) price chart
Why First Solar (FSLR) stock?
First Solar (FSLR) has focused most of its attention on the US market and is set to benefit from some of the subsidies that are coming down the line as a result of the Inflation Reduction Act (IRA).
"First Solar has done very well. It is a domestic American company and will benefit from the IRA because it channels spending on domestic (it produces solar panels) and clean energy technology," Russell explained.
Moreover, the company has just announced plans to build a fourth American PV solar manufacturing facility in Lawrence County, Alabama, and is expected to be commissioned in 2025. It will bring the company's total investment in US manufacturing to over $4bn.
The energy firm is also growing profitably, which it is using to expand, and as a result many analysts see its stock as a long-term hold.
Why Enphase Energy (ENPH) stock?
Enphase Energy (ENPH) has been the best performer in the solar sector in 2022 so far, as Russell noted.
The company, which sells solar micro-inverters, energy generation monitoring software and battery energy storage products, has seen its stock gain 65% year-to-date.
Raghu Belur, co-founder and chief products officer at Enphase Energy, recently told Capital.com that the Inflation Reduction Act will catalyse the rapidly growing clean energy sector, enabling greater access to affordable and reliable clean energy for businesses and consumers.
| | |
| --- | --- |
| Long position overnight fee | -0.0190% |
| Short position overnight fee | 0.0067% |
| Overnight fee time | 22:00 (UTC) |
| Spread | 0.032 |
| | |
| --- | --- |
| Long position overnight fee | -0.0082% |
| Short position overnight fee | -0.0061% |
| Overnight fee time | 22:00 (UTC) |
| Spread | 0.09 |
| | |
| --- | --- |
| Long position overnight fee | -0.0185% |
| Short position overnight fee | 0.0071% |
| Overnight fee time | 22:00 (UTC) |
| Spread | 1.30 |
| | |
| --- | --- |
| Long position overnight fee | -0.0079% |
| Short position overnight fee | -0.0063% |
| Overnight fee time | 22:00 (UTC) |
| Spread | 0.04 |
"There is a tremendous opportunity ahead for solar, batteries, electric vehicles, and other technology to make using energy more sustainable and affordable for everyone," he said.
Why Sunrun (RUN) stock?
Sunrun (RUN), which provides home solar and energy services across the US, including installations, has also been on the radar of investors, Russell pointed out.
The company has benefited from growing government tax credits for renewable power and rising electricity rates to expand its margins, which has made its residential solar business more profitable.
Sunrun's recently reported third-quarter revenue of $631.9m was above the average analyst estimate of $562.2m.
"People who are looking for the next growth opportunity, growth investing, this is where attention could focus in the coming months," Russell added, speaking generally about the solar sector.
According to Barron's, Deutsche Bank analyst Corinne Blanchard is bullish on Sunrun, as well as Enphase and First Solar, due to their strong domestic presence in the US and new legislation in the country.
As a result, she set price targets of Buy ratings and 12-month price targets of $36, $330 and $180, respectively.
Solar stocks a hot opportunity for traders?
Russell also highlighted how solar stocks are not volatile and said traders don't have to speculate knowing the sector's growth is inevitable.
"Solar is full of real businesses capable of disrupting the existing industry."
Moreover, over the next 10 to 20 years, solar is among the most likely industries expected to see higher annual growth.
"Solar PV generation increased by a record 179 TWh (up 22%) in 2021 to exceed 1 000 TWh. It demonstrated the second largest absolute generation growth of all renewable technologies in 2021, after wind. Solar PV is becoming the lowest-cost option for new electricity generation in most of the world, which is expected to propel investment in the coming years," the International Energy Agency (IEA) said in a recent report.
However, it said an average annual generation growth of 25% in the period 2022-2030 is needed to follow the Net Zero Emissions by 2050 Scenario.
"This corresponds to a more than threefold increase in annual capacity deployment until 2030, requiring much greater policy ambition and more effort from both public and private stakeholders, especially in the areas of grid integration and the mitigation of policy, regulation and financing challenges," the IEA added.
Related reading