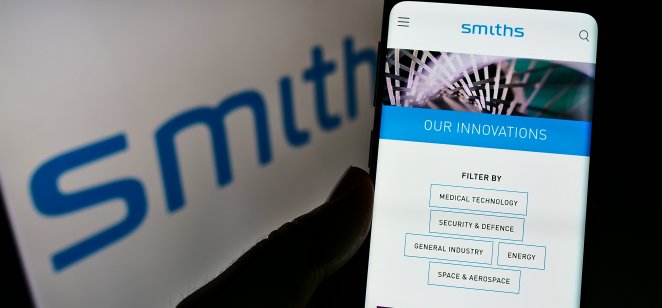 British engineering company Smiths Group has agreed the sale of its Smiths Medical division to US-based ICU Medical, it was announced on Wednesday.
The transaction is said to be worth $2.4bn and will bring more value to shareholders. As a result of this, the Smiths board has withdrawn its recommendation to enter a sale with TA Associates.
Smiths Group's stock price was up almost 5% in morning trading on Wednesday at £14.81 (US$20.38).
Sale agreed
"Smiths Group plc announces that it has agreed the sale of Smiths Medical to ICU Medical, Inc on terms that are superior to the previously announced transaction entered into with TA Associates on 2 August 2021," the statement said.
In July, the Mail on Sunday reported that £2bn was being offered by TA Associates for the medical arm, which is based in Minneapolis.
Smiths said that the sale of its medical division will "simplify and position Smiths for focused growth" in its industrial technology business.
Shareholder value
Smiths, whose medical business manufactures equipment such as catheters and pain management devices, is also one of the UK's last industrial conglomerates. The company has been considering a demerger since 2019. The previous chief executive, Andy Reynolds Smith, said at the time that a demerger would lead to "two stronger companies."
"Completion and receipt of the initial cash proceeds is expected in the first half of 2022, subject to approval by Smiths' shareholders and customary regulator approvals," the statement said.
Leading industrial technology group
Smiths Group CEO Paul Keel said: "Delivering on our commitment to maximise value, the ICU transaction provides both a higher value for Smiths' shareholders, as well as future value creation through our 10% holding of the enlarged combined group and a potential $0.1bn additional contingent consideration.
"We are focused on concluding this superior transaction and on driving Smiths Group forward, delivering on our significant potential as a leading industrial technology group united by shared purpose, business characteristics and a common operating model."