Skillsoft share price jumps on first earnings report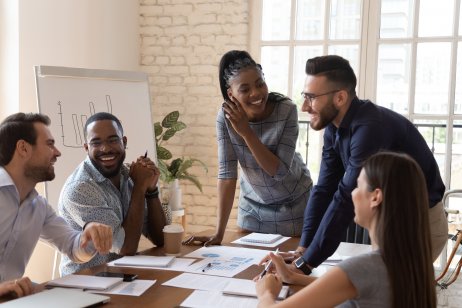 Skillsoft jumped Tuesday after the digital learning firm issued its first quarterly report as a public company.
The share price was up 5.5%, before receding slightly, in after-hours trading in New York after the Boston-based digital learning company reported increased bookings across all business segrments.
"We are pleased with Skillsoft's strong performance during our initial quarter as a public company," said Jeffrey Tarr, Skillsoft's CEO in a news release accompanying the quarterly report.
"We delivered double-digit bookings growth, won multiple new blue-chip customers, and acquired fast-growing digital coaching platform Pluma, enabling us to offer an on-demand, executive-quality leadership development solution to our customers, which include approximately 70% of the Fortune 1000."
Bookings equal orders
Skillsoft classifies its orders as bookings.
Content bookings revenue rose 9% year-over-year to $63.67m from $58.57m, while global knowledge bookings totalled slightly less, $63.54m, but enjoyed a bigger increase – 30% year-over-year from $48.77m. SumTotal segment bookings climbed 15% to $27.46m from $23.92m a year earlier.
Skillsoft reported total booking fees of $154.70m, which were up 18% year-on-year from $131.25m. The company reported total revenue of $106 million and a net loss of $49.26m for the period, factoring in results from its predecessor firm.
Skillsoft went public through a merger with SPAC Churchill Capital II in June. For accounting purposes, the period ending 21 July 2021 served as Skillsoft's second quarter of fiscal-year 2022.
Raised bookings
Skillsoflt increased its full-fiscal-year bookings and adjusted revenue outlook.
The company boosted its bookings guidance $30m, now expecting it to range from $690 to $710m. Adjusted revenue guidance went up $25m, now ranging from $670m to $690m. The EBITDA projection remained unchanged at $155m to $175m.