Singapore's Keppel ties up with Thai renewables firm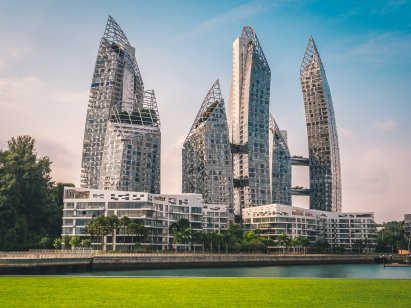 Singapore's Keppel Infrastructure will collaborate with Thailand's renewable power firm BCPG to boost low carbon projects in Southeast Asia as well as developing carbon credit marketplace to tap into energy transition drive in the region.
The move is part of Keppel's pledge to halve its carbon emission by 2030 and reaching net-zero emission by 2050.
In Thailand, both firms will develop charging infrastructure for electric vehicle, renewable power generation, district cooling and other sustainable city projects.
Regional carbon market
"We are delighted to collaborate with Keppel on providing new energy solutions to buildings and smart cities in Thailand, as well as solutions on carbon emission reduction in ASEAN," BCPG CEO Bundit Sapianchai said in a statement.
BCPG has 900 megawatts (MW) of installed renewable energy in Thailand, Laos, Vietnam, Indonesia, the Philippines, and Japan. In Laos, the company is developing 600MW of wind farm.
BCPG and Keppel will also develop carbon credit marketplace and trading platform which will be utilised in Thailand, Laos, and Singapore.
ASEAN governments target renewables
"ASEAN governments have laid out a target of 23% share of renewable energy in total primary energy supply in the region by 2025. This would require approximately 35GW (gigawatts) -40GW of renewable energy capacity to be added by 2025," said Keppel CEO Cindy Lim.
"Through the complementary strengths of Keppel Infrastructure and BCPG, we aim to pursue opportunities related to ASEAN's renewable energy targets, interconnectivity of energy systems as well as carbon offset markets which will contribute to the acceleration of the region's energy transition efforts," she added.
Read more: KKR raises stake in Philippine renewable power firm First Gen