Sign-up bonuses soar 75% as firms struggle to fill roles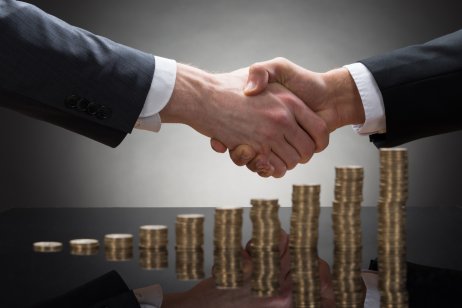 The number of employers offering a sign-up bonus has spiked by 75% as recruiters struggle to fill vacancies, according to research by job website Indeed.
In a bid to lure more workers to sectors struggling to find skilled employees, recruiters are offering an instant 'golden handshake' bonus of £5,000.
Companies in sectors such as nursing, construction, transport and the care sector – which in some cases is offering as much as £10,000 in bonuses – are finding it especially hard to recruit skilled staff. Others offer bonuses that kick in after a couple of months in the job.
Engineering incentives
Further research by Indeed found that the use of incentives is rising most quickly among those recruiting for gas engineers, drivers and social carers. Bonus amounts vary but, in many cases, run to several thousand pounds for hard-to-fill roles.
Chemical engineering, which is heavily reliant on recruiting trained gas engineers, had the highest share of postings offering a signing-up bonus in August, with some job ads offering incentives of up to £3,000 (see table below).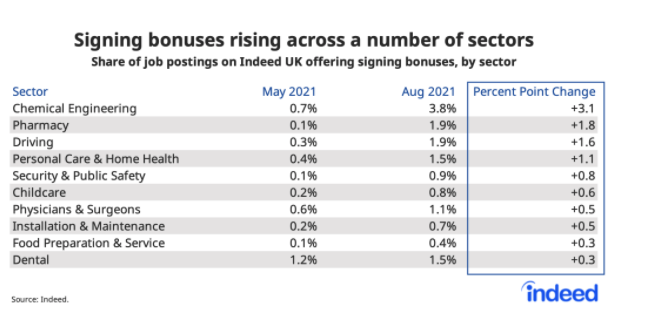 Not all jobs offer golden handshakes. Sign-up bonuses accounted for a modest 0.51% of all the vacancies on offer but the generous incentives have been introduced rapidly over the summer as companies struggled with labour and skills shortages.
Beating the competition
Recruiters are resorting to more unusual tactics to find the talent they need and fend off the competition. "Worker shortages have become so endemic in some sectors that employers are having to work increasingly hard – and think imaginatively – to attract the staff they need," said Jack Kennedy, UK Economist at Indeed.
"Sectors with the biggest squeezes for workers have responded with well above average pay increases but while some people's heads have been turned, the supply of workers still isn't keeping up with demand for workers.
"Persistent bottlenecks mean that as well as hiking pay, many employers are turning to signing bonuses that offer new staff a 'golden hello' in a bid to stand out to candidates and beat off the competition."
Furlough to blame?
Furlough is set to end this month but some claim the scheme is one of the main reasons behind the lack of skilled jobseekers.
"The problem for employers is that many people still aren't urgently seeking work, and this ratchets up the pressure even further to the point where some – especially employers in sectors with long-term labour shortages – may have little choice but to raise regular pay and think more about what people ultimately seek from work," added Kennedy.
Indeed's research comes as the number of jobs vacancies in the UK broke through the one million mark for the first time on record in the three months to August, according to a report released by the Office for National Statistics (ONS) this month.
Read more: UK situations vacant reach all-time high of one million