Shionogi (4507) to transfer Covid vaccine tech to Vietnam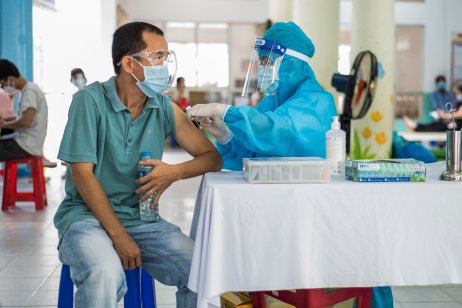 Japan's Shionogi will transfer its Covid-19 vaccine manufacturing technology to Vietnam in return for conducting clinical trials in one of the worst hit nations in Southeast Asia.
The 143-year pharmaceutical company has been developing recombinant protein-based vaccine since last year and aiming to be the first Japanese firm to manufacture Covid vaccine. But, the company is facing difficulties in securing mass trials in Japan on the back of low number of cases.
On Thursday, the company has reached an agreement with the Vietnamese government, it said in a statement.
"Regarding COVID-19, which remains a global crisis, the collaboration will include clinical trials of Shionogi's recombinant protein-based COVID-19 vaccine (S-268019) and its oral therapeutic agent (S-217622) in Vietnam, as well as technology transfer for the manufacture of S268019 in Vietnam."
Also developing Covid drug
Aside from vaccine, Shionogi is also developing a medicine for novel coronavirus. It has started the clinical trial for the drug in Japan in September and will roll-out trials in Vietnam, Singapore, South Korea and UK.
The company is aiming to test the medicine on up to 2,000 people and submitting approval request to the government by the end of the year.
Shionogi is expecting its Covid vaccine to received government approval by March 2022. In early trade in Tokyo, the firm's stock fell 3.2% at JPY8,027, reversing Thursday's 3.1% gain.
Read more: Vaccine makers appear to get boost from distribution plans